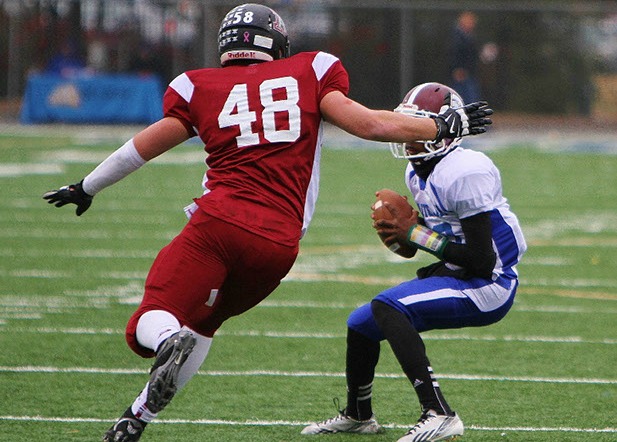 Photo by Rob Saye
NORTH TEAM
Andrew Butcher (Alpharetta):
It is almost a disservice to Butcher to categorize him under just one position. The Alpharetta defensive end was all over the field in the Elite Junior Classic and his presence could be felt on every play. The 6-foot-3, 245-pound playmaker recovered an onside kick, recorded multiple sacks, dominated in the run game, forced a fumble and clocked 6-foot-4, 355-pound Northside-Warner Robins offensive lineman Brandon Sandifer on Darius Slayton's interception and return. Butcher makes the game look easy and his instinctive gifts allow him to make gamechanging plays at any point in the game and capitalize on any sort of miscue by an opponent. Butcher committed to Tennessee in June and is a consensus four-star heading into his senior year. Elite Junior North head coach Rocky Hidalgo said Butcher was without a doubt the best player on the field during the game. Butcher is as versatile of a playmaker as I have seen on the defensive side of the football and heading into the 2014 season he is my leading candidate for Georgia defensive player of the year.
Quentez Johnson (Cedar Grove):
The 6-foot-4, 335-pound defensive tackle raised his stock after the Elite Junior Classic. Johnson is relentless in creating a push up front and is a guy that can occupy multiple blockers for the entirety of a four quarter ball game and still be effective. While the South team tried to run reverses and sweeps, Johnson stayed patient and would not give up anything inside and even used his athleticism to fight off the blocks and record multiple tackles for no gain. Johnson was the anchor of the North's front and gave the defensive ends freedom to play aggressive and do their jobs. Johnson no doubt has SEC size and talent as well as the work ethic to become a special player at the collegiate level.
D'Andre Plantin (Norcross):
The state champion defensive tackle is as athletically gifted as you will find at the tackle position. At 6-foot-3, 277-pounds Plantin is already a monster and can still add plenty of size to his frame. In the Elite Junior Classic Plantin did a great job of dictating the line of scrimmage and forcing the South running backs into the grasp of the talented linebackers behind him. Playing on such an aggressive defensive front this season at Norcross translated into the Elite Junior Classic and Plantin was able to take down the speedy South ball carriers before they could do any damage.
J.B. Kouassi (Norcross):
Kouassi is a tough kid that uses his pure athleticism to succeed on the field. At 6-foot-1, 225-pounds, the Norcross coaches transformed the former receiver in middle school into a defensive end. Kouassi showcased his closing speed and ability to cover a lot of ground on the outside and was effective in applying pressure to the south quarterbacks when his number was called. Kouassi is a sure tackler and I see him becoming a solid outside linebacker/defensive end hybrid at the next level.
Anree St. Amour (North Gwinnett):
The North Gwinnett defensive end is one of the best defensive prospects in the state for next season. At 6-foot-3, 225-pounds, the junior is growing into a pure pass rushing specialist that will more than likely land him on one of the country's top programs. St. Amour has quick hands and feet and he does a great job of getting skinny and going around blockers.
Luis Sobh (North Gwinnett):
Sobh was injured early in the season and did not get to participate in the on the field aspects of the Elite Junior Classic. I saw Sobh take the field in the Metro PCS Corky Kell Classic and he is definitely a guy that will be ready to step into a leadership role on the Bulldogs' defense this season. At 6-foot-3, 230-pounds, Sobh can fill in at defensive end or tackle. Sobh's senior season presents an opportunity to do a lot for his recruiting and he will be a player to look for in Region 7-AAAAAA next season.
SOUTH TEAM
Steven Wright (Ware County):
The Ware County defensive end has one of the highest ceilings of any player that took the field in the Elite Junior Classic. Wright stands an impressive 6-foot-5, 240-pounds and is a pure pass rusher. Wright showcased his athleticism and reach with a pair of sacks in the Elite Junior Classic and is a very smart and disciplined football player. Wright made plays out in space and also used his length and athleticism to find pursuit angles in heavy traffic and still lay the hammer on ball carriers. Wright has all the tools be a superstar at the college level.
Julian Fraser (Valdosta):
The 6-foot-2, 245-pound defensive tackle and defensive end gave the talented North offensive lines fits. Fraser is without a doubt one of the best athletes and football players I saw all week. His combination of the two, plus his physicality energize the defense and team. Fraser ripped through blocks and even tossed lineman off him to stick his helmet in and bring down ball carriers. Fraser plays in perhaps the most physical region in the state of Georgia (1-AAAAAA) and I believe he is an all-region and possibly all-state candidate heading into next season. Fraser has not received too many offers to this point but his play of the football field stands outs and that will definitely change before the summer is over.
Quintin Hampton (Colquitt County):
Hampton is the other Region 1-AAAAAA standout from the South defensive line and he was a tackling machine in the Elite Junior Classic. Hampton set the tone from the first series and lived in the backfield. Hampton was involved in nearly every play and was a huge reason why the North team completed just three passes with his pass rush. I expect Hampton to play a linebacker/defensive end hybrid at the collegiate level and he has the open field tackling and ability to avoid blocks to be an all-conference special teams player at the collegiate level as well.
Rashad Johnson (Lamar County):
Rashad Johnson believe it or not plays the role of a bone crushing tight end with his 6-foot-1, 270-pound frame for Lamar County and that same athleticism translates to his dominance at nose tackle. Johnson uses his hands very well to get off blocks and has a long wingspan that allows him to cover a lot of space and bring down ball carriers when he gets a glove on them. Johnson showed a lot of physical strength while going against the talented North offensive line.
Caleb Martinez (Whitewater):
This 6-foot-2, 240-pound defensive end is another prospect that will be on the radar of many colleges next year. Martinez has an impressive frame and is both instinctive and coachable. While the North running backs tried to get outside, Martinez did a good job of maintaining leverage and forcing them back inside. The Whitewater junior recorded multiple tackles and has a great arsenal of moves in his pass rush.
Cordarro Stoute (Glynn Academy):
The 6-foot-2, 255-pound Glynn Academy defensive tackle was able to take on multiple blockers at once and maintain a presence in the heart of the South defensive front. Stoute possesses a strong base with a squat max over 500 pounds and was able to create a push when the North offensive line engaged him. Stoute does a good job of getting vertical and played with great pad level. Stoute has plenty of size that can be added to his frame and he can make a career at defensive tackle when he reaches the collegiate level.