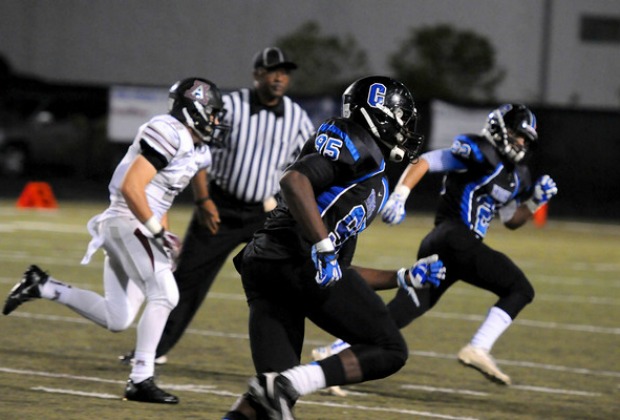 Chris Calhoun played three different positions—defensive end, inside linebacker and outside linebacker—for the Centennial Knights in 2013. He finished second on the team in both tackles and sacks.

While Calhoun's football talents are undeniable, it is his versatility off the field that made him a worthy member of the prestigious Elite Junior Classic roster. Among his contributions to the community are participation in Centennial's Knights Junior Camp during the summer and in the Feeding the Hungry program.
At Knights Junior Camp, kids from grades four through eight work on drills with select members of Centennial's football team. Last summer, Calhoun coached his own group of campers through the drills and got to see both his work and the work of his campers when a game took place at the program's conclusion. 

In Feeding the Hungry, Calhoun and his father, Vincent Calhoun, pack food and collect clothing for the homeless. The Calhoun men have also spent time getting to know some of those people in need. Chris makes a special point of reading the Bible during his meetings with homeless people and talking to children of homeless families, trying to brighten their day while also giving them advice.
Centennial head coach Jeff Carlberg has been thrilled to have that kind of leadership transfer over to the football team, as well. If the community reaps the benefits of Calhoun's presence, so do Knights' coaches and players.

"Chris is a high-character kid," Carlberg assured. "He's kind, caring; the type of kid you want to have on your team. His teammates like being around him because of his character and his work ethic. He works hard on and off the field and in the weight room, so he is a great leader by example."