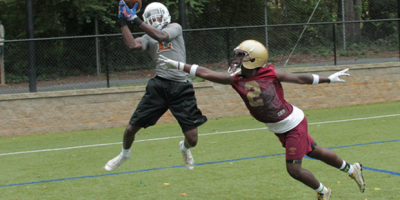 Photo is courtesy of Fans Favorite Fan
More than 1,000 student-athletes, 250 coaches and 35 teams will descend upon the Roswell area all day Friday as the MetroPCS Corky Kell Classic 7-On-7 Tournament returns for its fifth season. Hosted by Blessed Trinity, Milton, Centennial and Roswell high schools and Roswell Area Park, there will be seven different pods of five schools that will compete in pool play in the morning beginning at 9:15 culminating with a 35-team single elimination tournament at 1 p.m. The morning games will be played at BT, Milton, Centennial and Roswell Area Park while the bracket round will be at the park. The following are previews of 14 of those teams produced by Score Atlanta's summer interns. There is no charge for admission and you can check out the tournament information by going to CorkyKell.com and download the Pool schedule by CLICKING HERE and the brackets by CLICKING HERE. All scores and brackets will be updated in real time and more information can be found by following Twitter feeds @CorkyKell and @ScoreAtlanta.
Kell
Head Coach: Brett Sloan
2017 Record: 5-6 overall; 5-3 Region 7-AAAAA
What to look for: Kell is really looking forward to using the Corky Kell 7-On-7 as an opportunity to give its young players a chance to compete and secure starting positions for the upcoming season. Coach Sloan is eager to see how his young players have grown up as football players during the offseason. Specifically, he wants to use the 7-On-7 format to see how his players are adjusting to the speed of the game. The Longhorns plan on using the same schemes on offense and defense this season as they did last season. Coach Sloan stressed that the philosophy of the team will be the same this year even though they have a lot of new faces. Although Kell has a lot of new players, Leo Delphin and Sammy Blancato are two senior wide receivers who are not only expected to have big production this season on the field, but also serve as strong leaders for the younger guys in the locker room.
Young Guys: Kell lost a lot of senior skill players after last season, so the Corky Kell 7 On 7 is a chance for new guys to earn bigger roles. One player who is expected to have a large workload in the backfield is junior running back Ebony Jackson. Having won the state championship in the 100 and 200 meter track events, Jackson is expected to really utilize his quickness and explosiveness to solidify himself as one of the main running backs on the team. The Kell coaching staff is also expecting to see big things from sophomore receivers Bailey Abey and Jamal Hill.
The QB Battle: The Longhorns are really excited to have its senior quarterback Evan Conley back to lead them during the 2018 season. Coach Sloan has seen Conley play in the spotlight, but now he is looking at his progression while the offseason enters the dog days of summer, and hopes that he continues to refine his game and work on the little things to make him an even better quarterback.
The Recruiting Standouts: Kell is led by their pro style quarterback, Conley is a three star recruit, the 62nd ranked pro style QB in the nation and the 124th ranked player in the state of Georgia, according to the 247Sports rankings. Conley is currently considering offers from Colgate, Columbia and Dartmouth, among others. On the defensive end of the ball, the Longhorns are led by their senior safety Nick Ross. Ross has flown a little bit under the radar, but holds offers from Air Force, Georgia Southern, Appalachian State, South Alabama and Liberty.
Mill Creek
Head Coach: Shannon Jarvis
2017 Record: 8-4 overall; 4-2 Region 6-AAAAAAA
What to look for: Mill Creek is itching to get back to competition and will use the Corky Kell 7-On-7 to help them prepare for a very challenging 2018 schedule. Coach Jarvis has been focused on the evaluation of his younger guys and wants to use this tournament as a way for his team to gain some experience and stack up against some of the best teams and individual players in the state. The Hawks plans on using the same schemes on defense that they have been using the past few years. Jarvis is confident in his defense and points to the talented secondary and linebacking corps that will get a chance to prove themselves in the tournament. Offensively, Mill Creek is expecting quarterback Baxley Harris to throw with great anticipation, avoid mistakes and take the leadership reigns during the 7-on-7 battles. Harris is comfortable throwing to Jacob Allen, a senior receiver that will be called upon to fight for the ball and make a big play.
Young Guys: Mill Creek is loaded with young talent, which should offset a small dip in seniors at the skill positions this season. One player to really keep an eye out for is Josh Battle, a sophomore cornerback and running back with tremendous upside and versatility. Jarvis continues to be impressed with the sophomore's progression and thinks he will be heavily recruited as he gets older and colleges recognize his ability to play a variety of roles. Battle will be joined in the secondary by Dallas Heyward and Ronald Clark, two juniors that could and should see a ton of action on Friday. Mill Creek is also expecting big contributions from junior cornerback Colin Williams. On the offensive side of the ball, the Hawks are excited to have junior slot receiver and running back Parker Wroble back and his speed will test opposing linebackers.
The QB Battle: Coach Jarvis named Harris his starting quarterback, but Caden Cullins will also have a shot at the job once he gets back from an injury he suffered during the baseball season.
The Recruiting Standouts: Mill Creek is a very young team so they do not currently have any skill position players with division one offers. Duke and Wake Forest have shown some interest in safety Ronald Clark. Junior linebacker Miles Jackson is a player that coach Jarvis has high hopes for and he has received interest from Florida State, South Carolina and Clemson.
Milton
Head Coach: Adam Clack
2017 Record: 9-3 overall; 4-1 Region 5-AAAAAAA
What to look for: Milton and first-year coach Clack are really looking forward to the opportunity to play in the Corky Kell 7 On 7 Tournament. He wants to not only use this tournament as an opportunity to develop his players, but also use it to challenge his team to compete with the same intensity that they'll need to contend in Class AAAAAA next season. Milton is planning on being very experimental with their depth chart at the 7-On-7 tournament. Coach Clack said he is going to be putting his players in many different positions to see where they fit best come August. He plans on giving his wide receivers and running backs some time at safety and cornerback and vice versa. Coach Clack is also really excited to showcase the progression his starting quarterback, Jordan Yates, has made so far this offseason.
Young Guys: Milton has a plethora of young talent they are looking forward to showcasing at the Corky Kell 7-on-7, as well as in 2018. One player to look out for is junior free safety/wide receiver, Jack Rhodes. Milton also has two young running backs, Ahmad Echols (junior) and Jeremy Olagokie (sophomore), who will be competing all offseason for playing time in the backfield. Lastly, coach Clack is really excited to see his junior linebackers, Logan Jones and Steven Michaels. Michaels, is also projected to spend time on the offensive end of the field this season at tight end and fullback.
The QB Battle: There is not a quarterback competition at Milton as Yates has firmly solidified himself as the starter. However, coach Clack is really looking forward to seeing the development of his junior backup QB Jackson Weaver.
The Recruiting Standouts: Milton's defense is led by Joseph Charleston, their star safety. Charleston is a 4-star recruit, the 155th-ranked player in the nation, the 10th-ranked safety in the country and the 18th-ranked player in the state of Georgia, according to the 247Sports composite rankings. The Clemson-commit is one of the most sought after prospects in the Class of 2019, that many believe is entering next season underrated due to the incredible attention the big-name Class of 2018 received these past few years. Milton's offense is led by Yates, their star dual threat quarterback. Yates is a three-star recruit, the 18th-ranked dual threat QB in the country and the 79th-ranked player in the state of Georgia. Yates remains undecided, but has fielded offers from Appalachian State, Florida Atlantic and Georgia Southern, among others.
Walton
Head Coach: Daniel Brunner
2017 Record: 11-1 overall; 5-0 Region 4-AAAAAAA
What to look for: Walton and Coach Brunner can't wait for their second opportunity at the Corky Kell 7-on-7 tournament after making serious noise in last summer's bracket. The Raiders are fresh off an incredible 11-1 campaign that saw the first-year coach lead the program to its first perfect season since 2011. Coach Brunner said that his team is going to bring more passion and an even greater effort than they brought last year, and the tight-bond of the staff and team should complement the talent and experience headlining the roster well. Expect a well-prepared group with many returners on the offensive and defensive side of the ball. With players like five-star wide receiver Dominick Blaylock and star quarterback Austin Kirksey returning, Walton has strong veteran leaders with unbeatable chemistry. Last season, Kirksey threw for 2,475 yards and 22 touchdowns, while only throwing six interceptions. His standout receiver Blaylock caught seven of those touchdowns and had 900 yards receiving.
Young Guys: Walton is bringing back a very strong senior class and during the 7-On-7 tournament they will be using primarily senior players with their few juniors and underclassmen serving in backup roles.
The QB Battle: There is not a quarterback competition at Walton as Kirksey is returning for his senior season. Kirksey warriored his way through injuries produced the best passing season in school history last season and Brunner is right to believe that his senior signal caller is one of the best quarterbacks in the state, if not the best.
The Recruiting Standouts: Walton's senior class is led by Blaylock. He is a 5-star recruit, the 18th-ranked player in the nation, the second ranked receiver in the nation and the fourth ranked player in the state of Georgia, according to the 247Sports composite rankings. Blaylock is a headliner of Georgia's Class of 2019 commits. Kirksey is a three star recruit, the 101st-ranked player in the state of Georgia and the 33rd-ranked pro style QB in the nation, according to the 247Sports composite rankings. Kirksey is currently considering offers from Nevada, Eastern Kentucky and UAB.
McEachern
Head Coach: Kyle Hockman
2017 Record: 10-4 overall; 4-1 Region 3-AAAAAAA
What to look for: McEachern should reap the benefits of the using a deep cast of underclassmen the past two seasons by hitting the field this fall with one of the more experienced teams its had in recent years. Now that head coach Kyle Hockman is familiar with the roles his top contributors will be playing, the offseason, and 7-on-7 structure is an opportunity for him to move different positions around and use it as an opportunity to add depth and even more versatility to the roster. Valerian Agbaw Jr. used to be a wide receiver, but has been moved to defensive back and his ball skills and familiarity with the offensive side of the ball is expected to translate well to this role.
Young Guys: Since McEachern is a very experienced team, sophomore quarterback Carlos Del Rio's development is helping to pace the offseason and is offering a leadership presence that is seen in the younger contributors.
The QB battle: Carlos Del Rio has secured himself the starting quarter back position after a solid run in last year's post season, where he shined as a promising Class of 2021 prospect.
The Recruiting Standouts: Running Back Paris Brown will be making his decision between Kentucky and Wake Forest in the next month and is one of the most complete backs in the state, with an ability to add balance to engine the Indians' high-powered offense. Defensive Back Irwin Bird is another guy to watch in the McEachern secondary and holds 20 offers, including Georgia State, Troy, and UNC Charlotte. Valerian Agbaw Jr. has offers from Arkansas St., Marshall, among others.
Colquitt County
Head Coach: Rush Propst
2017 Record: 11-4 overall; 1-2 Region 1-AAAAAAA (State runner-up)
What to look for: Colquitt County has been very successful in the past years, both in the Corky Kell 7-on-7, and with their annual trips to Atlanta during the Packers' deep runs in the state playoffs. Coach Propst plans on using a lot of different personal groupings and the same intensity they always do during the 7 On 7, and winning the tournament is just as important than the reps and the work that they have prepared for.
Young Guys: The Packers have most of its starters returning this season and this is a group that matured throughout their run to the Class AAAAAAA title game a year ago. Younger guys, however, will be taking over significant roles at quarterback and receiver.
The QB battle: The starting quarterback position is currently up for grabs after Steven Krajewski graduated. Last year's back up was junior Jaycee Harden, and was thought to be the only person up for the job until senior Marvion McDonald, who started as a wide receiver last year, decided that he was interested in the position. Head coach Rush Propst stated, "currently Harden is ahead in the race by a toenail".
The Recruiting Standouts: Colquitt County already has 11 guys with scholarship offers, making this year's rosters one of the most prospect-filled rosters that the Packers have had since Propst took over the program. Colquitt has two strong players in the backfield with returning star running back Ty Leggett and the four-star Junior Dajun Edwards. Edwards is one of the best running backs in the state of Georgia and will require defensive attention throughout the 7-on-7 tournament as he showcases his ability to catch out of the backfield.
Brookwood
Head Coach: Philip Jones
2017 Record: 11-3 overall; 6-0 Region-7-AAAAAAA
What to look for: This season is going to consist of a lot of new faces on the field. The only two positions with returning starters after a senior-laden group made a run to the semifinals in 2018 will be at center and cornerback. Brookwood's offense is going to have to replace the production of wide receiver Matthew Hill (Auburn) and running back Dante Black (UConn). Coach Jones plans on putting more emphasis on the run game this season and is excited to see how the guys handle adversity, but the 7-on-7 competition this summer is going to be especially important in reloading the skill positions and finding guys that can make explosive plays.
Young Guys: Since there are 20 new starters, this upcoming season is going to depend on mostly young guys with a handful of seniors that have had to wait their turn behind the star-studded Class of 2018.
The QB battle: Currently there are four guys competing for the starting quarterback position. In the lead is senior Conner Chavis. The other three guys trying for the job are Griffin Jamison, Caleb Ellard, And Jack Spyken.
The Recruiting Standouts: Currently no one on the team has D1 offers, but the offensive line and the defensive line could be where this year's Broncos team shines and that is not surprising considering the small sample size of starting experience up and down the roster.
Tucker
Head Coach: Bryan Lamar
2017 Record: 12-2 overall; 7-0 Region 4-AAAAAA
The Tucker Tigers hope to bring their momentum from last season's success to the 2017 Corky Kell Classic 7 On 7 Tournament. The Tigers made it to the Class AAAAAA quarterfinals last season, where they were defeated by runner-up Coffee County. Tucker ended their 2017 season 12-2 overall and its only regular season loss came in a 35-21 loss to Colquitt County in non-region action .
What to look for: The Tigers will welcome back numerous key players, including senior quarterback Travon Ford. Ford had 1,616 yards passing and tossed 18 touchdowns in an offense that averaged 242.7 rushing yards per game. "We are looking for balance this year and we are hoping that we can establish a solid run game. The team will be welcoming back a lot of our key offensive players and the guys are ready to play," Tucker coach Bryan Lamar said. "Travon is such a versatile player and his ability to both throw and run the ball was key in our 2017 season and we hope it will get us far this season as well." Running back David Davis Jr. returns as Tucker's key playmaker, after ending his junior season with 808 rushing yards and 10 touchdowns while splitting carries with seniors Taurean Taylor and Gerry Vaughn. Without Taylor and Vaughn, Davis will be this year's feature back and is poised for a big-time season.
Young Guys: Junior wide receiver Isiah Dunson will finally get his chance to show off his skills in the 7-On-7 and will play a critical role this season for the Tiger's offense. "Isiah is still a junior, which gives him plenty of time to grow and find his role on this team. He is very skilled and I believe he will be a big component of our offense for the next two years," coach Lamar said. "He does have looks from Florida State and South Carolina, so I think his skills will keep improving." Dunson caught two touchdowns as a sophomore last season and is being asked to fill in the void left by Josh Vann, who capped his senior season with a team-high 46 catches for 867 yards and 12 touchdowns.
The Quarterback Battle: Ford will lead the Tucker offense in his final season, but we may get a look at Byrce Spradling and Isaiah Raheem.
The Recruiting Standouts: Derrick McLendon is Tucker's most sought after prospect in the Class of 2018, but fans will have to wait until the fall to see what the 3-star, 6-foot-3 defensive end has in store. Isiah Dunson's success at receiver this season should determine how quickly the looks that Florida State and South Carolina have given him will manifest in the form of a formal offer.
Marietta
Head Coach: Richard Morgan
2017 Record: 8-5 overall; 2-3 Region 3-AAAAAAA
Marietta will be coming back from a phenomenal 2017 season and will be looking to use the high expectations that are carrying over from last season to contend for not only the 7-on-7 championship, but the ultimate prize this fall. The Blue Devils made it all the way to the quarterfinals last season where they were defeated by North Gwinnett, who ended up clinching the Class AAAAAAA title, its first in program history. Azeez Ojulari, Marietta's top linebacker who led the team with 118 tackles last season, graduated this year and will play football at UGA. That is just one of the many talented players that Marietta produces and with the amount of starters returning this season, especially in the Class of 2020, Marietta's well on its way to making serious noise in the years ahead.
What to look for: Marietta will welcome back numerous key players and will work to get better on their fundamentals during the 7 On 7. "We are super excited to be able to come to the 7 on 7 and use it to our advantage to see where we are at," Marietta coach Richard Morgan said. "We want the team to come out and compete and be able to work on specific fundamentals that will help us for the upcoming season."
Ramel Keyton, who had 1294 yards receiving last season will return for his senior season in hopes of helping lead his team to a championship. The Blue Devils will also welcome back highly ranked Class of 2020 quarterback Harrison Bailey. Marietta will also rely on Jordan Ford, a running back who ran for 552 yards on 76 carries last season.
Young Guys: Marietta will rely on the Class of 2020 to fill their offense and defense and get them wins this season. Junior and U.S. Army All-American Arik Gilbert is suited for roles at both tight end and defensive end, where he is expected to pick up the production for the Georgia-bound Ojulari. Junior Jake Wray will lead the offensive line and the offense will also star junior wide Receivers Kobe Stewart and Taji Johnson.
The QB battle: Pro-Style quarterback Harrison Bailey will return as Marietta's quarterback for his Junior season. Bailey has had phenomenal success at Marietta and has broken several school records. The 2017 season proved difficult for Bailey and his team after Bailey was injured mid-season, but his only loss was his five-touchdown performance against North Gwinnett.
The Recruiting Standouts: Keyton is committed to Tennessee, middle linebacker Ty Burton is committed to Miami, and Wray is committed to Ohio State. Gilbert has offers from UGA, LSU, USC, UNC, Ohio State, and several more. Bailey has offers from Auburn, Alabama, UGA, Florida, Ole Miss, Oklahoma, Michigan State, and several more.
Buford
Head Coach: John Ford
2017 Record: 11-2 Overall; 6-0 Region 8-AAAAA
Buford had a solid debut season for head coach John Ford, but ultimately fell to two-time defending state champion Rome in this year's semifinals after suffering a 16-7 defeat to the Wolves in the 2016 Class AAAAA state title game. Buford has reached the state championship 10 times in the past 11 seasons, winning seven state titles in the same span.
What to look for: The Wolves are eager to get back into their season and they feel the Corky Kell 7 on 7 is just one way to see the competition they will have to take on this upcoming season as they look to add another state title to their crowded shelf. "The team and I are super excited to compete, and we think this is a great opportunity to give our boys a look at the real competition that we will face this season," said Ford. "The boys have put in a lot of work, so we hope we can see it all come together during the 7 On 7." Seniors make up most of the team and will be the key to Buford's offense and defense. Cornerback and wide receiver Jamaal Singleton, free safety and wide receiver KJ Johnson, and running back Derrian Brown will be the key playmakers during the 2018 season. In the fall, it will be Buford's star-studded offensive line leading the way, so the 7-on-7 is a chance for the skill guys to work on their chemistry and to get the passing game clicking.
Young Guys: Aaron McLaughlin will return for his sophomore season as Buford's starting quarterback after leading the Wolves to 11 wins his freshman season.
The QB Situation: McLaughlin will be Buford's starting quarterback this season and will have one of the best offensive lines in the state to work behind.
The Recruiting Standouts: The Wolves graduated another strong senior class this past year, highlighted by RB Anthony Grant (FSU), RB Christian Turner (Michigan), S Bryson Richardson (UNC), WR Isaiah Issac (Wake Forest) and OLB Brock Mattison (Appalachian State), but their Class of 2019 is once again loaded, especially on the line of scrimmage. Center Harry Miller (6-4, 310) is a four-star prospect and has 3-star guard Riley Simonds (6-3, 300) and 3-star tackles Reece McIntyre (6-5, 290) and Carter Colquitt (6-6, 295) helping him anchor one of the most talented (and biggest) offensive lines in the nation. Running back Derrian Brown will play a much bigger role this season after splitting carries with Grant, Turner and the rest of Buford's deep and talented stable of backs. Three-star defensive end Ahmad Craig stands 6-foot-6, 240 pounds and has a chance to shoot up the recruiting boards. The 6-foot-4 McLaughlin already holds offers from Auburn, Michigan, Ole Miss and USC, among others.
Archer
Head Coach: Andy Dyer
2017 Record: 12-1 overall; 5-0 Region 8-AAAAAAA
Archer navigated one of the most challenging schedules in the state and took a flawless 12-0 record into the quarterfinals, where the Tigers came up short (12-7) to Colquitt County.
What to look for: Archer will welcome back many starters and is a team full of juniors and seniors that will provide both sides of the football with experience following last year's incredible run. "Our goal for the 7-on-7 is to show off our fundamentals and what we have been coming together to work on," explained Dyer. "We can check out the competition and also have some of our younger guys out there getting in some work." Senior Jalyn Phillips, a strong safety, will return for Archer and senior Andrew Booth will return as cornerback. Wide receiver Braylen Weems had 507 yards in 2017 and will be a guy to look out for in the 7-on-7 play. Carter Peevy returns under center to lead the Tigers and will continue to involve Archer's deep cast of playmakers to get the offensive clicking.
Younger Guys: Semaje Banks will return as running back after posting 664 yards rushing on 119 carries last season.
The QB Situation: Peevy will return for his junior season after throwing 2030 yards last season
The Recruiting Standouts: Starting cornerback Andrew Booth is the latest standout in the Archer secondary that is attracting offers from the nation's top programs and currently holds offers from over 15 schools including Tennessee, Auburn, Duke, Oregon, and LSU.
Norcross
Head Coach: Keith Maloof
2017 Record: 5-6 Overall; 4-2 Region 7-AAAAAAA
What to look for: Coach Maloof described the Corky Kell 7-On-7 as "Basketball on grass" as they are looking closely at individual matchups, decision making and working within the uptempo format produced in 7-On-7 competition. Defensively, he is looking for the linebackers to break on the ball, and the corners to win the one on one matchups. Offensively, he is focused on quarterback Louis Williams' decision making with the ball, particularly in tight windows, and the receivers' route running and ability to create space. But beyond the fundamentals, Maloof is expecting his players to play with a high level of intensity and is stressing the importance of competing each and every snap.
Young Guys: Norcross' offense is senior-heavy, but the Blue Devils will feature two promising young running backs in sophomore Michael Porter and junior D'ron Jumpp, as well as junior Randy Smith, a receiver who should significantly contribute this year. Coach Maloof is also looking forward to seeing the play from sophomore free safety Josh Graham and sophomore cornerback Jamal Janvier on the defensive side of the ball.
The QB Battle: The starting quarterback is returning senior Louis Williams, and he has the starting position locked up. Williams racked up 1,728 yards and 16 touchdowns off on 139-of- 230 passing. However, we will also see Teddy Gassert get some reps at quarterback at Corky Kell 7-on-7 Tournament.
The Recruiting Standouts: Norcross will have a number of Division 1 interests this coming year, especially with their skill players. QB Louis Williams, receivers Isaiah Wilson and Christian Sims, RB Lance Jackson and DE Tyler Moore are all getting Power 5 looks this season. Underclassmen Josh Graham and Jamal Janvier are also garnering interest from Power 5 schools and momentum on recruiting boards.
North Gwinnett
Head Coach: Bill Stewart
2017 Record: 14-1 overall; 6-0 Region 6-AAAAAAA (State champion)
What to look for: For North Gwinnett, there is definitely a positive outlook on the upcoming 2018 football season. North Gwinnett is returning speedy running back Tyler Goodson, who provided a consistent threat out of the backfield and sparked the big plays needed to propel North Gwinnett towards the Class AAAAAAA crown last season. Goodson is expected to continue making plays and also to take on an even bigger leadership role this season. North Gwinnett is also returning an upcoming star in junior Josh Downs. Downs led the receiving corps last season with over 1,000 yards and should be a vital part of the program this season. Aside from these two offensive playmakers, the team's defense should be dominant. With rising seniors, Warren Burrell, DJ Turner II, and Quinton Newsome leading the pack, the secondary should be one of the strongest this program has ever seen.
Young Guys: Although North Gwinnett has a lot of talented seniors, the class of 2020 is expected to be crucial part in the team's success. Talented safety, Josh Shuler had a breakout year last season as well as picking up three SEC offers. Josh Downs is fresh off his breakout sophomore season and running back Devin Crosby is expected to have another big year after splitting carries with Goodson in last year's backfield
The QB battle: Senior William Goldring is expected to be the starting quarterback for the 2018 season after being the backup to UNC-signee Cade Fortin in 2017.
The Recruiting Standouts: Senior Warren Burrell is a 3-star CB ranked #65 in the state of Georgia and #594 nationally. Burrell currently has 26 offers, including Florida, North Carolina State, Tennessee, and Georgia. DJ Turner II is a 3-star CB ranked #49 in the state of Georgia for the Class of 2019 and #443 nationally. Turner currently has 32 offers, including Michigan, Florida, Notre Dame, and Alabama. Tyler Goodson is a 3-star senior running back ranked #53 in the state of Georgia and #472 nationally. Goodson currently has 25 offers, including West Virginia, Boston College, Indiana, and Iowa. Quinton Newsome is 3-star senior safety ranked #91 in the state of Georgia and #958 nationally. Newsome currently has 22 offers, including Ole Miss, Alabama, Auburn, and Georgia. Josh Shuler is a 4-star junior safety ranked #19 in the state of Georgia and #191 nationally. Shuler currently has 3 offers, which are Mississippi State, Tennessee, and Vanderbilt. Josh Downs is a WR in the Class of 2020 that currently has 20 offers, including Louisville, Michigan, North Carolina, and Oregon.
Mays
Head Coach: Niketa Battle
2017 Record: 11-2 overall; 8-0 Region 5 (AAAAAA)
What to look for: Coach Battle expects a healthy blend of experience, youth and versatility to lead the Mays Raiders in 2018. Mays' leader on the field this upcoming season will be overall senior quarterback Jahquez Evans, a 6-foot-2, 180-pound dual threat that is coming off an outstanding junior season. According to Battle, Evans is setting the bar high and expects to put the team in position to win a state championship this season. Tyree Nelson is more under the radar than Evans as a smaller-sized running back, but he unforgettably ran for more than 600 yards last season in the Raiders' three playoff games. The rising junior is capable of a huge 2018 season and the ceiling is extremely high.
Young Guys: Mays' defense will be replacing 10 players from last year and its offense will replace 6 player, but Battle is relying on a Class of 2020 that he describes as "absolutely loaded." The starting defensive backs and safeties are all 2020 graduates, as well as a few players on the offensive side. On defense, some of the young players include juniors Jarvis Millsap, Durante Jones and Tavarious Carswelli. On the offensive side Nelson in addition to 6-foot-5, 200-pound junior receiver Kaleb Walton are going to be heavily depended on in the years ahead.
The QB battle: Returning starter Jahquez Evans is a lock at the quarterback position for Mays. The senior currently has 20 offers from D1 schools, but is uncommitted at the time.
The Recruiting Standouts: Dual-threat quarterback Jahquez Evans is ranked as a 3-star prospect and is positioned #126 in the state of Georgia and #1,253 nationally by 247sports. Evans currently has 20 offers, including Kentucky, East Carolina, Georgia Tech and Missouri.