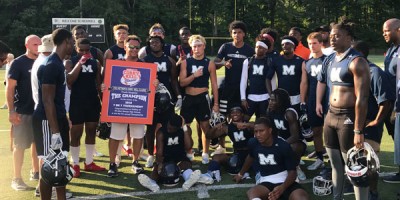 The fifth annual MetroPCS Corky Kell Classic 7-on-7 Tournament featured 35 teams and used fields at Roswell Area Parks, Centennial, Milton and Blessed Trinity in the morning to seed the single elimination tournament that funneled all the action to Roswell Area Parks on what was a scorching Friday afternoon and early evening.
The Marietta Blue Devils earned the top seed after 'pod play' and cruised past Roswell (37-0), Lee County (27-20), Buford (40-7) and Walton (35-2) in the bracket before matching up with reigning Class 7A state champion and No. 2 seed North Gwinnett in the championship. The Bulldogs' morning, and run to the finals was equally dominant as North Gwinnett dispatched Mays (36-6), Carrollton (40-12), Monroe Area (29-12) and Kell (24-0) before meeting Marietta. The matchup itself was fresh on the minds of both teams, as it was a rematch of the 2017 Class 7A state quarterfinals, which North Gwinnett took 51-41 over Marietta. It was Blue Devils' star quarterback Harrison Bailey's only loss of the year, but it was also a game, in which the Class of 2020 prospect matched a career-high with five touchdown passes.
"Harrison Bailey is the best quarterback in America," assured Marietta head coach Richard Morgan after his team's 36-35 double overtime victory on Friday.
Marietta went back and forth with North Gwinnett's high-powered offense, but were able to get out in front 21-13 before the Bulldogs used a touchdown and clutch 2-point conversion to knot it at 21-21 with 3:30 left. It was the ninth game of the day for both teams, but the intensity dialed up again as North Gwinnett stopped Marietta and took a 23-21 lead (after getting rewarded two points for the stop in the 7-on-7 format). North Gwinnett found the endzone on its next possession and put Marietta in an 8-point hole with just 25 seconds left on the clock.
North Gwinnett TD up 8 with 25 seconds. pic.twitter.com/G14nQez9er

— Craig Sager II (@CraigSagerJr) June 15, 2018
Bailey turned to his top target, the nation's No. 1 ranked athlete in his fellow Class of 2020, Arik Gilbert, a 6-foot-5, 248-pound weapon that not only hauled in the touchdown reception in triple coverage, but secured the game-tying 2-point conversion while wearing another North Gwinnett defender.
Harrison Bailey to Arik Gilbert into triple coverage and Marietta is back within 2! pic.twitter.com/fXbduqNmJQ

— Craig Sager II (@CraigSagerJr) June 15, 2018
Both squads scored in the first overtime period and failed the mandatory two-point conversion. Then Marietta stopped North Gwinnett on the first and only ruled possession of the double overtime period and stamped its 36-35 victory.
"Let's face it, we came within two minutes of beating them last year in the quarterfinals in a game between two great teams and that loss has, and continues to motivate us," said Morgan. "And so our guys know we can play with the best in the state and coming out here today and winning a 7-on-7 against such great competition, it boosts our confidence, yes, but in the end, it's about what we do in the fall. That's what we are really gearing for."