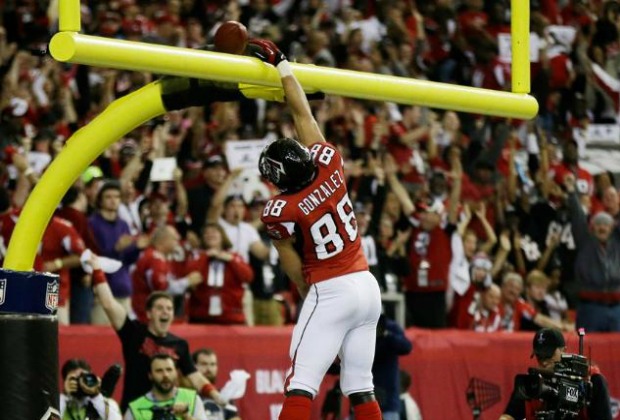 AtlantaFalcons.com
During Atlanta's first-ever home NFC Championship game, the Falcons looked to be on their way to New Orleans before stalling and eventually landing just 10 yards short of the Super Bowl. The 49ers managed to erase a 17-point lead, the largest margin overcome in NFC Championship history and the third largest in playoff history in San Francisco's 28-24 win.
Defensively San Francisco was held to minus-2 yards of offense in the first quarter, but a few big throws to Vernon Davis opened up the offense, which would gain 375 yards over the next three quarters.
After opening up the game on fire, Matt Ryan and the offense committed two turnovers and could not score a single point in the second half, just as the defense was unable to get off the field during several key San Francisco drives.
"It's time to turn the page," said Smith in his first press conference. "I'll be heading down to Mobile [Alabama] to watch the Senior Bowl and will be evaluating the talent for this upcoming season."
MOVING ON …
While the franchise is focusing on turning the page to next year, the team is hoping Tony Gonzalez will return to write one final chapter. The scene in the locker room was highly emotional, with most of the attention heading towards the future Hall of Fame tight end. Gonzalez, however, looked to be walking off the football field for the last time.
"You cannot keep chasing Super Bowls," said Gonzalez. "But don't feel sorry for me, I have had an incredible career and wouldn't change anything."
Gonzalez was one of five Falcons to make the Pro Bowl this season. The game is scheduled for this Sunday, but Gonzalez will not participate. Ryan will also not play after suffering an injury late in Sunday's loss.
Wide receiver Julio Jones will head west as will safeties Thomas DeCoud and William Moore, who were added earlier this week.
"Our first offseason meeting is April 24 and this whole process starts again," said Smith.
DRAFT DAY …
The Falcons have the No. 30 pick of the first round in the upcoming NFL Draft. The search for a pass rusher and some young legs at the running back position looks to be what the organization is searching for. Both coordinators will return with a chance to bring in players that fit their systems to help try to take the final step and play in the Super Bowl.