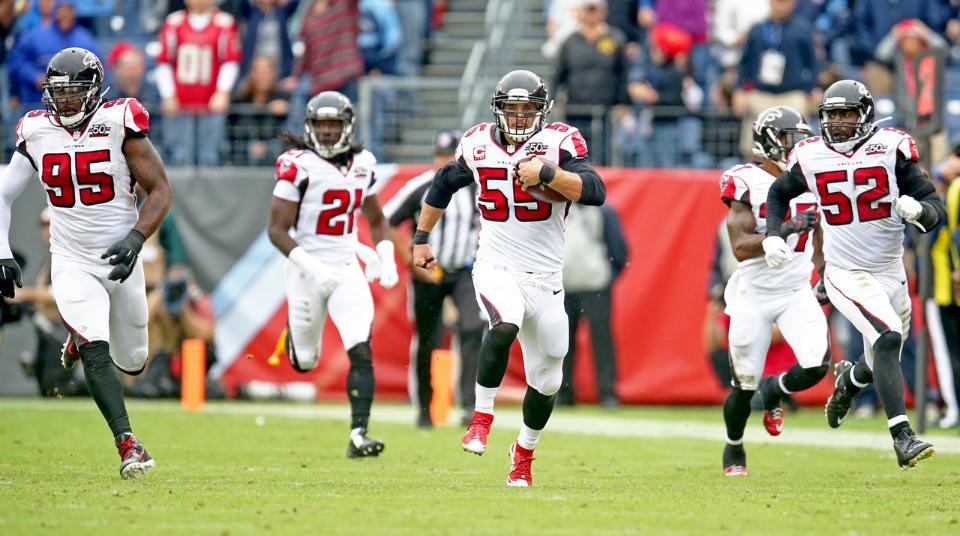 AtlantaFalcons.com
FLOWERY BRANCH, Ga.— Even though the 2015 record in the wins column at six, the Falcons are still looking to get even better following their 10-7 win Sunday against the Tennessee Titans. The proof is in the pudding that the NFC South is not the same division it was just a year ago.
The Carolina Panthers continue to be one of the league's best, with their Sunday night win over the Philadelphia Eagles. The New Orleans Saints are also showing that things are starting to improve for them, following their start to the season.
The Falcons win on Sunday at Tennessee wasn't pretty by any means, but it still counts the same as any other win. A day after that win, head coach Dan Quinn addressed the media in his normal Monday press conference.
He opened by saying that this Monday is "Tell The Truth Monday."
"Our challenge is to find out what we can be and not settle for what we already are," Quinn said. "I think that message resonates with me a lot, because we're always looking for a constant state of improvement."
Quinn went on to point out the improvements defensively on third downs and in the pass rush. Plus, the Falcons were even in the turnover category this week.
The Falcons have struggled lately in the red zone and that will be another area they need to improve in going forward this season. Quinn said on Monday that four of their 10 turnovers this season have happened in this part of the field.
"For one, lets get rid of some of the penalties that start at drive at first and 20," Quinn said. "It's so hard to convert when you get to that. We're at our best when we have the managing third downs that we like. As far as the red zone, when we're heading down there it's touchdowns and not field goals."
Falcons quarterback Matt Ryan has struggled in two of his last three games, with ratings of about 55 against the Washington Redskins and 64 against the Titans. He also threw two interceptions each in those games.
Quinn was asked about whether or not Ryan might be getting frustrated with these turnovers, he said it's tough to tell with him because of his competitive nature. He also isn't worried about him.
"When we're trying to constantly get better, he's somebody at the front of that list that is trying to do that," Quinn said. "I think the first player that I met coming in here on the day that I was announced here and he was right there waiting. That shows you the type of competitor (he is), how much he wants to be good and how much he wants to work at it to get it right."
The Falcons will get today off from on-field work and will get back to work on Wednesday. On the injury front, we can expect that both wide receiver Leonard Hankerson and William Moore will not be on the field.
Moore has a groin strain and Hankerson is dealing with a hamstring strain.