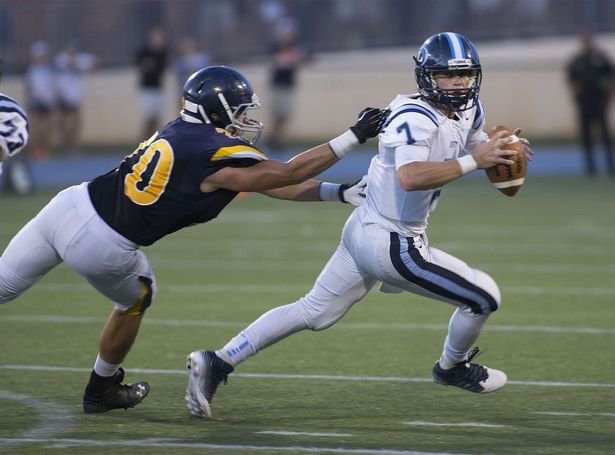 AJC.com
In Class AAAAAA, Peachtree Ridge jumped to No. 6 after shutting out previously unbeaten Norcross 31-0. The Lions sit one spot ahead of McEachern, which they survived a 9-6 victory over on Sept. 11. With two weeks of regular season action left, Colquitt County, Grayson, Roswell, Mill Creek and Camden County remain unbeaten in the state's highest classification.
Class AAAAA stayed the same, but Class AAAA saw a major shift as top-ranked Woodward Academy demolished Sandy Creek 37-7. The defeat sent two-loss Sandy Creek out of the top 10 and 7-1 Thomson debuts at No. 10.
There was no movement in Class AAA for the second straight week but Lovett's major 21-7 upset over Wesleyan shook Class AA. Lovett returned to the rankings at No. 9 and the Wolves dropped to No. 10.
In Class A-Private, No. 3 Eagle's Landing Christian cruised past previous No. 4 Landmark Christian 48-28. Aquinas took over No. 4 after moving to 7-1 with a 49-14 victory over Warren County and Landmark Christian rounds out the top 5. For the first time this season, Class A-Public stays in tact after seeing no losses in the top 10.
Class AAAAAA
1. Colquitt County
2. Grayson
3. Roswell
4. Archer
5. Mill Creek
6. Peachtree Ridge
7. McEachern
8. Camden County
9. Walton
10. Norcross
Class AAAAA
1. Northside-Warner Robins
2. Mays
3. Stockbridge
4. Jones County
5. Houston County
6. Lanier
7. Stephenson
8. Northgate
9. Coffee
10. Glynn Academy
Class AAAA
1. Buford
2. Cartersville
3. Woodward Academy
4. Mary Persons
5. St. Pius
6. Jonesboro
7. Bainbridge
8. Marist
9. Spalding
10. Thomson
Class AAA
1. Calhoun
2. Blessed Trinity
3. Jefferson
4. Cedar Grove
5. Central-Carroll
6. Dodge County
7. Elbert County
8. Callaway
9. Adairsville
10. Jackson
Class AA
1. Benedictine
2. Greater Atlanta Christian
3. Rabun County
4. Darlington
5. Pace Academy
6. Fitzgerald
7. Brooks County
8. Jefferson County
9. Lovett
10. Wesleyan
Class A-Private
1. Mt. Paran
2. Prince Avenue Christian
3. Eagle's Landing Christian
4. Landmark Christian
5. Aquinas
6. Savannah Christian
7. Stratford Academy
8. Calvary Day
9. Pinecrest Academy
10. Athens Academy
Class A-Public
1. Marion County
2. Lincoln County
3. Emanuel County Institute
4. Clinch County
5. Turner County
6. Charlton County
7. Irwin County
8. Commerce
9. Mt. Zion
10. Dooly County