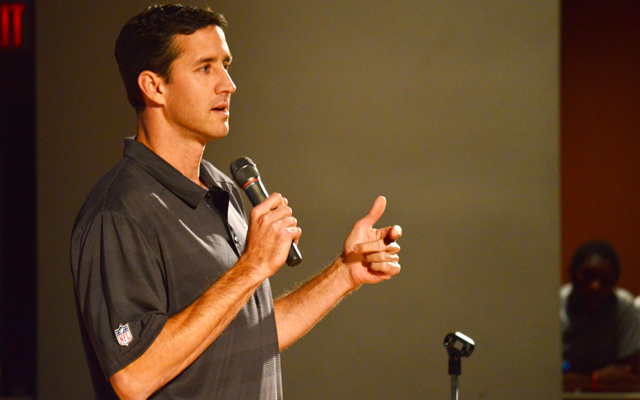 AtlantaFalcons.com
The Atlanta Falcons and the Atlanta Dream continued their joint-effort with Mothers Against Drunk Driving (MADD) on Thursday as they visited Alpharetta High School to speak with students about the dangers of underage drinking. MADD is the nation's largest nonprofit organization that focuses on protecting families from drunk driving and underage drinking. Former Falcons wideout Brian Finneran was joined alongside by Atlanta offensive tackle Justin Blalock and Dream forward Delisha Milton-Jones to support MADD's cause.
For Finneran, it is an effort that he fully supports with himself having four kids, including two aged 18 and 20. He was pleased to have aided in MADD's cause. "MADD is an awesome organization and to be a part of it really gets it back in my mind how important it is for kids to understand you can't drink and drive," said the former NFL wideout. "It was also great to be a part of Arthur Blank's effort and help his fiancée Angela (Macuga) out."
Angela, a regular volunteer with MADD, saw alcoholism take the lives of her father along with her ex-husband and sees the organization as a chance to inform the younger generation about the effects of alcohol. "Kids have the rest of their lives to decide whether they want to drink and be smarter about it, Angela said, "I hate for them and their young lives to make decisions that they (shouldn't) make."
Each year, 4,700 teenagers are killed in alcohol-related deaths but the efforts of MADD, joined by other organizations, have seen an improvement when it comes to teen-alcohol use. According to the Department of Health and Human Services, 11.6 percent of teens admitted to drinking alcohol regularly in 2013, which is a drastic decline from 2002 where the rate was at 17.6 percent.
Barry Martin, the Georgia state director for MADD, said that the organization began their focus on underage drinking in 2006 when they realized that kids who began drinking before the age of 21 were more likely to drink and drive as adult.
Joined alongside by the Atlanta Falcons, Atlanta Dream, and Never to Yield Foundation, MADD launched a social media pledge campaign called #ProtectUrSelfie, asking teens to stay alcohol-free until the 21 years of age and to not get in the car with a drinking driver. Students were asked to take a 'selfie' with friends and post it on their social networking pages to help aid in the effort.