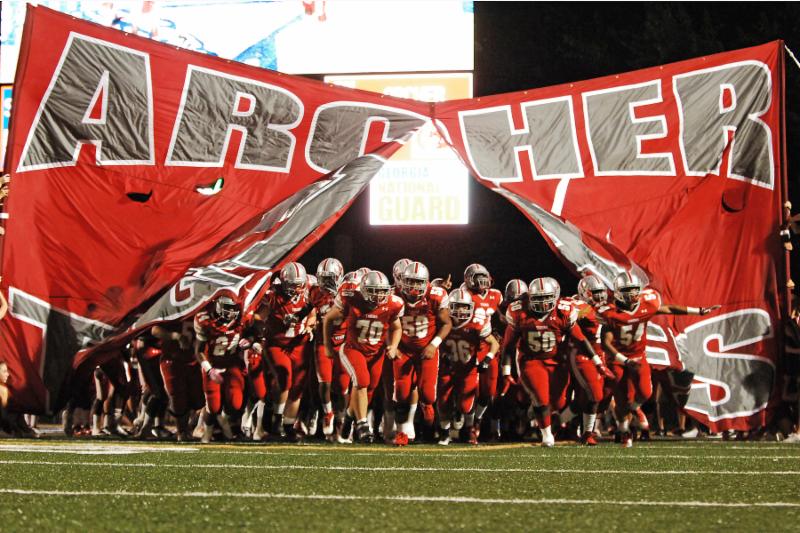 Photo by Sonny Kennedy
Visiting Alpharetta captured a region championship (6-AAAAAA) Friday night for the third time in school history and extended its region win-streak to 21 games with a 17-0 shutout of Northview. Alpharetta scored on a 9-yard Miles Smith touchdown early in the opening quarter and saw a 77-yard touchdown pass from Austin King to Ryan Kopec get negated with a holding call before settling into halftime with a 7-0 lead. William Downing recovered a blocked Northview punt in the endzone to give Alpharetta a 14-0 lead with 4:32 left in the third quarter and Kopec added an Alpharetta field goal with 7:35 left to push the lead to 17. Alpharetta lost its season opener to Milton 17-10 and has won its last eight games under first-year head coach Jacob Nichols.
Class AAAAAA
Archer 24, Dacula 10: Archer fell behind 10-0 in the first quarter, but scored the final 24 points of the game to knock off previously unbeaten Dacula. A 29-yard Cole Fisher field goal got host Archer on the board in the first quarter. Then in the second, an 11-yard Dylan Singleton run and a 14-yard Aramis Bryant reception from Gabe Tiller put Archer ahead at the half 17-10. A 6-yard touchdown run from Jameyst Williams in the fourth quarter sealed the win.
Central Gwinnett 24, Parkview 21: A 20-yard field goal from Cole DeLotche late in the fourth quarter was the difference for visiting Central Gwinnett. Eric Forrest was 11-of-21 passing for 274 yards and two touchdowns for Central. Chris Shelling caught four passes for 104 yards and a 67-yard touchdown, and had a 99-yard kickoff return for a score. Adonis Thomas, a star linebacker, lined up at receiver to catch a 47-yard touchdown pass for the Black Knights. Major Bellamy added five catches for 118 yards for Central.
Cherokee 30, Walton 0: Host Cherokee got on the board with a Gary Dubial field goal and a Brittain Brown touchdown run to take an early 9-0 lead. Ashely Spencer scored on a quarterback keeper and found Andrew Harris in the endzone for a 2-point conversion before the half to make it 17-0. A 92-yard Brown run set up a Vance Taylor touchdown and after a muffed punt Eric Patterson ran in a Cherokee touchdown to make it 30-0.
East Coweta 15, Newnan 13: Visiting Newnan struck first with a 28-yard touchdown pass from Chancellor Johnson to P.J. Harris and took a 7-0 lead into the second quarter. East Coweta answered with a pair of touchdown runs from Will LaGuardia and Carlos Ford but two failed extra points made it just a 12-7 lead at the half. Newnan reclaimed the lead with 8:17 left in the third quarter with a 6-yard J.K Britt rushing touchdown. Cole Antley missed his first two extra points of the season in the first half, but hit a clutch 40-yard field goal into the wind with 10:18 left to give East Coweta its 15-13 lead.
Grayson 38, Brookwood 3: Grayson surged to leads of 28-0 after the first quarter and 38-0 at halftime to overwhelm visiting Brookwood. Chase Brice completed eight of 13 passes for 183 yards and three touchdowns for the Broncos. Brice accounted for two scores—one passing and one rushing—in the opening quarter. Evan Sturgill had an 81-yard touchdown reception to begin the scoring, Hunter Schuessler made 15-yard touchdown catch later in the first quarter and Andrew Hayes hauled in a 24-yard scoring strike just prior to halftime.
McEachern 41, Harrison 17: T.J. Rahming caught touchdown passes of 18, six and three yards from Bailey Hockman and had a 68-yard kickoff return for a score for host McEachern. Rahming finished with 132 yards rushing and 118 yards receiving. Hockman threw for 273 yards and five touchdowns, the other two going to Tyler Smith, who had 89 yards rushing and 65 yards receiving. McEachern led 14-3 at half and then exploded for 20 points in the third quarter to lead 34-10.
Milton 35, Pope 7: Host Milton started strong when quarterback Austin McCloud found Nathan Cranor for a 17-yard score for the early lead. Milton continued to dominate the first two quarters with long touchdown runs by Obe Fortune and Micco Brisker and carried a 21-0 lead into halftime. A 34-yard pass from Taylor Wolf to Mike Kemper cut Pope's deficit to 14. But Milton was just too strong, totaling 379 yards of offense, including 220 rushing yards.
Newton 50, Lakeside-DeKalb 4: Visiting Newton witnessed a team effort offensively. Quarterback Romario Johnson had three passing touchdowns in the game, including two passing scores to DeAndre Huff for 28 and 38 yards. J.J. Holloman scored on a 50-yard pass from Johnson while running back Kurt Taylor punched it into the Lakeside end zone for a pair of touchdowns. The Newton defense also contributed on the scoring effort as Cameron Banks returned an interception 52-yards for a touchdown.
Rockdale County 42, Alcovy 27: Alcovy had leads of 14-3 in the second quarter and 20-17 in the third before visiting Rockdale County pulled away. Rockdale County's Devin Williams set up a 4-yard touchdown run of his own by making a clutch reception to convert a 4th-and-17 situation. He also returned a kickoff 73 yards for a score to put the Bulldogs ahead 24-20 in the third quarter. It was a lead they would not relinquish. Rockdale County's first touchdown came on an 80-yard pass from Zuri Minnifield to T.J. Warren.
Wheeler 31, Lassiter 16: The visitors from Wheeler handed Lassiter a loss behind a strong defense and three Benaiah Franklin touchdowns. Franklin scored on a 60-yard reception, a 40-yard run and another run from about 20 yards out. Jacobi Green punched in a 5-yard rushing touchdown and Marcus Pratt returned a fumble for a score to help Wheeler secure the win after leading by just one holding in the third quarter.
Tucker 27, Lovejoy 12: Delvin Weems rushed for 140 yards and two touchdowns, including a 2-yard score in the first quarter and a 71-yard score to open the second half and put visiting Tucker up 21-0. Tucker scored first on a 65-yard pass from Garrett Rigby to Tyler Toombs, and Nick Broadwater had a 37-yard run in the fourth quarter. The win at Twelve Oaks Stadium clinched the Region 2-AAAAAA championship for the Tigers.
Class AAAAA
Drew 49, McIntosh 13: Joseph Newman completed four touchdown passes to lead Drew past McIntosh. Bryson Duckworth was on the receiving end of two of the touchdown passes of eight and 47 yards. Newman also found Mason Williams for a 35-yard touchdown pass and Quarderman Sloan for a 17-yarder. Drew also got touchdown runs from Sloan (one yard), Marquis Terry (one yard) and Deveall McClendon (four yards). McIntosh got a 1-yard touchdown run from Avery Hurns and an 18-yard touchdown run from quarterback Duke Kinamon.
Hiram 7, East Paulding 0: A defensive struggle in Region 5-AAAAA was scoreless at halftime before Hiram's Otis Askew took over and paved the way to a win over host East Paulding. Askew provided the game's only offense with a 6-yard touchdown run in the third quarter. He also starred from his strong safety position on defense with two interceptions, including one in the endzone as East Paulding was heading in for a potential game-tying score in the final seconds.
Houston County 50, Evans 24: Kenny Gant scored four touchdowns in the third quarter to break open a close game and lead the Bears past Evans. Houston County led 23-10 at halftime before Gant broke loose on touchdown runs of 70, five, 40 and 50 yards. When the quarter ended, Houston led 46-10. Houston County quarterback Jake Fromm also had a good night, passing for three touchdowns. Fromm found Darion Anderson for 30- and 48-yarders and Amari Colbert for a 68-yarder. Micah Garrett had a 75-yard interception return for Evans.
Lanier 21, Winder-Barrow 10: Lanier scored the last 21 points of the game to erase a 10-0 second-quarter deficit against visiting Winder-Barrow. Tario Fuller scored each of the Longhorns' two touchdowns on the ground, with his first coming in the second quarter and his go-ahead score coming in the third. Winder-Barrow tried to stop the bleeding with a late drive, but an interception was returned 70 yards for a touchdown by Jeremy Taylor to put the game away. Lanier clinched the Region 8-AAAAA title for its first-ever region championship and Winder-Barrow also clinched a playoff spot by virtue of Heritage-Conyers' loss to Clarke Central.
Mill Creek 30, Norcross 0: Visiting Mill Creek beat Norcross for the first time in school history in a dominating defensive effort. Norcross was held to negative-52 yards rushing, including sacks. Daniel David and Jonathan Hawkins each ran in a pair of touchdowns. Gerard Butler was one of Mill Creek's standouts on defense with an interception and fumble recovery. Teammate Sidney Otiwu posted a sack for a safety and Peyton Moore and Aaron Anderson each hauled in Mill Creek interceptions.
Northside-Warner Robins 51, Cross Creek 0: Willie Jordan and Tobias Oliver scored two touchdowns each to lead Northside  past Cross Creek. Jordan scored on runs of 22 and five yards, and Oliver added scoring runs of 10 and 12 yards. Northside also got a 10-yard touchdown run from T.J. Anderson, an 8-yard touchdown run from Tanner Smith and a 12-yard scoring run by Musab Gulzar. Northside's starters spent most of the second half on the bench after grabbing a 37-0 halftime lead.
Sequoyah 40, Woodland, Cartersville 0: Sequoyah routed winless Woodland to keep their playoff hopes alive. The Chiefs held a 24-0 lead at the half and never looked back. Blake Miller scored on a 20-yard touchdown run. Billy Lummus returned an interception for a touchdown. Quarterback Austin Tracy dove in for  a 1-yard score and Hakeem Hartford punched in one from two yards. Zach Stark scored on a 5-yard run and Ethan Riggle booted two field goals in the win.
South Paulding 32, Alexander 14: South Paulding ran for 288 yards on 57 carries to knock off visiting Alexander and secure the second seed in Region 5-AAAAA. Alexander picked off three Jake Oglesby passes but was unable to produce consistently on a stingy South Paulding defense. Baylor Whitfield went 14 of 32 for 102 yards with one score and one interception in the loss. Mikell Lands-Davis carried 15 times for 55 yards and also returned an interception 70 yards for Alexander.
Starr's Mill 24, Northgate 14: Starr's Mill's Ryan Roper returned a fourth-quarter interception 56 yards for a touchdown to lead the Panthers past Northgate. Starr's Mill also got touchdowns from Dion Nunerlyn and Rico Fyre and a 36-yard field goal by Brandon Oot. Nunerlyn's touchdown came on a 40-yard pass reception. Frye, who carried 24 times for 120 yards, scored on a 2-yard run. Northgate's Malik Wade scored on runs of 10 and six yards. The Panthers had 232 total yards, 129 passing and 103 rushing. Northgate totaled 253 yards, 31 of them passing.
Class AAAA
Arabia Mountain 26, Grady 21: Marcus Gay caught the first of his two touchdown receptions to give visiting Arabia Mountain an early 6-0 lead but Grady took a 21-6 lead before Arabia Mountain regained control and closed the game with 20 unanswered points. Camiel Grant III caught a 50-yard Jakobi Meyers touchdown pass before the half and Gay's second touchdown reception cut the deficit to 21-18. With nine minutes left, Brandon Snowball ran in Arabia Mountain's game-winning touchdown from five yards out.
Buford 44, Madison County 0: Buford returned the opening kickoff 100 yards for a touchdown and cruised past visiting Madison County, outgaining the Cowboys 320-to-29 in total yards. Buford senior Jordan Perlotte led the scoring with two touchdown runs. Quay Picou returned a fumble for a touchdown in the opening quarter and Matt Bonadies booted a 37-yard field goal before the half. Elijah Bryant and Joshua Blackwell ran in Buford's two second-half touchdowns.
Sandy Creek 16, Carrollton 0: Anol Spaniol put visiting Sandy Creek on the board with a 23-yard field goal in the first quarter and the 3-0 lead stood through the first half. Bryant Walker connected on a 60-yard passing touchdown to Christian Branch in the third quarter to extend the lead to 10-0. With nine minutes left, Sandy Creek's Brian Miller intercepted Carrollton quarterback Clay Marlar and returned it for a touchdown to ice the game.
St. Pius 48, Stone Mountain 7: Five running backs rushed for a touchdown each for host St. Pius, which led 48-0 at halftime. Kyle Zoeller rushed five times for 77 yards and a 27-yard touchdown to lead St. Pius, and Ryan Walsh rushed three times for 55 yards and a 37-yard score. Brennan Fitzpatrick and Joey Connors each returned interceptions for touchdowns. St. Pius, which clinched the Region 6-AAAA title with the win, outrushed Stone Mountain 273 to 18.
Whitewater 31, Woodward Academy 28: Whitewater's Avery Roth returned an interception inside the Woodward 5-yard line with under a minute to play, setting up Liam Voigt's game-winning 18-yard field as time expired. Christian Wafford scored three touchdowns and a two-point conversion for visiting Whitewater, which led 21-0 early in the second quarter. Elijah Holyfield scored twice for Woodward, which tied the game 28-28 in the fourth quarter on a fumble return for a touchdown.
Class AAA
Blessed Trinity 31, Decatur 0: Milton Shelton sprinted for a 73-yard touchdown run and Conor Davis connected with Pat Jasinski on a 45-yard touchdown pass to give visiting Blessed Trinity a 14-0 first quarter lead. Ejijah Hamilton took a handoff 60 yards for a score and Davis tossed his second touchdown pass to Chris Siebert to take a 28-0 lead. Sophomore Adam Fenlon tacked on a Blessed Trinity field goal late in the third quarter.
Eagle's Landing 21, Henry County 14: LunDerek Craig scored on a 2-yard run in the fourth quarter to lead Eagle's Landing past Henry County. Eagle's Landing also got two touchdown passes from Mack McDonald, the first a 26-yarder to Aaron Dore in the first quarter and a 22-yarder to Antonio Gibson with 56 seconds left in the half. Gibson also scored the two-point conversion on a reception from running back Starr Rawls. Gibson had two interceptions on defense. Henry County's Quez Souder scored touchdowns on runs of 15 and 13 yards. Eagle's Landing had 120 yards passing and 169 rushing.
Peach County 49, Westside-Macon 16: Peach County running back Keyshawn Lowe scored six touchdowns to lead the Trojans past Westside-Macon in a battle of the unbeatens. Lowe scored on runs of 35, 20, 30, 75, 19 and two yards. He also scored a two-point conversion on a pass reception. His final three touchdowns came in the fourth quarter after Westside had trimmed the lead to 27-16. Peach quarterback Robert Allen also scored on a 1-yard run. Westside got two touchdowns from Marcell Williams on runs of one and two yards.
Westminster 27, Washington 9: Westminster scored 21 unanswered points after 9-6 first-quarter deficit to overcome visiting Washington. Zay Malcome rushed 18 times for 223 yards and three touchdowns—including one of 73 yards—to pace the Wildcats, who amassed 395 yards of total offense. Malcome went over the 1,000-yard mark for the season. Westminster also got a 52-yard scoring jaunt from quarterback Rankin Woley and its one forced turnover came on a fumble recovery by Tyler Gillikin.
Class AA
Wesleyan 7, Holy Innocents' 0: Cedric Lynch's 4-yard touchdown run just prior to halftime proved to be the only score as visiting Wesleyan fought past Holy Innocents' to clinch a playoff berth. The Wolves forced four turnovers, including one when Holy Innocents' was going in for a possible game-tying touchdown early in the fourth quarter but fumbled the ball out of the back of the endzone. Cole Mannion had six tackles and an interception to lead Wesleyan's impressive defensive effort.
Greater Atlanta Christian 14, Lovett 7: Visiting GAC improved to 9-0 and clinched the program's first region title since 2001. Spartans quarterback Davis Mills tossed both GAC touchdowns and completed 16-of-23 passes for 167 yards. Murphy Lee scored Lovett's lone touchdown on a four-yard run with five minutes remaining.
B.E.S.T. Academy 28, Hapeville Charter 0: The host B.E.S.T. Academy ran the ball effectively behind Deshawn Waller who totaled 150 yards on the ground with two touchdowns. Waller also recovered a fumble defensively, one of three recovered by the Eagles. Linebacker Robert Tucker was an enforcer on defense, accounting for three of the team's six sacks. Deshant Hester also contributed in the Eagle offense, accounting for 61 rushing yards and a score.
Class A
Eagle's Landing Christian 19, Our Lady of Mercy 11: D.J. Hammond threw three touchdown passes, including two in the fourth quarter to seal the victory for visiting Eagle's Landing Christian. Trailing 11-6, ELCA got an interception from Darius Goode to set up a Hammond touchdown pass to Jordan Scott several plays later. Then after an Our Lady of Mercy punt, ELCA drove to set up a Hammond pass to Antwaun Campbell to cap the scoring. Hammond's first touchdown pass went to Aaron Powell-Bright to give ELCA a 6-3 halftime lead.
Fellowship Christian 26, St. Francis 21: The visitors from Fellowship snapped a two game losing streak. Shane Young totaled four touchdowns running for two, throwing one and catching one. Young scored on a 6-yard run to tie the game at seven in the first quarter. A 57-yard pass to Jake Williamson gave Fellowship a 14-7 lead. Jack Hardin threw a halfback pass to Young to give the Fellowship a 20-14 margin. Young took a 45-yard run in for a score to make it 26-14 in the third.
Mount Pisgah 47, Whitefield Academy 6: Host Mount Pisgah saw a dominant effort by quarterback Aaron Winchester. The junior totaled 236 all-purpose yards with four touchdowns while completing 9-of-12 passing. Winchester's favorite target in the game was Ben Miller, who caught six passes for 73 yards and a score. The Pisgah defense held Whitefield to just 140 total yards. Blake Smith was the enforcer as he made eight tackles with two sacks while recovering a fumble.
Trion 30, Walker 0: The Bulldogs forced three turnovers in a shutout victory at home. Five different players scored on the night. Trion rushed for 140 yards and held Walker to just 127. Jarrett Pierce scored on a 12-yard run. Malik Martin scored on a six-yard run and Austin Weaver added a 30-yard field goal. Gabe Howell got into the action with a 22-yard rushing touchdown and David McCary returned a fumble 21 yards for a score.