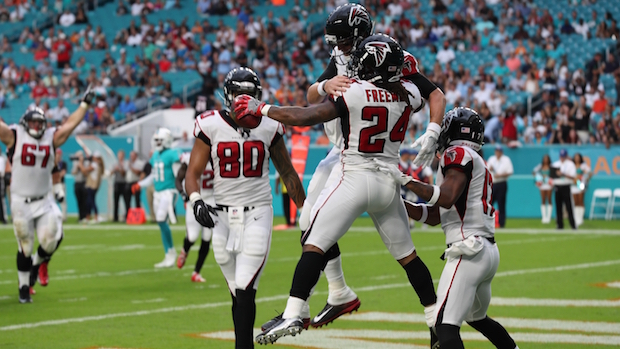 Devonta Freeman (24) celebrates with Matt Ryan. Credit: Atlanta Falcons
The Falcons are officially underway, and though the Birds fell 23-20 to the Dolphins in the first preseason game, the loss leaves little cause for concern. Sure, there were a few things that could have been more precise, but if the Falcons' first offensive possession was any indication, the 2017 scoring machine could and should be as potent as the record-setting 2016 incarnation.
The opening touchdown was clean, pure and a thing of beauty. And, let us be real, it was also a welcome sight for fans whose last memory of a Falcon on television was not so pleasant. But that was last year and I will not harken your minds back to it anymore. I apologize.
Back to the beautiful opening drive. Andre Roberts, on his first touch as a Falcon, returned the punt 39 yards to set the Falcons up on the 36-yard line, and Matt Ryan entered the game licking his chops, I assume.
"We were pleased with the return game from Roberts early on," head coach Dan Quinn said in a post-game interview. "When we had a chance to go for it on fourth down, we want to stay aggressive in those moments."
On 4th-and-1 with 10:34 remaining in the first quarter, Ryan took the snap, dropped back, faked a handoff to Devonta Freeman and rolled to the right as Freeman ran a short route, getting wide-open at the 15-yard line. The defense closed in, but the speedy Freeman, who must've taken the moneybags out of his pockets after becoming the highest-paid back in the league, beat the tackle, stayed upright and left two Dolphins players crashing to the ground as he scored the first touchdown for the Falcons this year.
For the reigning MVP quarterback, he went 3-for-3 for 36 yards and a touchdown before taking his spot on the sideline.
"We thought, from the execution standpoint, the offensive line and Matt seemed to be in sync early on," Quinn said. "So, that was a good step in terms of how we like to set it off. Unfortunately for us, as it went down in the fourth quarter, we weren't able to sustain that, but we were pleased in how we started tonight."
SCHWEITZER VS. GARLAND
On the offensive side of the ball, a lot of focus has been given to the right guard battle between Ben Garland and Wes Schweitzer. Well, for an update, Garland started, but Schweitzer came in mid-series and on his first play held Ndamukong Suh at bay while Matt Schaub connected with Reggie Davis for a gain. Solid debut.
"We put them back and forth tonight," Quinn said of the right guards. "So we are going to go back tonight and take a look at that, I didn't have a sense in-game for those two, so we will take a look at that tonight and give you a better indication moving forward."
CAMPBELL'S SWEET SNAG
De'Vondre Campbell anchored the defense, and with 14:55 remaining in the first half, he got sneaky-tall and intercepted a lofted Brandon Doughty pass and nearly returned it for a touchdown before stepping out of bounds.
"I kind of backed off the ball, I didn't really bite it, I just got back in my drop," Campbell said in the locker room after the game.
"I think the quarterback underestimated how tall I really was and thought he could float it in over my head," he added. "Those are kind of the plays that the coaching staff really expect me to make and I think that is why they put me in that position."
Quinn touched on the defensive situation after the game.
"Defensively, we were looking to see tackling," he said. "We got two takeaways on defense and we were encouraged by that. But we also lost two, so it was kind of a tale of two halves tonight and we will look into that tonight."
COLLINS' ROUGH WEEK
If there was a bad side to the Birds' debut, cornerback Jalen Collins was on it.
As we know, he was suspended for 10 games this season for using PEDs…again. Collins was suspended for four games last season as well and was given a starting spot when Desmond Trufant went down with an injury.
Regardless, he had a lackluster performance in the preseason loss. He, along with Marcelis Branch, allowed a 99-yard touchdown pass in the fourth quarter—not a huge deal, it is preseason of course, but embarrassing nonetheless. To add insult to suspension, Collins also got beat on a 28-yard pass in the final minutes.
I am not saying the Falcons need to turn their back on the young man and it is obvious, considering his performance in the final games of last season, that the talent is there. But if things don't turn around, I would assume the higher-ups will bid him adieu.
TAKEAWAY
So, what did we learn last night?
The offense is solid and hasn't skipped a beat. Matt Ryan is still Matt Ryan. There are options in the return game (Roberts, Davis, Marvin Hall, Josh Magee). Devonta, so far, is earning his money. Campbell has highlight-reel potential at the linebacker spot and, finally, a three-point loss in preseason with the backups on the field is not a big deal.
Bring it on, Steelers.