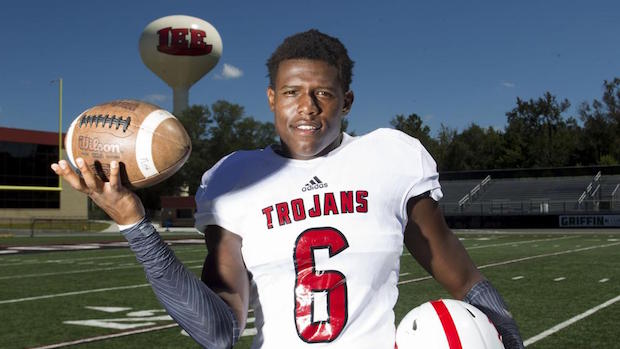 Otis Reese of Lee County. Credit: Chad Rhym/AJC
The Lee County Trojans and Mary Persons Bulldogs will kick off the 2017 Corky Kell Classic with the first meeting between the programs. Lee County is coming off a season in which it reached No. 1 for a time in Class AAAAAA and made the second round of the playoffs before falling to Mays. Mary Persons went 11-3 and had its deepest playoff run since 1998, exiting in the Class AAAA semifinals to eventual champion Cartersville.
Both Dean Fabrizio of Lee County and Brian Nelson of Mary Persons have logged some good time at their schools. Fabrizio is Lee County's winningest coach with a 52-34 record since 2009 and has led the Trojans to five winning seasons in a row, the program's best five-year stretch. Nelson has led the Bulldogs to double-digit win totals in four of the past five seasons, the school's best stretch since the tenure of legendary coach Dan Pitts. Mary Persons has only lost three region games in the past five seasons.
Lee County graduated a wealth of talent, sending fullback and defensive end Tory Carter to LSU and defensive tackle Aubrey Solomon to Michigan, to name a few. But Fabrizio said that despite the losses, this is the deepest team he has had.
"Even though we've lost some marquee names from last year, this is probably the most experienced team we've ever had," Fabrizio said. "And we've got 41 seniors, so that's more seniors than we've ever had."
The Trojans defense returns five starters and begins with safety Otis Reese, one of the top players in the country and an Atlanta Journal-Constitution Super 11 selection this preseason. The 6-foot-2, 195-pounder, who is set to rejoin Solomon at Michigan next season, had two interceptions, three sacks and 9.5 tackles for loss last season. Reese is a four-year starter. T.J. Harris, a Troy commit, joins him at safety, and Kermit Solomon—Aubrey's younger brother and a Mercer pledge—will get to play in his future home stadium. Middle linebacker Quin Geer was first-team all-region at Johns Creek last year and moves back to Lee County, where he played junior football. Defensive end Qwan Kendrick had eight tackles for loss and a sack last year as a junior.
On offense, senior quarterback Jase Orndorff is back as starter. Orndorff was 149-of-259 passing for 1,645 yards and 14 touchdowns last season. The Trojans return eight starters on offense, including four on the line; left tackle Griffin McDowell is a 6-foot-4, 290-pound Mississippi State commit. Ty Terrell (29 rec, 395 yds) and Josh Asbury (22 rec, 259 yds) also return. Junior Shaun Kimbrough and senior Nikko Cruz will both get their first chances to feature at running back.
Nelson will have to replace the bulk of the contributors from his semifinals squad. The Bulldogs had more turnover this offseason than Nelson has had before in his time at Mary Persons, losing 26 seniors, 18 of them starters.
Gone is quarterback Caleb Speir, who threw for over 1,500 yards last season. J.T. Hartage will start, and he went 6-of-12 for 113 yards and touchdown last year as the backup. Quen Wilson played behind a 1,500-yard rusher at running back last season but still managed 884 yards on 113 carries with six rushing touchdowns and a receiving touchdown. He will be the feature back this fall. The wide receiving corps will have little game experience. The Bulldogs' No. 1 is Da'Kendre Alford, who had one receptions last season. Wyatt Currie and Andre Threatt will also need to step up at wideout. Senior tackle Abdul Glover and senior center Hunter Horton will be joined by three juniors on the offensive line, which is replacing the bulk of its contributors.
On defense, defensive end Malik Herring graduated and joined another team of Bulldogs at the University of Georgia. Senior outside linebacker Jatorian Hansford, 6-foot-4, 220 pounds, started every game last season and already has a handful of FBS offers. He will be relied upon to lead a young defense. Threatt will also start at cornerback, and Ladondre Buckner will be the starting free safety in addition to backing up Wilson at running back.