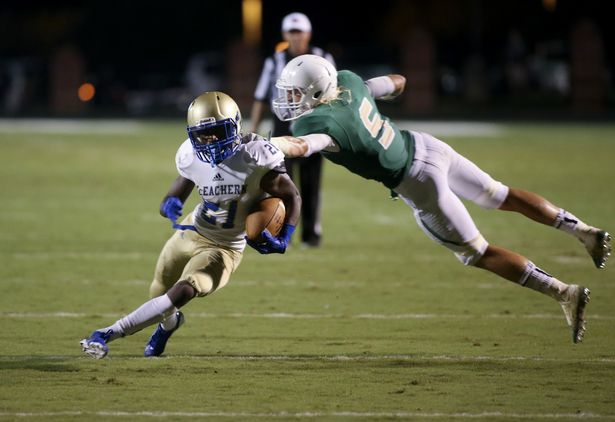 Photo by AJC.com
Two of the state's – if not the nation's – best football teams will meet this Friday. McEachern (1-0) will host 11-time state champion and winner of three straight titles Buford (2-0). The stands will be packed and the field will be oozing with Division One prospects. The Indians, who have never won a state title, can match-up toe-to-toe with Buford and nearly knocked off the Wolves last season.
McEachern held three separate leads on the road against Buford, but the resilient Wolves, who who don't know what it's like to lose (42 consecutive wins dating back to 2012), fought back to grab a 27-20 victory. Joshua Thomas' 5-yard run with 2:15 remaining gave Buford the go-ahead score.
The narrow loss will fuel McEachern heading into this year's edition of the heavyweight bout, while the win will give Buford the confidence that they can beat anybody in the entire nation.
The Indians enter with one statement win already under their belt. McEachern trounced Tucker in the final game of the Corky Kell Classic 50-14 and held a 48-7 lead at the half. Coach Kyle Hockman pulled his starters at the five minute mark of the second quarter. In the limited action the starters did see, running back Sam Jackson was dazzling. The senior galloped his way to 161 yards and three scores on just nine carries, good for a whopping 17.8 yards per carry. Junior quarterback Bailey Hockman completed 5-of-12 passes for 101 yards and one touchdown in his brief action. Jackson is a Georgia Southern-commit while Hockman is heading to Georgia.
The top notch talent doesn't stop there though. Along with Hockman, defensive tackle Julian Rochester is also tabbed for Athens. The 6-foot-5, 315-pound 4-star prospect recorded 116 tackles and 11 sacks as a junior.
Fellow defensive tackle Andrew Tarver is heading to Florida International after picking up 81 stops and four sacks in 2014.
The defense will be powerful upfront, but the engine that runs the McEachern motor is its offense. Hockman passed for 3,597 yards and 42 touchdowns last year and has a plethora of weapons to throw to. Tight end Christian Roberson is a Mississippi State-commit, while 4-star Tyler Smith, 3-star transfer Tyler Simmons and MTSU-commit C.J. Windham form possibly the best receiving core in the state.
Smith caught 65 passes for 1,291 yards and 20 scores last year while Simmons starred at New Manchester. They will receive plenty of looks with Hockman being protected by 3-star guard Tremayne Anchrum. Jackson ran for 1,068 yards after being pressed into duty after Taj Griffin's season-ending injury Week One. Jackson averaged 9.6 yards per carry. Also in the backfield is Quay Holmes, who gives Hockman a different style of runner than Jackson.
McEachern can score with the best of them, but its defense will have to shut down a Buford team coming off a 77-0 thrashing of Berkmar. The Wolves escaped in Week One by beating Eastern Christian Academy, Md. 27-20.
Martin Mangram, Xavier Gantt and Anthony Grant lead Buford's rushing attack. Mangram gained 49 yards and scored twice while Grant ran for 56 yards to lead the team. They use an onslaught of running backs to gobble up the clock and bust big plays, making it hard for the opponent to key in on one guy.
Gantt gained 699 yards and scored 10 times last year and is committed to Georgia Tech.
Mic Roof steps in at quarterback for Luke Humphrey. Roof tossed two touchdowns and went 6-of-6 for 74 yards in Buford's rout of Berkmar. The Wolves needed only 230 yards of total offense to score nearly 80 points thanks to its stout defense pinning the Patriots deep in their own territory constantly.
Roof knows McEachern well. He stepped in for an injured Humphrey last year against the Indians connected with Caleb Auer on a big two-point conversion after the Wolves' final score. Coach Jess Simpson praised Roof for his poise and will surely lean on his maturity as a signal caller under center for this Friday's rematch.
The game will be won of the defensive side of the ball. Ben "Shug" Frazier is a highly-touted defensive tackle that clogs up holes like his counterpart Rochester. William Craig anchors the linebacker position after transferring from North Paulding and has already committed to play at MTSU. Brett Shepherd plays both linebacker and tight end and makes an impact whenever he is near the ball. Free safety R.J. Walker is known for making big plays in the secondary and already has a 62-yard interception return for touchdown under his belt this season. A.J. Hendricks will be important on special teams as a dangerous return man. He brought an 88-yard kick return back for six last week.
Both programs are perennial powers. Since 2009, Hockman has led McEachern to a 60-15 record while Simpson has overseen an 86-6 record with five state titles. As they say, there is more than one way to skin a cat. Buford traditionally does it on the ground with its offense and suffocating defense while McEachern likes to air it out and use its speed in space. Whoever does the little things, like maintaining their assignments, wrapping up and taking care of the ball will come out on top.