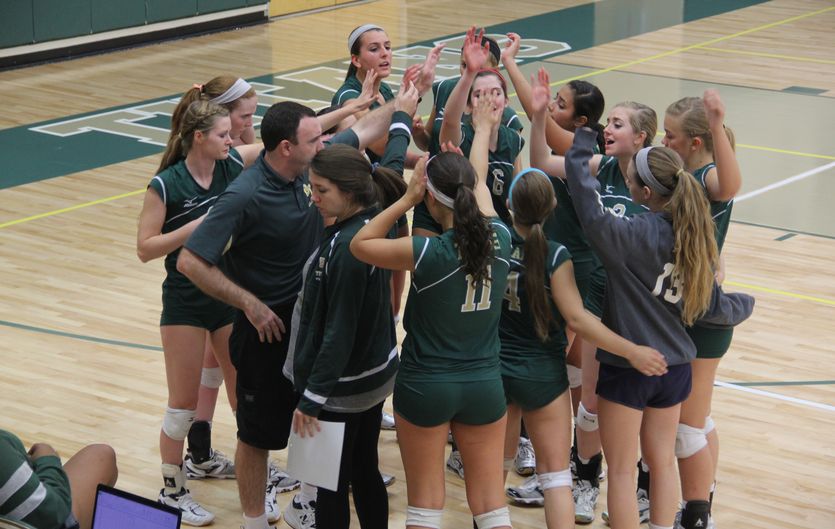 AJC.com
In Class AAAAAAA, the top three remains in tact but the remaining poll remains a logjam.  Defending champion North Cobb jumped to No. 4 with a 2-0 win over Lassiter on Saturday. West Forsyth jumped to No. 5 and Lambert debuts at No. 9. In Class AAAAA, Columbus took over No. 1, leaping Dunwoody, which was swept by Norcross and Lambert on Thursday.
Undefeated Buford remains the top team in Class AAAA, as No. 2 Marist, No. 3 St. Pius and No. 4 Woodward Academy lead a top-heavy poll.  North Oconee moved to No. 5 over Sandy Creek and Chamblee made its debut at No. 10, replacing Carrollton.
Blessed Trinity defeated Decatur in three sets (24-26, 25-15, 25-17) and jumped the Bulldogs for No. 1 in Class AAA. Oconee County, Jefferson and Sonoraville slid up a spot, while Wesminster dropped three spots to No. 6. Rockmart replaced Fannin County for No. 10.
In Class AA, St. Vincent's Academy improved to No. 3 and Lovett and Pace Academy each dropped three places to No. 7 and No. 8, respectively. Rabun County debuts at No. 10.
Class A remains one of the deepest classifications in the state this season. George Walton swapped Hebron Christian for top 5 status and Tallulah Falls shook the poll by making its debut at No. 6. Walker fell out of the top 10 and Calvary Day jumped to No. 8.
Class AAAAAA
1. Walton
2, Johns Creek
3. Harrison
4. North Cobb
5. Lassiter
6. West Forsyth
7. South Forsyth
8. Etowah
9. Lambert
10. North Gwinnett
Class AAAAA
1. Columbus
2. Dunwoody
3. Sequoyah
4. Cambridge
5. Ola
6. McIntosh
7. Camden County
8. River Ridge
9. Union Grove
10. Northside-Columbus
Class AAAA
1. Buford
2, Marist
3. St. Pius
4. Woodward Academy
5. North Oconee
6. Sandy Creek
7. Heritage-Catoosa
8. Veterans
9. North Hall
10. Chamblee
Class AAA
1. Blessed Trinity
2. Decatur
3. Oconee County
4. Jefferson
5. Sonoraville
6. Westminster
7. East Hall
8. Savannah Arts
9. Ringgold
10. Rockmart
Class AA
1. Holy Innocents'
2. Greater Atlanta Christian
3. St. Vincent's Academy
4. Wesleyan
5. Gordon Lee
6. Coosa
7. Lovett
8. Pace Academy
9. Darlington
10. Rabun County
Class A
1. Savannah Christian
2. Fellowship Christian
3. Athens Academy
4. Eagle's Landing Christian
5. George Walton
6. Tallulah Falls
7. Hebron Christian
8. Calvary Day
9. Landmark Christian
10. Mt. Paran