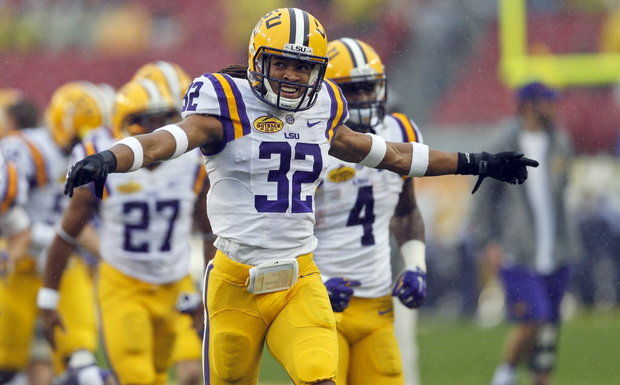 Brett Duke/ New Orleans Times-Picayune
FLOWERY BRANCH, Ga.– Many thought that maybe the Falcons could go with another pass rusher in the second round of the NFL Draft, with Nebraska's Randy Gregory still undrafted. Instead, the Falcons go with LSU cornerback Jalen Collins.
Collins played in 39 games at LSU, with 10 starts during his career. During his career in Baton Rouge he compiled 90 tackles (3 for a loss), 25 pass breakups, and three interceptions.
He had a left foot issue discovered at the combine and would soon undergo surgery to repair it. He sat out his pro day at LSU, but says he is "100 percent" right now.
In terms of the style of play he brings to this team? Fans and head coach Dan Quinn might like what he can do on the field.
"I'm a big corner that likes to hit people," Collins said via conference call with the media. "I like to jam receivers up. Physical, that's been my nature since I was knee high. Coming from the SEC/LSU, physical is all I know."
Collins especially showed that this season at LSU, with six tackle performances against Wisconsin and Alabama. Plus, he broke up three passes to beat Ole Miss in their upset win over the Rebels at Tiger Stadium.
He has met with the Falcons before and has watched Dan Quinn's defense on the field during his time with the Seattle Seahawks.
"I know that coming from the Seahawks that they like long corners," Collins said. "I know they like to play great defense and hopefully this year we're going to be one of the best defense's in all of the National Football (League)."
Collins did have some off the field issues in his past at LSU. A report emerged before that draft that he failed multiple drug tests while at LSU. He says he's addressed those issues with teams.
"What I told the Falcons and what I've been telling everybody is that stuff's behind me," Collins said. "I've been making smarter decisions all this past year, trying to become a better person and a better football player. I think it's been helping me."
The Falcons newest player says that he attributes the three failed drug tests to those bad decisions made while hanging out with the wrong people.
He was coached at LSU by defensive back's coach Corey Raymond was a positive influence on him.
"He really pushed me," Collins said. "We sat down for talks and he just told me the potential I have. (Also) that I can't keep doing some of the stuff that I was doing. He really just pushed me to be better on the field and off the field."
Collins grew up in Olive Branch, Mississippi and played his college ball at LSU. You would think that he'd maybe be a fan of the New Orleans Saints. You would be wrong.
In fact, he is a Falcons fan. Said that it was, "a blessing" to be drafted by them.
"When I started watching pro football Michael Vick was one of my favorite players," Collins said. "After everything went down, I just stuck with the team. I've been a 'dirty bird' ever since."
Now Collins gets to come into the league that already has tons of LSU defensive backs playing in it. Players like Arizona Cardinals Patrick Peterson/Tyrann Mathieu, plus San Francisco 49ers safety Eric Reed. Collins says that he and Reed stay in constant contact.
The Falcons aren't done yet tonight. However, they have added a very physical player in Collins.