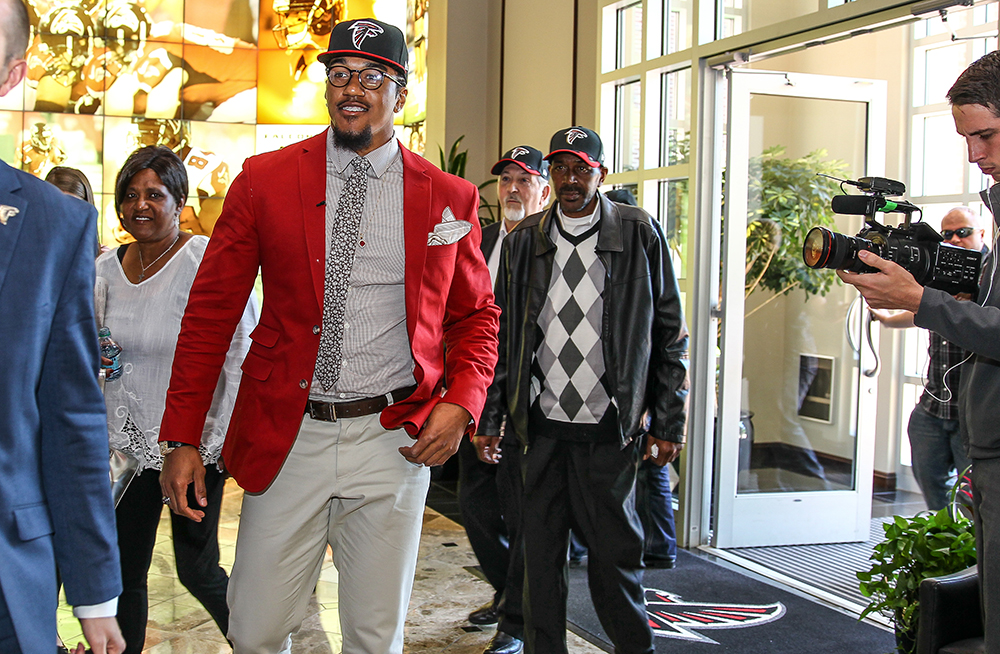 AtlantaFalcons.com
FLOWERY BRANCH, Ga.– The Falcons excitement could be seen last night, when general manager Thomas Dimitroff/head coach Dan Quinn addressed the media after making their first pick in the NFL Draft. If you haven't heard by now, his name is Vic Beasley and he's a defensive end out of Clemson.
What you also should know by now, is that Beasley grew up just an hour and a half from the Falcons facility in Adairsville and grew up rooting for the team.
What you might not know about him, is that he's in for one huge first time experience when he gets to the NFL.
"Honestly my first NFL game will be a game that I'm playing in," Beasley said in his introductory press conference. "So it's no more special moment than being here in Atlanta."
Beasley's path to the NFL was an interesting one, when he left high school to attend Clemson. He was rated as the number 16 athlete in the nation by ESPN. He chose to play for the Tigers over offers from Alabama, Auburn, and Stanford.
When Beasley got to college, he was redshirted his freshman year and then played sparingly the next season. It wasn't until 2012, when his head coach Dabo Swinney moved him to defensive end and his numbers rose. In that year he racked up 18 tackles (eight for a loss), a team-leading eight sacks, and eight quarterback pressures.
Once Beasley was moved to defensive end and found a home, he was able to learn more from Tigers defensive line coach Marion Hobby on the way to being the player he was over the last three seasons at Clemson. He credits his coach for this happening.
"I was able to use my speed, I was blessed with great speed," Beasley said. "Also, working with my collegiate position coach Marion Hobby played a great role in my success and helped me become a dominant pass rusher over the course of my career."
Beasley also credits his "quick first step" to being an asset that he uses in order to get around or even through blockers to make plays in the backfield. He once was a tight end, then linebacker, before moving to the defensive line.
The Falcons first pick says that his confidence of playing the defensive end position grew in the spring of 2012, when he was able to rack up two sacks in the Clemson spring game.
Even though he was able to shine on the college level, Beasley still has his mind made up on where he needs to get better coming into the NFL.
"I think the biggest transition for me from college to the NFL will be playing lights out every play and not taking any plays off," Beasley said. "I think that's my biggest weakness right now and I plan to change that as I transition my game."
Beasley is a kid from Georgia and grew up not too far from where his employer operates their day to day business. If someone came to him and told him in 2015 he'd be a Falcons defensive end. What would he say?
"I thought I was going to be some other position," Beasley said. "I wouldn't have believed that at all. I just knew I had the potential to play in the NFL and I never saw myself being here in Atlanta. Fortunately I was able to be here and it worked out for me. I'm glad to be here at home."
In just a few hours, the Falcons will add some more new members to the roster when they pick in the second and third rounds of the NFL Draft. Who will it be? Who knows?
What we do know, is that Vic Beasley is coming home to Georgia.