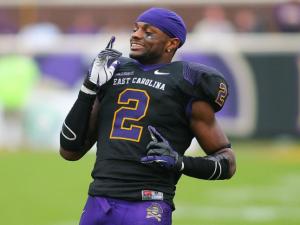 Anthony Barham
FLOWERY BRANCH, Ga.– Falcons were active this afternoon in trying to add players to the 2015 version of their team. They add wide receiver Justin Hardy out of East Carolina with their first pick of Saturday afternoon's portion of the NFL Draft.
Hardy was taken 107th overall by the Falcons and could be asked to come in to play the slot receiver spot when needed. He comes to Atlanta, after bringing in 387 career receptions for 4,541 yard with 35 touchdowns in a four-year career with the Pirates.
During that time with the Pirates, you would believe that he was able to develop his skills as a wide receiver. He feels he did and knows what he brings to the league.
"Definitely catching the ball and my effort," Hardy said via conference call. "That's one of the things I hang my hat on, effort. Just having a great attitude about it and always having that chip on my shoulder. I was never given anything up until this point and this is still one of those things that I still have to go fight for."
He went East Carolina as a preferred walk-on in 2010 and later in the spring was given a scholarship, after getting no division one offers.
Listed on the NFL.com draft profile for Hardy, it says that he "lacks quickness and explosiveness out of cuts to create instant separation." When it comes to that being an issue? Hardy thinks he's got the solution.
"I like to hang my hat on my route running in order to get that separation," Hardy said. "You don't necessarily have to be the fastest to fit your craft and get that separation that's needed."
The Falcons did add free agent wide receiver Leonard Hankerson this offseason, after waiving wide receiver Harry Douglas. Hardy should be another player that can come in to compete for that third wide receiver spot behind Roddy White and Julio Jones.