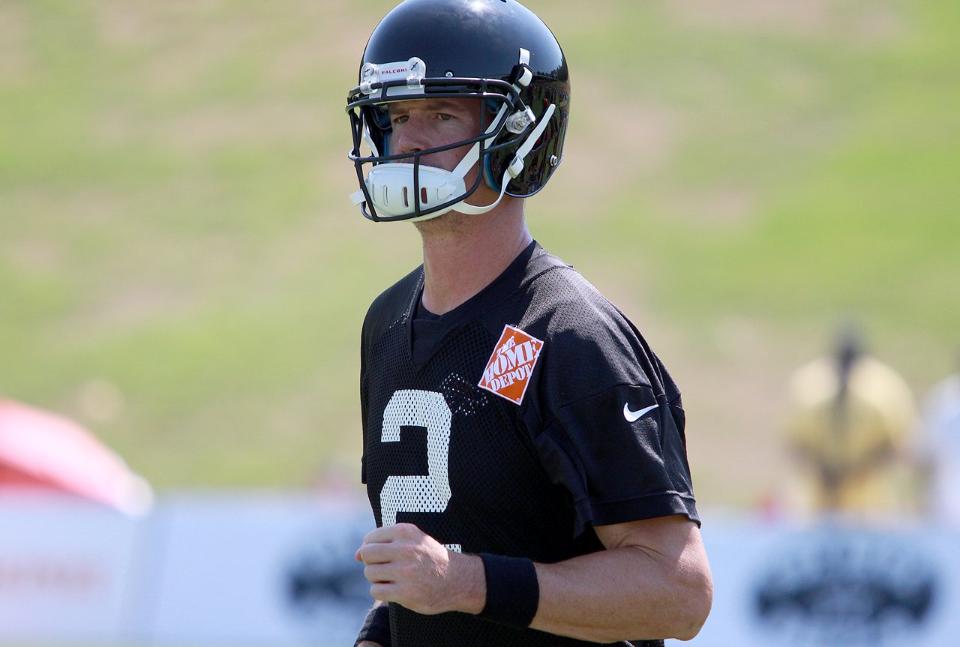 AtlantaFalcons.com
FLOWERY BRANCH, Ga.– Many hoped that 2014 would be a bounce back season from the extremely disappointing 4-12 record the year prior. Heading into the last week of the season, it looked like that could happen.
The record would have at best been a 7-9 regular season mark, with a division clinching win over the Carolina Panthers inside the Georgia Dome, and then a Wild Card Weekend home playoff game against the fledgling (down to third team quarterback) Arizona Cardinals. As we know that didn't happen because the Panthers thrashed the Falcons and in the process they went on to finish 6-10.
As is the case with all teams in football, the culture is a "here and now" attitude. That is definitely the case at the moment in Flowery Branch, as the Falcons wrap up their mini-camp practices.
In about six weeks we will see quarterback Matt Ryan and crew come back for training camp. Even though he is focused on that "here and now," he also realizes you have to remember where you were before you look forward.
"I think anyone satisfied with 6-10 shouldn't be here," Ryan said. "That's kind of the mindset that everyone has. We're here to win games and be playing in January. Across the board, we need to be more consistent and do our jobs a little bit better than we have. We feel like that will translate to wins."
Ryan had a very solid season in 2014 throwing for over 4,600 yards and 28 touchdowns. He also tied his second highest total for interceptions at 14.
He would even go to the Pro Bowl and led his team to a win with a last minute touchdown out in Arizona.
So with all that being the case, there are improvements to be made in his game. Right?
"There are a lot of things," Ryan said. "I'm not going to get really specific, but every year there are usually two or three things that you try and look at and say I can improve here or there, and if I can do this we're going to be better as a team. When you have a new set of eyes come in, in terms of coaches with (quarterback's coach) Matt LaFleur and (offensive coordinator) Kyle Shanahan. That's one of the things I talked with them about right away. We've addressed it and tried to improve. We're getting there, but we still have some work to do."
One thing that could help is having his favorite target back for another season. That of course would be wide receiver Julio Jones.
Julio is in the last year of his contract and reports say that an extension is in the works for the Falcons playmaker. A week ago, Jones made news when he said that he's only planning to get better.
"I definitely can improve," Jones said, via ESPN.com. "I don't feel like I did my best last year. I'm bigger, faster, and stronger than I ever was, to this point now. Shoutout to the trainers. They helped me out. But I definitely can improve on everything."
That is music to the ears of his quarterback. Of course to Ryan, that doesn't surprise him.
"I think it shows what kind of competitor Julio is," Ryan said. "He wants to win games, and I think it shows what he is about. Obviously, he can put up all of the numbers in the world because he's an elite player and one of the best in the world. It's about more than that. It's about winning games."
Jones had a career year in 2014 in terms of yards with 1,500 plus. He didn't find the end zone as much as 2012 (10), with six scores.
More music to the ears of Falcons players, coaches, front office, and fans is that Jones isn't planning a holdout if a new long-term contract isn't struck. Jones told reporters on Wednesday as much, citing that his "teammates need him."
Jones also added to that earlier quote that he wouldn't be getting better by holding out.
The desire to improve for all players this season was inspired by head coach Dan Quinn. He asked the players if they could "have the best offseason you've ever had?"
According to Quinn, that didn't take much convincing for his quarterback.
"One of the things I most admire about Matt [Ryan] is how hard he's willing to work to find the little edge, the little detail for him to get better," Quinn said. "Honestly, it's one of the things I love about him as a competitor. He wants to get better, as opposed to – 'No man, I got that.' It's just the opposite, how else can I do it to do it better. I've been around him a short time, and I knew the player that he was. I didn't know the strength of the competitor that he was, so it's been a blast working with him."
Now the Falcons are off until late July, when they return for training camp. We can bet that Ryan and the other players will take some time away from the film room, weight room, and field.
It sounds like for guys like Ryan that time away from work won't be long.