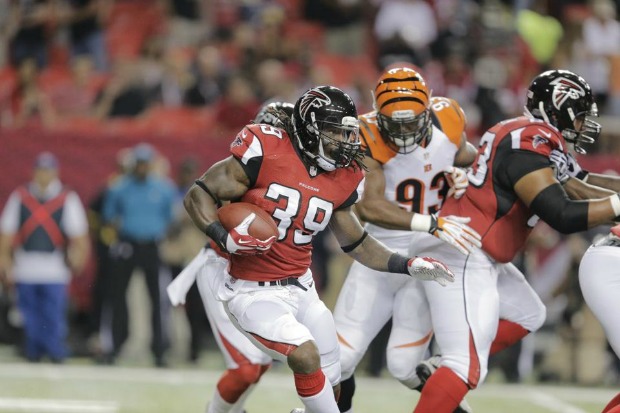 Atlantafalcons.com
The Falcons' 2013 season began on Thursday night when they faced the Cincinnati Bengals in the first preseason contest of the year. It was not a good start for head coach Mike Smith and company as they fell to the Bengals 34-10.
As much as the Falcons wanted to defeat the Bengals, that is not the most important thing when it comes to the preseason games.
"We want to be healthy for that first game," Smith said. "We're not going to go away from that philosophy. We'll make sure our guys are as healthy as they can be for Game 1 against New Orleans."
The other priority for the Falcons in the preseason game against the Bengals is to get the younger players as many reps as possible so the coaches can evaluate them over the weekend.
"Preseason games are opportunities for us to evaluate our roster," Smith said. "Those young players are fighting for spots on our roster."
That didn't mean Smith did not want his veterans to sit on the sidelines all game long. The first-team offense and defense saw around 15 snaps and were able to held their own. The Falcons' offense opened the game 8-play, 57-yard drive that ended with a Matt Bryant field goal.
"I think it's always good to start fast," Matt Ryan said who was 6-of-9 for 89 yards. "That's something we talk about all the time. We executed fairly well tonight."
One of the players the fans wanted to see was Steven Jackson in his Falcons debut. Jackson only had eight yards on five carries, but Ryan was impressed with the running back out of Oregon State.
"I thought he did great," Ryan said. "For all that we have in and all that we've put in as an offense, for him to pick everything up and be out there and run the way he did, I'm excited about what he's going to bring to the team this year."
The first-team defense was able to stand strong as they held the Bengals to zero points in the first quarter.
"We came out firing off," Jonathan Babineaux said. "Overall, we did a good job. I'm sure we had some mistakes out there, we just have to watch it on film and be able to correct them on Saturday."
The majority of mistakes came when the second and third –teamers came into the game. Dominique Davis was the backup quarterback for the Falcon and struggled in the second quarter as he went 2-of-6 for 11 yards and one interception. Meanwhile, the Bengals second-team, which was led by quarterback Josh Johnson, torched the Falcons defense with 17 unanswered points. Johnson threw a 21-yard score to Brandon Tate early in the second quarter and Giovani Bernard scored on a 1-yard run with two seconds left in the half.
Davis did improve in the third quarter as he threw as 8-yard score to Jason Snelling to cut the Bengals lead to seven.
But that would be the end of the Falcons scoring for the night.
The Bengals added 17 more points including a Dane Sanzenbacher 71-yard punt return midway through the third quarter and a John Skelton 36-yard score to Sanzenbacher early in the fourth quarter.
"There was no game planning," Smith said. "We put some guys in some situations we wanted to see them. "I'm looking forward to watching that tape first thing in the morning."
One player Smith should be looking to watch is first-round pick Desmond Trufant who played well into the second quarter.
"I could have done some things better," Trufant said who had three tackles. "Overall, I was calm and comfortable out there. I didn't have any missed assignments. Mentally I was good. Now I just have to keep adjusting physically."
Another young player that got a lot of attention was Brian Banks. After spending five years in jail, Banks took the field for the first time in the fourth quarter and it was an emotional experience.
"It was definitely a good felling," Banks said who had two tackles in the fourth quarter. "It was one of those things where, coming from where you're coming from… just to have people support you chasing a dream."
Banks, Trufant and rest of the Falcons will be back at work at Flowery Branch on Saturday. The next preseason game will be on Thursday and they will travel to Baltimore to face the Ravens.