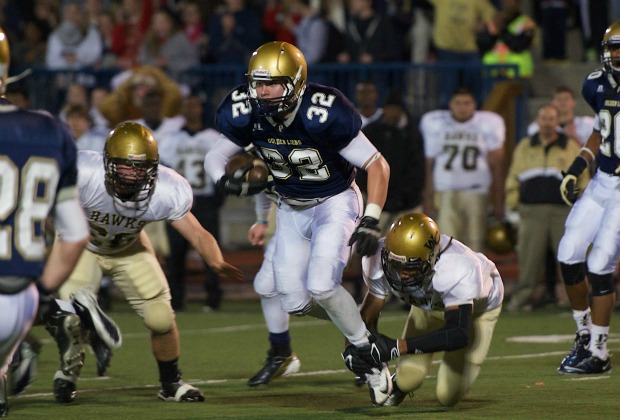 St. Pius X
We continue our look at the toughest schedules in the state with a rundown of Class AAA today….
5. Washington County (ELCA, ECI, Baldwin, Lovett; Region games – Thomson)
The Golden Hawks aren't ducking anyone this year. Washington County opens with Class A-Private No. 1 ELCA before playing Grovetown in Week 2. The next week, WaCo faces Class A-Public defending state champion ECI.
Joel Ingram's team eventually faces Baldwin and Class AA-power Westminster prior to hitting the region slate, which includes Thomson and Jefferson County.
4. Jefferson County (Fitzgerald, Baldwin, Wesleyan, Cook; Region games- Thomson, Washington County)
Now that they've torn up the 7-on-7′s over the summer, Jefferson County will try to cut through a rough-and-tumble slate. The Warriors open the season with Class AA No. 4 Fitzgerald, then travel to middle Georgia power Baldwin the following week. After those two tough road games to open the season, Jefferson County hosts Greenbrier and Evans prior to traveling to Gwinnett County to face Wesleyan, which is in its second year in AA after an ultra-successful stint in Class A.
Jefferson County's Region 3 slate includes No. 3 Thomson and No. 8 Washington County.
3. Thomson (Burke Co, St. Pius X, LaGrange, Westminster, GAC; Region games -Washington Co, Jefferson Co.)
The Bulldogs delved into Atlanta to form their 2013 schedule, as three area schools will play Thomson. But first, the Bulldogs host Class AAAA No. 2 Burke County in the season-opener. In Week 3, Thomson travels to No. 5 St. Pius X before hosting LaGrange, a traditional power in Class AAAA.
Thomson then travels back to Atlanta for two games in a row to face Westminster and Class AA No. 3 Greater Atlanta Christian. In Region 3 play, the Bulldogs will try to tackle Washington County and Jefferson County.
2. Swainsboro (Pierce County, Dublin, Statesboro, Wilcox County; Region games- Washington County, Thomson, Jefferson County)
The Tigers play in one of the smallest regions in the state in Region 3. But coach Ken Etheridge's squad has to face No. 3 Thomson, No. 8 Washington County, Jefferson County and Dodge County in region play. In addition to that little meatgrinder of a schedule, Swainsboro also plays Pierce County, traditional-power Dublin, Class AAAA No. 7 Statesboro and Class A No. 2 Wilcox County in non-region play.
1. SPX (Westminster, North Oconee, Thomson, Lovett; Region games- Blessed Trinity, Woodward Aca.)
Out of their 10 regular-season games, the No. 5 Golden Lions face four teams ranked in our preseason rankings. Two others, Westminster and Woodward Academy, are perennial playoff teams and local rivals for St. Pius X.
Right out of the gate, Pius will face fellow Atlanta private school Westminster for the fourth straight year. Then, the Lions have a trip to the Athens area, where they'll play No. 10 North Oconee. A trip across town to Buckhead to tee it up with Class AA No. 9 Lovett looms the week before region play.
In Region 6, the Lions have tough games against Woodward Academy and No. 9 Blessed Trinity.
No rest for the weary, as Pius hosts No. 3 Thomson the following week.
HONORABLE MENTION: Peach County (Perry, Baldwin, Warner Robins; Region games: Carver-Columbus)