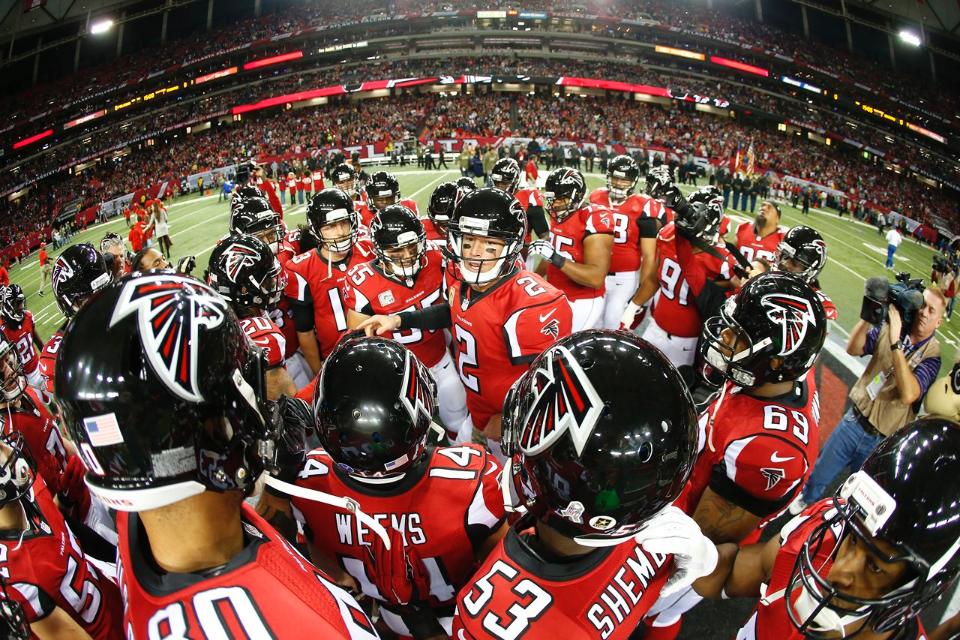 AtlantaFalcons.com
Its week 15 of the NFL season and the Falcons are still leading the NFC South with a 5-8 record. It has been a weird season to say the least and they're now entering one of three final regular season games.
This season the Falcons defense has seemingly been the Achilles heel for this team, giving up an average of 410.8 yards per game. The offense however, has been one of the strengths for this team. So far through 13 games, they have averaged 381 yards. That is good enough to have them ranked eighth in the NFL.
The key for this team to get into the playoffs, is for the passing attack to continue to succeed. This season, quarterback Matt Ryan and this squad have put up about 284 yards per game through the air.
This season Ryan has put up 25 touchdowns on 3,802 yards passing. He is fifth in the NFL for total yards.
These numbers are being brought up, because the formula for this team to win the South is pretty simple. They must get at least two strong games out of Matt Ryan and this offense in order to be successful.
The unofficial magic number according to those who are following this race is two wins. This is again unofficial and has no standing on the actual result of the division race.
That said you would have to believe that if the Falcons are to win the division, a 7-9 season finish or better is what it will take. It starts this weekend against the Pittsburgh Steelers.
When Ryan was asked this week whether or not he needed to be the Matt Ryan of 2014 in these final three regular season games, he said he believes that is the case.
"I think every week you've got to feel like that," Ryan said. "You go out there and try to play your best to be as productive as you can be. I think collectively, if you ask guys across the locker room they would have that mindset. That's a good thing. You have to believe that you're going to go out there and play well. You have to believe that you're going to be the one that sparks the team to go. I certainly feel that way."
One player that could really help in this playoff push, is wide receiver Julio Jones. So far this season, Jones has already set his career-high for yards receiving with 1,428. He still has three games left to see if he could set the new career-high for touchdowns. He's at six and his high is 10.
Now yes, there is a chance that Jones might not play this week against the Steelers, he has missed both practices this week with a hip issue. That said, head coach Mike Smith is still convinced that Jones will be ready to play on Sunday.
This would be great news for the Falcons, especially given his last two weeks of play. Jones put up 189 yards and one touchdown against the Arizona Cardinals. Last week, he set a franchise record with 259 yards against the Green Bay Packers.
Throughout the last few seasons, wide receiver Roddy White has also been a player that many look to provide offensive production to make this team successful.
In terms of the "two-wins" speculation, Roddy is ready to get more than just that.
"You want to win all three of these games," White said. "New Orleans is such a hard place to go down there and win.  In the past, we haven't gone down there and won a lot of times. You just can't count on that we just got to get two wins and you're in the playoffs. You've got to go out there and figure if you get all three we'll be in."
Roddy says that a key for them is going to be efficient on offense and hold onto the football. He says now is not the time to have a down game.
"All of us have to bring our 'A' game," White said. "Julio's been bringing his 'A' game each/every week and everyone else has to come along. Harry's (Douglas) been playing well too and Dev's (Devin Hester) is going out there and doing his thing. So, we need all our guys to be playing at a high level right now."
The Falcons final three games are against the Steelers at home, Saints on the road, and then finishing up at home with the Carolina Panthers. They lead the South right now, so if they lose there is no one to blame but themselves.