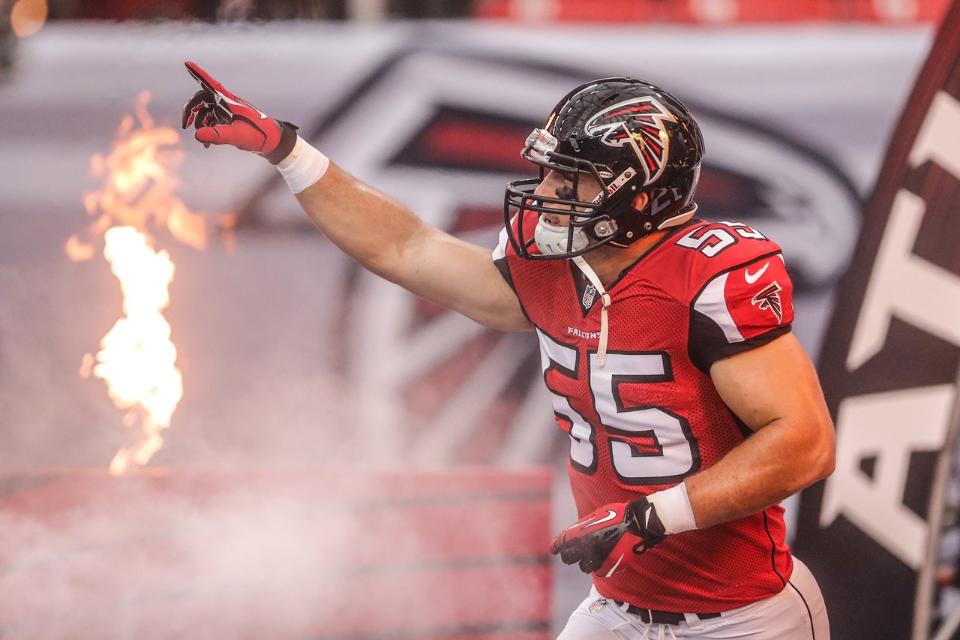 AtlantaFalcons.com
The Falcons are one week away from the July 25 start of training camp and the remaining position battles and subplots of Atlanta's preparation for the 2014 season sit center stage. On offense, the competition for starting center was considered open to start the offseason but it appears Joe Hawley is starting to pull away in his battle with Peter Konz according to pre-camp updates.
Sam Baker has secured the left tackle role and Justin Blalock patches up the left side of the line at guard. On the right side of the line, rookie tackle Jake Matthews and veteran guard Jon Asamoah have earned their respective starting roles. In the backfield, rookie running back Devonta Freeman has a chance to step into a significant role this season. Steven Jackson will not take heavy carries this preseason, so Freeman will see plenty of reps with the first offense and could enter the regular season rotation with a solid camp and preseason.
Tight end is still the biggest question mark on offense. It looks like it will be a collective ef-fort this season to try and fill in for retired Tony Gonzalez. Levine Toilolo is being used in a pass catching role, where Bear Pascoe can be relied upon as a blocker. This offseason will give a first glimpse at how the team plans to manage this rotation.
CARRY THE TORCH…
With Sean Weatherspoon out for the year with an Achilles' injury, second-year inside linebacker Paul Worrilow will be one of the leaders on the defense, and they'll need him. There are plenty of veterans on the defensive line, but Worrilow needs to be the anchor that sets the tone in the heart of the defense. He led the team in tackles last season while getting thrown into the starting job and his challenge will be asserting himself as one of the team's leaders this season.
CORNER WARS …
The cornerback battle behind Desmond Trufant and Robert Alford is far from settled and a key aspect of the defense's success this season. Atlanta is looking to improve its take-aways from last year and rookies Ricardo Allen and Devonta Glover-Wright as well as veterans Javier Arenas, Josh Wilson and Robert McClain will get one step closer to winning the third spot with each big play they make in the remaining offseason.