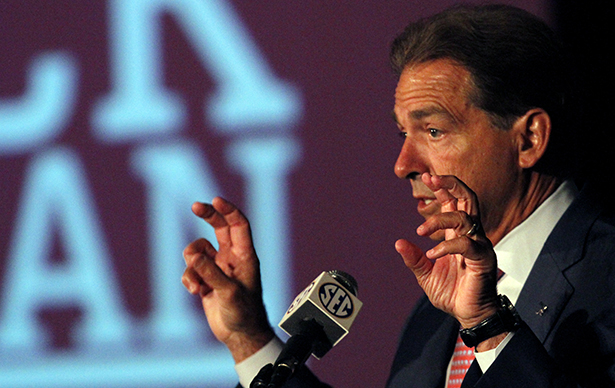 Butch Dill/AJC
It has been a while since head coach Nick Saban and the Alabama Crimson Tide football team had needed to worry about who their quarterback was going to be. For the last three seasons, the Tide have been able to rely on the arm and leadership of A.J. McCarron.
Now, Alabama is going forward with a competition for the job between Florida State transfer Jacob Coker, senior Blake Sims and freshman Cooper Bateman.
Saban is ready for the competition to begin and he is going to make the starter earn that spot.
"Somebody on our team is going to have to take the bull by the horns to be the quarterback," Saban said. "I would like to see that happen sooner than later. But I have no control over that and you can't force it to happen."
If you listen to the media conjecture and read the preview magazines, it seems that Coker would have the inside track to win the job. One of his potential targets on the field, junior wide receiver Amari Cooper is impressed with what Coker brings to the table.
"He's your prototypical quarterback," Cooper said. "He's big, he's tall, he's strong, has a really strong arm, and he's smart. He takes command in the huddle, which are all qualities you would like to have in a quarterback."
From the defensive side of the ball, junior strong safety Landon Collins has been keeping a close eye on the competition. He likes what he's seeing and thinks it will be great for the program.
"They're very competitive," Collins said. "They're teaching each still. Whatever Jacob sees, whatever Blake sees, or whatever Coop sees. They're all teaching each other. Regardless of the fact, whoever is the starting quarterback, we're going to need them all because we're always going to be a team."
Whoever the starter is against West Virginia in the season-opener and beyond is still to be determined in Tuscaloosa. Senior wide receiver Christion Jones has been impressed with Coker and the competition that is going on.
"Jacob is doing a great job since he came in May," Jones said. "He's been doing an awesome job with our wide receivers and coaches. Learning and doing all the little things right trying to become the quarterback that we want him to be. But it's a competitive job from him as well and he understands that. We've got three or four other guys who can also help us win. They all are competing and doing a great job doing what the coaches are asking them to do. So, it's fun watching them."
Nick Saban says Coker has done extremely well and engages well with the players. But was quick to say that it very much is an open competition.
We shall see indeed who is going to be the starting quarterback against Dana Holgersen's West Virginia Mountaineers on Aug. 30 at the Georgia Dome. This is one of two matchups we will see this year for the Chick-Fil-A Kickoff Classic.