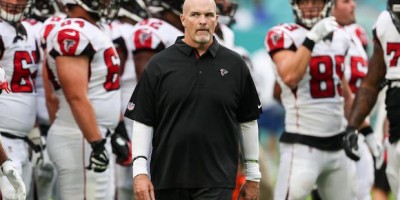 Dan Quinn before Atlanta's preseason game at Miami. Credit: Atlanta Falcons
The Falcons rolled into their bye week after enduring their first loss of the season to the Buffalo Bills. Though the last taste fans got of the Birds was a lackluster performance riddled with injuries, there's a lot to be excited about moving forward into Week 6.
After suffering a hip injury during his outing against the Bills, star wide receiver Julio Jones is aiming to play this Sunday. After taking multiple hard hits, eventually causing Jones to leave the game, the bye week gave him plenty of time to get right and get healthy. Even through his high volume and usage Jones has yet to find the end zone this year. Could this be the week he does? Miami's defense has allowed 989 yards and five touchdowns to opposing receivers in just four games. The possible absence of Mohamed Sanu, who suffered a hamstring injury during Week 4, could mean that Jones will be even more responsible for big plays and moving the chains. Playing against this Miami defense paired with the advantage of playing at home in Mercedes-Benz Stadium should give Jones the opportunity he needs to finally get a touchdown.
Also returning from injuries are right tackle Ryan Schraeder and free safety Ricardo Allen. Both players missed the Bills game while going through the concussion protocol but emerged in Week 6 as full participants at practice. Along with their returns, Vic Beasley Jr. is expected to return after being a participant during this week's practices. Beasley led the league in sacks last year with 15.5, and during the two games he played before his hamstring injury, Beasley recorded two sacks. If he returns, his presence on the field will certainly create opportunities to tear down the weak Dolphins offense.
Aside from Atlanta's clear advantages offensively, Jay Cutler is no Matt Ryan, and the Falcons defense may not see as much action as it's used to. Miami is averaging just over 10 points a game, compared to the 23.25 average of the Falcons offense. The issues surrounding the underwhelming Miami offense don't require a microscope to be seen. The answers lie right at the surface. Cutler has thrown three touchdowns and three interceptions this year. His receiving corps consist of talents such as Jarvis Landry and DeVante Parker, but without a quarterback who can get the ball into their hands, they remain powerless.
If the Dolphins passing attack isn't going according to plan, could they focus their efforts on the run? That seems to be the direction they were headed, but inconsistency from the offensive line and running back Jay Ajayi has sunk this gameplay idea. Ajayi is currently 10th in the league with 76 rushing attempts, a volume high enough that he should be able to provide more production than he currently has. After four games, he's tied for 17th in the league with 261 yards rushing. That's 3.4 yards per carry. The offensive line is simply not opening up holes for Ajayi, either. Atlanta's defense has been decent against the run so far, allowing just 372 yards and two touchdowns to opposing backs. Through linebackers Deion Jones and De'Vondre Campbell, Ajayi should remain limited in the Dolphins offense.
From watching these two teams play, you can tell the difference between a team that's sporting a 3-1 record compared to a team with a suspect 2-2 mark after wins over the weak Titans and Chargers. It's easy to see the nine-point favorite Falcons coming out on top in this one.