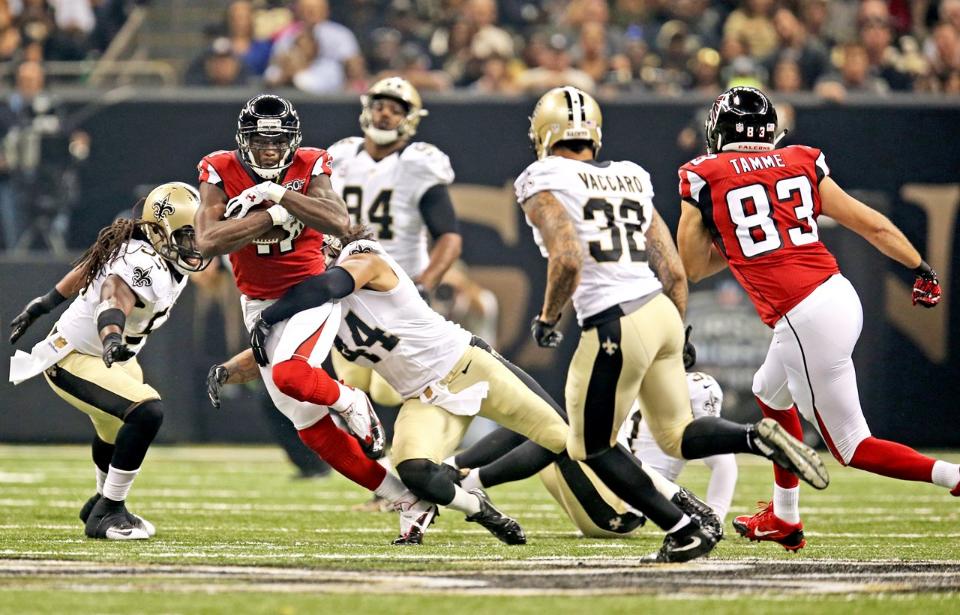 AtlantaFalcons.com
FLOWERY BRANCH, Ga.— It is finally back to work for the Falcons, after dropping their first game of the season 31-21 to the Saints on the road. Even though they finally have to turn the page from a loss, they're not worried about the loss creating even larger problems.
Yes, the Falcons are dealing with some injuries at the moment. Plus, they are currently struggling defending the pass.
After six weeks, they are 29th in the NFL against the pass. Teams are throwing for 290.7 yards per game.
Last Thursday, Saints quarterback Drew Brees aired it out for 312 yards and one touchdown on 30 for 39 passing.
Part of the problems, are that quarterbacks have been able to throw with a lack of pass rush coming from the Falcons defensive front. That said, head coach Dan Quinn believes it comes down to them "finishing".
"That's usually what it comes down to as pass rushers," Quinn said. "We'll have some four man rush (and) some five man rush. We went back through all of them, look at pressures and look at the rushes. Which fronts are better for us? Which ways we can convert better? The good news is, there's a lot for us to improve on. I can't wait to see that happen."
The margin of error in the NFC South this year looks a little smaller, given that the Carolina Panthers are still undefeated after their road win against the Seattle Seahawks. The back to back division champs are now leading the division again.
The Falcons are entering into week seven of the season, so there's a ton of football left to be played. Quinn isn't too concerned about division standings at the moment.
"We're not going to really concern ourselves too much about our opponents," Quinn said. "Our division really comes down to us and the attitude/style we play. That'll be kind of a constant theme from me. We're not going to allow other teams to dictate how we play and what we think. I love that message about how we play and our own style about it. So, we'll leave it right there."
Inside the locker room, the players are preaching the same message. Even with the loss, left tackle Jake Matthews says that nothing has changed in terms of the message to them from Quinn.
"He's the same as he's always been," Matthews said. "So, that's good to see."
Even though he's a rookie, defensive end Vic Beasley isn't shaken after his first NFL loss. In fact, he says the team is still as confident as ever.
"We still prepare like it's a championship week," Beasley said. "It's another big game, as have the past games that we've played. We're just going into this next game even though we lost, as if it's a championship game and we're going to go out there to get the win."
The Falcons could get some good news on the injury front later this week. Center Mike Person and linebacker Justin Durant both worked with the team's medical staff at today's practice. Quinn believes they could have a chance to be full participants in Wednesday's practice.