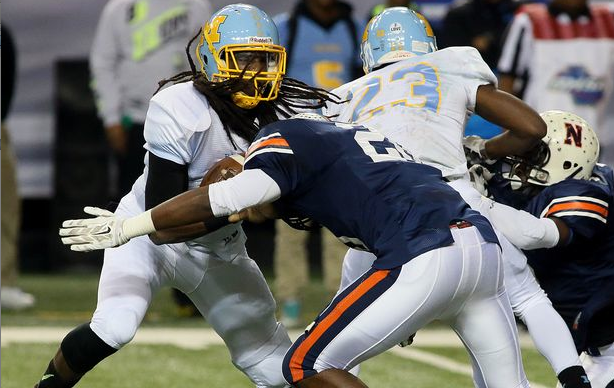 The Class AAAAAA top 10 remained in tact for the first time as Norcross, Peachtree Ridge and Mill Creek enjoyed byes and the remaining seven ranked teams won crucial region matchups. No. 1 Colquitt County dominated Valdosta 49-14 in what marks the Packers' 23 consecutive victory. Colquitt County has opened up region play with victories of 22, 37 and 35 points. This level of dominance in the talented Region 1 is something every football fan across the state needs to be taking note of and appreciating, because this is not something we have seen since the region was formed in 2012.
Class AAAAA saw another shift as Jones County held Houston County quarterback Jake Fromm to 20-of-54 passing and upset the Bears 24-17. Jones County improved to No. 4 and sent the Bears to No. 5. Northside-Warner Robins grabbed No. 1. Ware County dropped out of the top 10 after falling 24-21 to Effingham County.
Class AAAA stayed the same and in Class AAA, Jackson replaced Peach County at No. 10 after a rare 3-2 victory.
Brooks County's 21-17 victory over Fitzgerald dropped the Purple Hurricanes to No. 7 and undefeated Wesleyan took over No. 3. Class A-Private stayed the same with no team losing and Lincoln County took over No. 2 in Class A-Public for Turner County, which fell 30-16 to Clinch County.
Class AAAAAA
1. Colquitt County
2. Grayson
3. Roswell
4. Archer
5. Mill Creek
6. McEachern
7. Norcross
8. Peachtree Ridge
9. Camden County
10. Walton
Class AAAAA
1. Northside-Warner Robins
2. Mays
3. Stockbridge
4. Jones County
5. Houston County
6. Lanier
7. Stephenson
8. Northgate
9. Coffee
10. Glynn Academy
Class AAAA
1. Buford
2. Cartersville
3. Woodward Academy
4. Sandy Creek
5. Mary Persons
6. St. Pius
7. Jonesboro
8. Bainbridge
9. Marist
10. Spalding
Class AAA
1. Calhoun
2. Blessed Trinity
3. Jefferson
4. Cedar Grove
5. Central-Carroll
6. Dodge County
7. Elbert County
8. Callaway
9. Adairsville
10. Jackson
Class AA
1. Benedictine
2. Greater Atlanta Christian
3. Wesleyan
4. Darlington
5. Rabun County
6. Pace Academy
7. Fitzgerald
8. Brooks County
9. Model
10. Jefferson County
Class A-Private
1. Mt. Paran
2. Prince Avenue Christian
3. Eagle's Landing Christian
4. Landmark Christian
5. Aquinas
6. Savannah Christian
7. Stratford Academy
8. Calvary Day
9. Pinecrest Academy
10. Athens Academy
Class A-Public
1. Marion County
2. Lincoln County
3. Emanuel County Institute
4. Clinch County
5. Turner County
6. Charlton County
7. Irwin County
8. Commerce
9. Mt. Zion
10. Dooly County