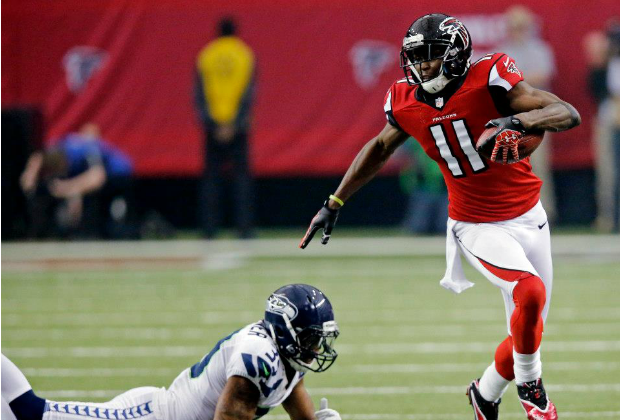 Jimmy Cribb/Atlantafalcons.com
Winning an NFL playoff game is not an easy thing to do. Just ask former Super Bowl MVPs Peyton Manning and Aaron Rodgers as their respective teams lost in their divisional round playoff games on Saturday.
So when the Falcons took on the Seattle Seahawks Sunday at the Georgia Dome, many experts and NFL fans across the country thought Matt Ryan would lose his fourth consecutive playoff game.
That would not happen as Ryan led the Falcons on a last-minute drive, which led to a Matt Bryant 49-yard field goal to give the Falcons the 30-28 victory.
"Our quarterback is a special player," Falcons coach Mike Smith said after the game. "He did a great job on that last drive."
After leading 27-7 at the end of the third quarter, the Falcons could not contain Russell Wilson and the Seahawks, who scored 21 unanswered points in 14:29 minutes.
However, that was more than enough time for Ryan and the offense to do what they have done all season long, which is making a fourth-quarter comeback.
Starting at their own 28-yard line, Ryan threw a 22-yard pass to Harry Douglas and then a 19-yard pass to Tony Gonzalez. With 13 seconds to go, Bryant was able to kick a 49-yard field goal for the win.
"I feel like we have two 'Matty Ices'. We have 'Matty Ice' Ryan and 'Matty Ice' Bryant," Smith said talking about how much of a clutch player Bryant has been for this team all season. "Matt Bryant has done some really good things for us."
Bryant could keep the Matt Ice nickname for himself because Asante Samuel has another nickname for Ryan.
"It's Matt Black Ice," Samuel said. "Black ice is slick and Matt is slick. You feel me?"
Despite throwing two picks, including one in the fourth quarter which led to seven points for the Seahawks, Ryan had solid afternoon under center, completing 24 of 35 passes for 250 yards and three touchdowns. In the previous three playoff games, Ryan didn't thrown for over 200 yards in a game nor thrown for more than two touchdowns.
"Your past experiences harden you," Ryan said talking about his experiences in the playoffs.
"They make you a little bit tougher. It's difficult to win this time of year because you're playing against the best teams in the NFL."
The Seahawks may not be the best team in the NFL, but they have played liked it the last two months. The team, led by head coach Pete Carroll, could not get anything going in the first half as it gained 193 yards of total offense and were 0-for-2 in red zone efficiency.
But they were able to wake up in the second half as Wilson used his arm to rally the Seahawks. Wilson threw a 29-yard touchdown pass to Golden Tate in the third quarter, ran for a 1-yard touchdown run at the start of the fourth quarter and threw a 3-yard touchdown run four minutes later.
Marshawn Lynch only ran for 46 yards on 16 carries for Seattle, but scored the go-ahead touchdown with 31 seconds left.
"The one thing, and I know people say I use certain words too much, but that group is a resilient group," Smith said about his team. "There is no quit in this football team. Just like the team that we played today. There is no quit in them either."
The Falcons jumped to a 20-0 lead in the first half because the offense was able to accept what the Seattle defense was giving to them. After a 39-yard field goal by Bryant to give the Falcons the 3-0 lead to start the game, Ryan threw a 1-yard touchdown pass to Tony Gonzalez later in the first to give the Falcons the 10-0 lead.
Gonzalez, who has won his first playoff game in 16 years, was happy and relieved his team came away with the win.
"The playoff monkey is off my back," Gonzalez said. "But like I said, we still have expectations and we still have two more games left, hopefully."
In the second quarter, the Falcons scored another 10 points after Bryant nailed a 37-yard field goal and Ryan threw a 47-yard touchdown pass to Roddy White five minutes later. The reason the Falcons were able to jump to an early lead is the fact they got the running game going. Michael Turner rushed for 98 yards on 14 carries while Jaquizz Rodgers rushed for 64 yards on 10 carries.
"We knew we can't be one dimensional," Turner said. "The strength of our team is being able to run and throw it. We did of good job of that today."
Now the Falcons will host the NFC Championship game for the first time in team history. They will face the San Francisco 49ers who steamrolled the Green Bay Packers 45-31 on Saturday night.
Smith knows that his team has a tough task ahead of them, but he's happy that his team was able to be in the position to play in the NFC title game.
"I'm very happy for our football team and I'm happy for the entire organization," Smith said. "I'm happy for the fans here in Atlanta as well."