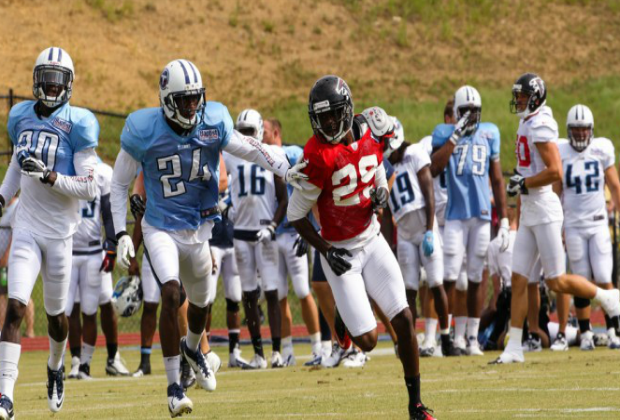 Atlantafalcons.com
In what has been perhaps the most important offseason in the Falcons' 46-year history, the coaches and players are leaving no stone unturned. As the offseason progresses, the Falcons have been revamping the team from top to bottom. There is an excitement and optimism around the Falcons, who have a good mix of youthful exuberance and veteran leadership on both sides of the ball.
After getting bullied out of the playoffs for the third straight year, the Falcons are intensely focused and committed to putting in the work required to push past the first-round wall. Whether it has been players like Matt Ryan bulking up, the veterans who are reloading the roster, or the new coordinators that have been scheming for every possible threat the may face this season, there is a well-defined plan for this team. The Falcons want to be the aggressors this time around.
The veteran leadership has boosted the confidence and experience of the team and has sped up the development of younger players. Offensively, Ryan has strengthened his leadership responsibilities as he enters his fifth season. With an extended offseason following the disappointing playoff loss, Ryan chose to improve his overall shape. The Boston College product's strength and conditioning has definitely improved this offseason and he will be the driving force of an offense that features one of the NFL's best wideout combos in Roddy White and Julio Jones.
Ryan and new offensive coordinator Dirk Koetter's offense has faced an excellent Falcons secondary, defensive line and linebacking corps all offseason. The defensive looked sharp and their effort and competitiveness was brought to camp in the masses. Outside linebacker Sean Weatherspoon is another player who has stepped up as a leader on this team and has become an anchor of the defense in Curtis Lofton's absence.
There is a sense of urgency that exists within the Falcons, but instead of breeding tension and stiffness as the season approaches, the leadership is fueling competition and energy.
The most important part of the offseason is still to come with preseason games and closed camp, but through OTA's minicamp and the opens so far the competition has been outstanding and why would it be any other way? Not only are the players and coaches desperately trying to reach that next tier, but the hiring of two new coordinators has really added an emphasis into the refining of every position group.
NOLAN'S DEFENSE …
Open camp has indicated what the Falcons defensive philosophy will be this year. The defense has looked lightning fast throughout camp, and will look to play this way all season. Former defensive coordinator Brian VanGorder's schemes were often criticized for being too elaborate, but Mike Nolan simplifies his calls. Nolan believes that by making his calls and schemes easier to recognize, his players can react and play faster. When the players do not have an overwhelming mental checklist and progression to run thru they will be able to react faster.
This quick and aggressive defense will require a solid secondary to act as a safety net. The Falcons have added two weapons this offseason to the secondary that have added a level of depth and talent that rivals any in the NFL. Cornerback Asante Samuel, who signed April 25, and safety Chris Hope, who signed June 29, bring Super Bowl experience, competitiveness and have helped to initiate the overwhelming change in confidence this offseason.
KING OF SWAG …
If swagger is merely showing up with confidence, Samuel has given the Falcons that and more. In a secondary that already has two more than capable starters at corner in Brent Grimes and Dunta Robinson, Samuel has established himself as the vocal leader and hype man of the defense. When witnessing the defense in action this offseason, the confidence of Samuel echoes throughout the field whether he is making a play or offering a teammate a lift from the sideline.
Samuel is a 10-year pro and two-time Super Bowl winner, but is earning the respect of his coaches and teammates through his commitment to the team. The energy and leadership of Samuel has been invaluable to the entire team this offseason. Samuel and Hope have given the defense and assertiveness and have challenged the offense this offseason. It has been the defense that has triggered and then escalated most of the battles this offseason, but neither side has hesitated to compete against each other.
"Everything is a competition to me," said Samuel. "Our offense has looked great all camp, but we [the defense] got it. [Matt] Ryan knows if he's coming to my side he better take that shorter drop step and get that ball in there earlier."
Samuel refers to pass break ups and interceptions as "making money" and after week one of training camp he voiced that this defense will be making lots of money this year.
"This is a mean defense now," Samuel clarified. "They don't want none and we won't give none."
The three-man rotation at corner between Grimes, Robinson and Samuel could be the Falcons' biggest strength this next season. Nolan has been finding ways to take advantage of this depth so they can be used as a rotating weapon next season.
"We will be doing a lot of moving around and we've got to get used to playing on both sides of the field," said Samuel.
Chris Hope, an 11-year veteran, is coming to the Falcons from Tennessee, and was a key factor in Pittsburgh's Super Bowl XL victory. Hope has been impressed with the cornerbacks he will combine forces with this season.
"In my opinion we have three of the best corners in the game in Asante, Grimes and Robinson," said Hope. "When you have corners as good as those guys it allows the safeties to be more effective in the defense."
Hope, William Moore, Thomas DeCoud and rookie safety Charles Mitchell construct a talented pool of safeties that is persistent in their pass coverage and ruthless against the running game.
The foundation of an effective Nolan defense builds from a strong pass rush and secondary, and this defense is tailor-made for Nolan's scheme. Samuel and Hope have a lot of pride in their games and believe this defense is on the doorstep of achieving great things this season.
"Yeah, winning is ultimately all that matters, but our goal is to be the best defense in the league this year," Samuel said. Hope nodded in agreement with the Samuel's thoughts.
Expectations surrounding the defense have never been higher and the pressure to perform is huge. Nolan and a defense deep with talent are more than capable to meet them.