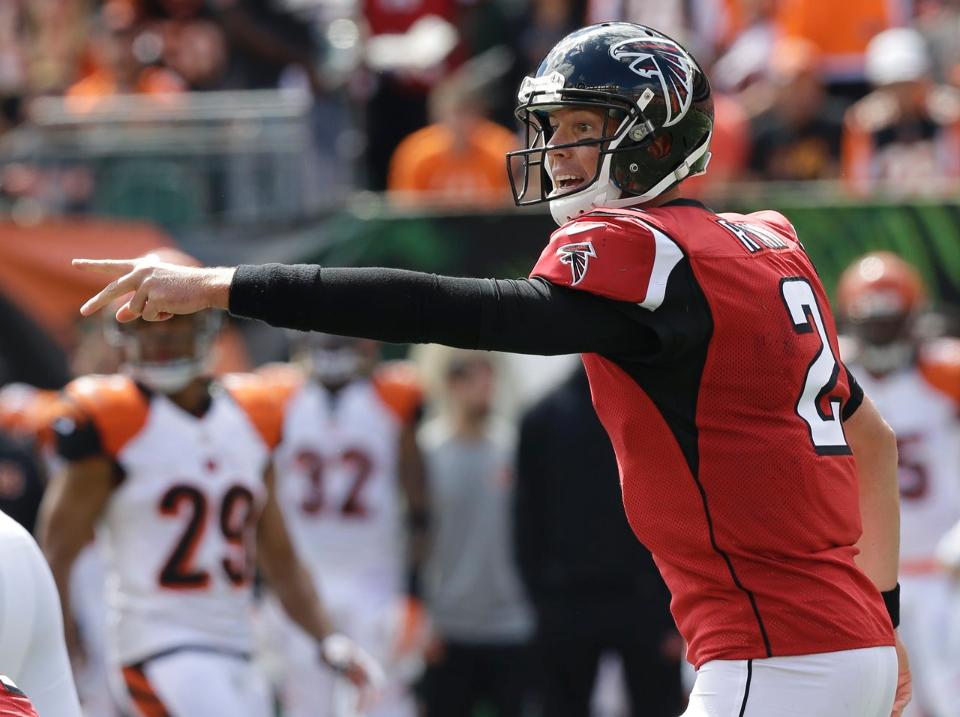 AtlantaFalcons.com
The Falcons do not have any time to dwell on their 24-10 loss to the Cincinnati Bengals on the road Sunday. The Tampa Bay Buccaneers are staring them down on Thursday night inside the Georgia Dome.
The Falcons got right back to work Monday night with a walkthrough on their practice fields in Flowery Branch. Head coach Mike Smith says they've got to have a quick bounce back after such a physical game against the Bengals.
"To get our bodies back I think is going to be very key," Smith said. "That's why we worked on the grass here today and finished up here in the dark. We didn't want to go in and get on the turf. We played on turf Sunday and I think it's going to be very important that we recover physically."
Smith's team is dealing with a few nagging issues on the injury front, however they could have some good news for Thursday night regarding rookie left tackle Jake Matthews.
"Jake was a limited participant in practice," Smith said. "We would have held one player out and that was Roddy White. Prince Shembo would have been a limited participant in practice, as well as Julio Jones. That's how it would have been if this would have been a full practice and we anticipate those limited participants from today will be full participants tomorrow."
This is very good news for the Falcons on the offensive line, given that Matthews was brought in to help solidify the blocking up front and to keep quarterback Matt Ryan on his feet. Atlanta gave up nine quarterback hurries and two sacks Sunday in the Queen City. Ryan was also not as efficient as he was the week prior, going only 24 for 44 through the air with a touchdown and three interceptions. Good news for him and the rest of the team, is that Matthews might not be down for long.
"I'm expecting to play," Matthews said. "I know I personally think I'll be able to play. We'll see how the week of practice goes and what coach has to say."
That would mean that there's going to be an odd man out with the possible return of Matthews to the offensive line. We'll have to see Thursday night who starts at right tackle between Lamar Holmes or Gabe Carimi. The latter named offensive lineman is not going to give too much thought to what the coaches might be thinking.
"I'm not in charge of any situations like that," Carimi said. "All I can do is know every situation and every play. Being with Mike Tice previously I'm comfortable with the playbook just as far as run game. Usually that's where the biggest adjustments are week to week is with the run game. Pass game is basically the same, know your protection and work on technique with hand placement."
The defense is a unit that is trying to bounce back, after giving up over 1,000 yards in their first two games of the 2014 regular season. With a short week, they won't be able to get those extra days of practice to get ready for their next game. Defensive lineman Jonathan Babineaux has been through these short weeks before and knows exactly what to expect from them.
"It's all mental right now," Babineaux said. "You're taking away a lot of the physical (work), not being able to practice that much this week. We've got to get on film study this week and be able to get them down in the next three days. Be ready to go on Thursday."
The Falcons will see the Buccaneers for the first time this season, following Tampa Bay's second loss of the season. No doubt they'll be looking to pick up their first win. Especially given the fact this is a division game and on the national television stage.