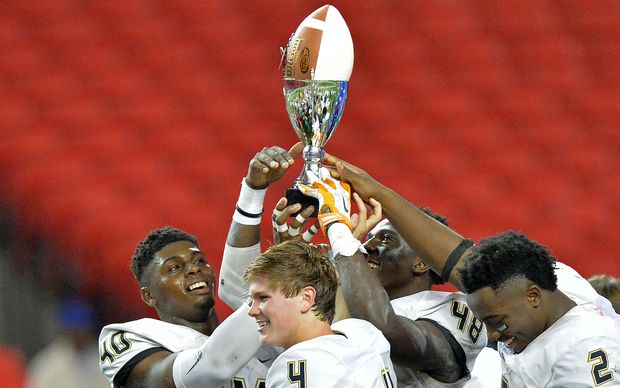 Photo by HYOSUB SHIN AJC
This year's finalist lead the top 2 spots in Class AAAAAA and three Gwinnett teams round out the top 5. Mill Creek takes No. 3 after falling 52-31 to the state champion Colquitt County Packers in the semifinals and finishing the year 14-1. Westlake's run to the quarterfinals boosted the Lions to No. 8 and South Forsyth debuts at No. 10 after an impressive playoff run that ended 49-31 to Colquitt County in the quarterfinals.
Allatoona takes Class AAAAA after recording a 14th straight win (10-6) in the finals Friday night. Runner-up Glynn Academy takes No. 2 and Stockbridge comes in at No. 3 after suffering its only loss of the season to Glynn Academy in the quarterfinals.
Cartersville dominated Buford's offense in a 10-0 shutout victory on Saturday and finishes No. 1 after a perfect season. Westminster stunned Blessed Trinity 38-31 in overtime to take the AAA championship and No. 1 spot and Pace Academy cruised to a 42-21 victory over Fitzgerald to finish on top of Class AA.
Like Westminster, Clinch County avenged a regular season loss in the championship with victory. Clinch County won the A-Public crown with a 24-7 win over Irwin County after falling to the Indians in the regular season. ELCA shut down Aquinas 35-14 in the A-Private championship.
Class AAAAAA
1. Colquitt County
2. Roswell
3. Mill Creek
4. Grayson
5. Archer
6. McEachern
7. Camden County
8. Westlake
9. Peachtree Ridge
10. South Forsyth
Class AAAAA
1. Allatoona
2. Glynn Academy
3. Stockbridge
4. Houston County
5. Northgate
6. Ware County
7. Mays
8. Lanier
9. Kell
10. Coffee
Class AAAA
1. Cartersville
2. Buford
3. Woodward Academy
4. Bainbridge
5. St. Pius
6. Jonesboro
7. Thomson
8. Marist
9. Sandy Creek
10. Mary Persons
Class AAA
1. Westminster
2. Blessed Trinity
3. Calhoun
4. Cedar Grove
5. Jefferson
6. Elbert County
7. Adairsville
8. Peach County
9. Dodge County
10. Callaway
Class AA
1. Pace Academy
2. Fitzgerald
3. Greater Atlanta Christian
4. Benedictine
5. Jefferson County
6.  Rabun County
7. Brooks County
8. Wesleyan
9. Lovett
10. Macon County
Class A-Private
1. Eagle's Landing Christian
2. Aquinas
3. Prince Avenue Christian
4. Mt. Paran
5. Stratford Academy
6. Pinecrest Academy
7. Christian Heritage
8. Calvary Day
9. Landmark Christian
10. Athens Academy
Class A-Public
1. Clinch County
2. Irwin County
3. Emanuel County Institute
4. Commerce
5.  Trion
6. Charlton County
7. Mt. Zion
8. Lincoln County
9. Marion County
10. Johnson County