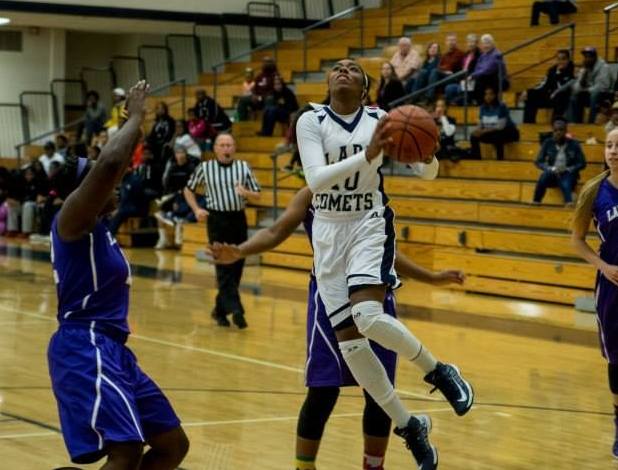 Class AAAAAA sees No. 5 Norcross (6-3) slip three spots after falling to No. 4 Collins Hill (6-0), who makes its debut in the polls after jumping the rest of the top ten. The Lady Eagles used a three-pointer with six seconds left from freshman Bria Harmon to sink the defending state runner-ups in overtime, 57-54. Collins Hill didn't make the massive leap into the top five just because of an impressive win against Norcross, they also defeated former AA No. 1 Holy Innocents' 51-44, handing the Golden Bears their first regular season loss in over a year. Reigning state champs McEachern (2-3) falls five spots after back-to-back losses to out-of-state teams.
No movement took place in AAAAA after each team held serve. No. 2 Sequoyah (6-2) was challenged however, using two overtimes to knock off long-time rival Cherokee, 60-52. Sisters Kelley and Lauren Hartman were once again the difference makers inside for the Lady Chiefs. Kelley scored 18 points, grabbed 13 rebounds and added seven blocks while Lauren posted a double-double of her own with 13 points and 13 rebounds. Defending state champion No. 7 Stephenson (7-3) has now won three straight games highlighted by a 48-41 win over Duluth (7-3) at the Berkmar Lady Patriots Shootout.
Buford almost picked up a signature win but instead fell just short to Class A-Private No. 1 St. Francis in overtime, 51-48. The Lady Wolves drop one spot to No. 3 in AAAA while Marist (9-0) takes over No. 2 after a big win over No. 7 Redan (7-1). Dominique Oden led the War Eagles with 15 points, six rebounds and three assists while Ansley Gross finished with five points, eight assists and five rebounds in the 40-33 victory. Gilmer (7-1) and Monroe (4-1) both fall from the rankings after being tabbed as the No. 8 and No. 7 teams respectively. Monroe was routed by No. 4 Americus-Sumter (8-0) this past week, 68-34. No. 9 West Laurens (7-2) and No. 10 Henry County (6-1) have received big plays from their stars, helping them crack the top ten. Dinah Jackson has averaged 15.8 points, 13 rebounds and three blocks a game for West Laurens.  Henry County has been powered by sophomore Brook Moore, who is lighting opponents up with 24.6 points per game.
The only shuffling in Class AAA came between the No. 5 and No. 6 spots. Peach County (3-1) takes over No. 5 while Washington County sinks one spot to No. 6 after a 64-59 loss to a tough 5A Warner Robins (6-1).
A new No. 1 takes over AA with Wesleyan (9-0) getting the nod.  No. 2 Holy Innocents' (9-1) suffered a rare loss and now look up to their Region 6 foe in the standings. Before the loss to Collins Hill, the Lady Golden Bears smacked No. 5 Lovett (8-2), 72-56. No. 9 Armuchee (5-3) and No. 10 Bleckley County (3-2) enter the poll for the first time. No. 3 Model (9-0) defeated Armuchee 67-52, but the Lady Indians did score a 66-51 win over former No. 9 Darlington (7-4) which knocked the Lady Tigers out of the top ten.
In Class A-Private, No. 6 Greenforest continues to sneak up the poll after a 7-0 start. Mt. Paran falls all the way from No. 5 to No. 10 after a bad loss to one-win Christian Heritage, 43-42. A-Public continues to mix around, but No. 1 Turner County (5-0) and No. 2 Taylor County (6-1) look like they have picked up from where they left off last season. Taylor scored a nice win over 4A No. 6 Carrollton, 40-29. No. 8 Wheeler County (6-0) can thank its fast start to junior center LaKaitlin Wright. The 6-foot-4 post presence has turned in 19.2 points, 15.7 rebounds and 4.2 blocks per contest.
Class AAAAAA
1. Archer
2. Harrison
3. South Forsyth
4. Collins Hill
5. Norcross
6. Parkview
7. Woodstock
8. Tucker
9. Douglas County
10. McEachern
Class AAAAA
1. Brunswick
2. Sequoyah
3. Flowery Branch
4. Southwest DeKalb
5. South Effingham
6. Grovetown
7. Stephenson
8. Cross Creek
9. Woodland-Stockbridge
10. Columbus
Class AAAA
1. Griffin
2. Marist
3. Buford
4. Americus-Sumter
5. Veterans
6. Carrollton
7. Redan
8. Jonesboro
9. West Laurens
10. Henry County
Class AAA
1. Morgan County
2. Laney
3. Dawson County
4. South Atlanta
5. Kendrick
6. Peach County
7. Washington County
8. Jackson-Atlanta
9. Ringgold
10. Beach
Class AA
1. Wesleyan
2. Holy Innocents'
3. Model
4. Pelham
5. Lovett
6. Jeff Davis
7. Vidalia
8. Putnam County
9. Armuchee
10. Bleckley County
Class A-Private
1. St. Francis
2. Calvary Day
3. Tattnall Square Academy
4. Greenforest
5. Paideia
6. Stratford Academy
7. ELCA
8. Savannah Christian Day
9. Our Lady of Mercy
10. Mt. Paran
Class A-Public
1. Turner County
2. Taylor County
3. Terrell County
4. Greenville
5. Commerce
6. Quitman County
7. Mitchell County
8. Wheeler County
9. Randolph-Clay
10. Wilcox County