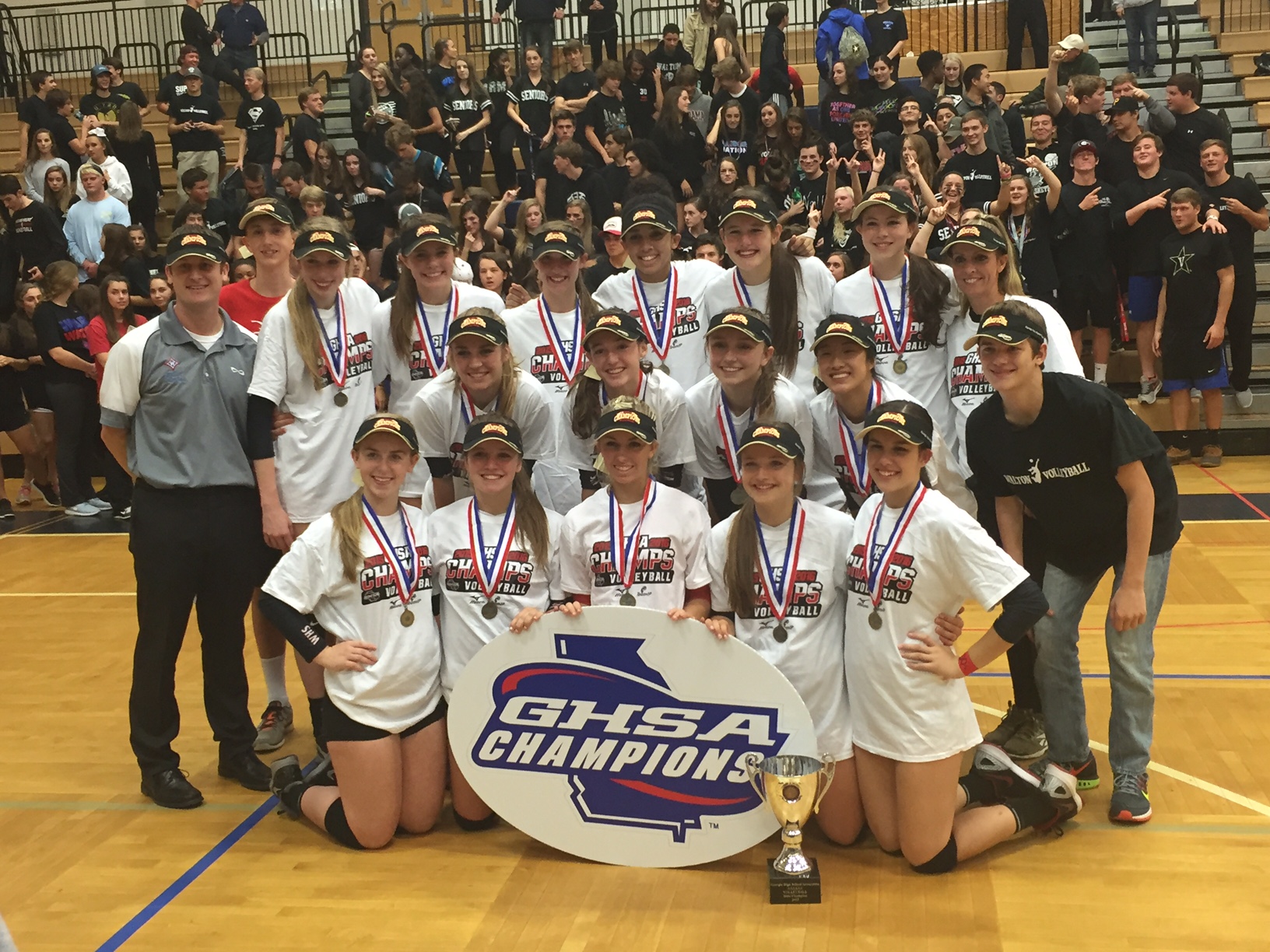 Walton went wire-to-wire No. 1 in Class AAAAAA and swept past South Forsyth in the championship to win the program's 10th state title. The Raiders did not drop a single set to a Georgia opponent this season. Runner-up South Forsyth comes in at No. 2 after battling past Harrison in five sets in the semifinals. Etowah reached the state semifinals before losing to Walton, but comes in at No. 6 behind Harrison, Johns Creek and Lassiter. Johns Creek was swept by Walton in the second round but topped Etowah 2-0 in their only regular season meeting. Etowah lost all three of its matches to Lassiter this season, giving the Trojans the edge for No. 5.
In Class AAAAA, Columbus defeated defending champion Sequoyah in four sets for the state title. Cambridge fell in a five set marathon to Sequoyah in the semis and rounds out a solid top 3.
Buford went wire-to-wire in Class AAAA at No. 1 and capped off a perfect 41-0 season with a five-set victory over St. Pius in the title game. Walnut Grove debuted at No. 10 after reaching this year's Elite 8 before falling to Buford.
Blessed Trinity entered the playoffs No. 1 and the held court after topping No. 2 Westminster 3-1 for the AAA title.
Lovett made the biggest climb in the poll this postseason and finishes No. 2 after reaching the finals and losing to now three-time defending state champion and No. 1 ranked Holy Innocents' 3-1.
Class A No. 1 Calvary Day won its first state title over No. 2 Landmark Christian. The Cavaliers survived a five-set win in the semifinals over No. 3 Athens Christian. Savannah Christian was the top-ranked team in Class A every week of the regular season, but finishes at No. 4 after losing to Landmark Christian 3-1 in the semis.
Class AAAAAA
1. Walton
2. South Forsyth
3. Harrison
4. Johns Creek
5. Lassiter
6. Etowah
7. North Cobb
8. Lambert
9. Alpharetta
10. Norcross
Class AAAAA
1. Columbus
2. Sequoyah
3. Cambridge
4. Dunwoody
5. Allatoona
6. Ola
7. South Effingham
8. Evans
9. McIntosh
10. Northgate
Class AAAA
1. Buford
2. St. Pius
3. Marist
4. Woodward Academy
5. Sandy Creek
6. North Oconee
7. Heritage-Catoosa
8. Veterans
9. Northwest Whitfield
10. Walnut Grove
Class AAA
1. Blessed Trinity
2. Westminster
3. Decatur
4. Oconee County
5. Jefferson
6. Savannah Arts
7. Sonoraville
8. Lakeview-Fort Oglethorpe
9. Morgan County
10. Fannin County
Class AA
1. Holy Innocents'
2. Lovett
3. Greater Atlanta Christian
4. Wesleyan
5. St. Vincent's
6. Pace Academy
7. Gordon Lee
8. Coosa
9. Darlington
10. Rabun County
Class A
1. Calvary Day
2. Landmark Christian
3. Athens Academy
4. Savannah Christian
5. Fellowship Christian
6. Eagle's Landing Christian
7. Hebron Christian
8. George Walton Academy
9. Mt. Paran
10. Paideia