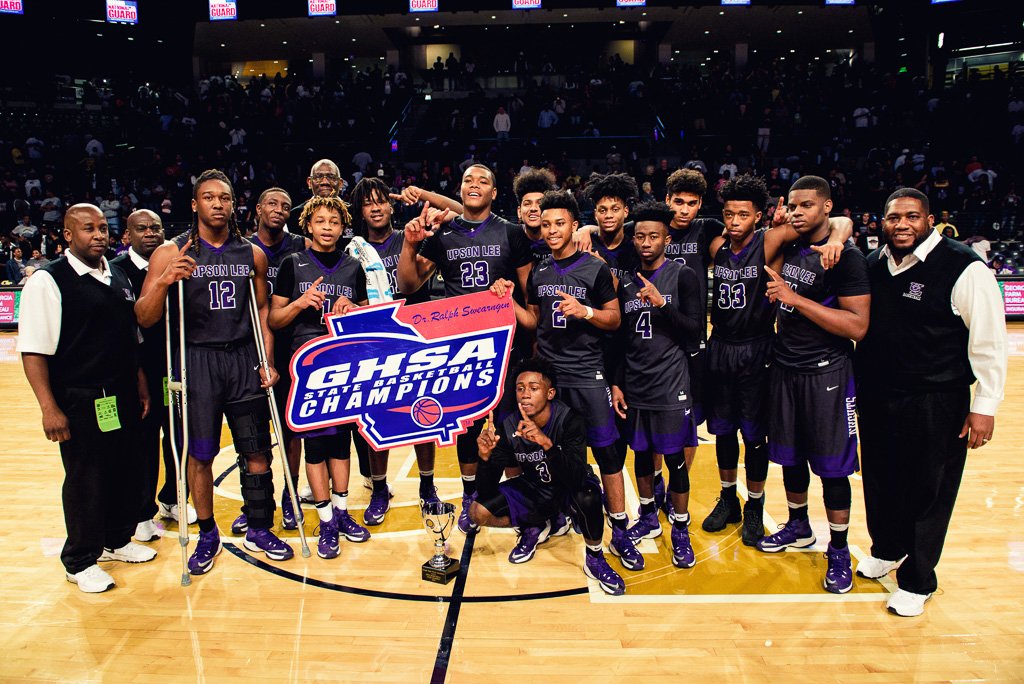 Tift County finishes the season No. 1 after scoring a 55-52 win over Norcross in the Class 7A championships. Norcross closes at No. 2, while one-loss McEachern's 29-1 campaign and semifinal berth puts the Indians at a strong No. 3. Newton and Pebblebrook round out the top 5, while 2016 Class 6A state champion Westlake comes in at No. 6.
Class 6A's Hughes and Class 3A's Pace Academy both finish at No. 1 following state championship berths. The programs each lost eight games this season, but like seven-loss Wilkinson County in Class A-Public, their championship runs proved their status at No. 1.
Hughes scored a dominant 73-52 win over Brunswick in the 6A final to clinch the top spot. Gainesville, which lost to Hughes 72-69 in the semifinals comes in at No. 2, while Allatoona closes the year at No. 3. Brunswick's incredible run to the finals wasn't enough to put the nine-loss Pirates in the top 3, but they finish the season at No. 4.
The Buford boys close the season at No. 1 for the first time after capturing the program's first state title with a 75-61 victory over Cedar Shoals in the 5A final. First-time state champion Upson-Lee emphatically cemented its place at the top of Class 4A after closing out a perfect 32-0 season with a thrilling 53-48 victory over St. Pius in the championship.
Pace Academy captured the program's second straight title and first in Class 3A with a 54-46 win over No. 2 Morgan County, while 29-1 South Atlanta destroyed Swainsboro 68-33 in the 2A championship to close out a top ranking in Class 2A.
Greenforest Christian outmatched Southwest Atlanta Christian 81-57 in the Class A-Private championship to earn No. 1, while Wilkinson County's ninth all-time state title results in another top finish for the back-to-back A-Public champs.
Class 7A
1. Tift County (29-2)
2. Norcross (26-6)
3. McEachern (29-1)
4. Newton (28-2)
5. Pebblebrook (21-8)
6. Westlake (18-11)
7. Wheeler (21-9)
8. Berkmar (21-8)
9. Grayson (21-10)
10. Collins Hill (19-9)
Class 6A
1. Hughes (19-8)
2. Gainesville (28-2)
3. Allatoona (25-4)
4. Brunswick (23-9)
5. South Cobb (23-8)
6. South Paulding (28-2)
7. Jonesboro (23-6)
8. Dacula (20-90
9. Tri-Cities (18-14)
10. Alpharetta (25-4)
Class 5A
1. Buford (29-2)
2. Cedar Shoals (27-5)
3. Warner Robins (26-4)
4. Miller Grove (21-9)
5. Fayette County (23-8)
6. Columbia (21-9)
7. New Hampstead (18-9)
8. Southwest DeKalb (17-13)
9. Riverwood (23-6)
10. Statesboro (19-10)
Class 4A
1. Upson-Lee (32-0)
2. St. Pius (24-8)
3. Henry County (24-6)
4. LaGrange (26-4)
5. Sandy Creek (23-8)
6. Carver-Columbus (21-7)
7. Richmond Academy (23-6)
8. Perry (22-9)
9. Thomson (16-12)
10. Americus-Sumter (21-7)
Class 3A
1. Pace Academy (26-8)
2. Westside-Macon (25-4)
3. Morgan County (25-6)
4. Liberty County (22-6)
5. Calhoun (23-5)
6. Jenkins (22-8)
7. Islands (19-10)
8. Johnson-Savannah (19-10)
9. East Hall (21-8)
10. Cedar Grove (17-7)
Class 2A
1. South Atlanta (29-1)
2. Swainsboro (21-11)
3. Dublin (23-5)
4. Laney (25-6)
5. Josey (23-8)
6. Butler (18-9)
7. Early County (23-8)
8. Chattooga (26-2)
9. Washington County (15-10)
10. Banks County (23-5)
Class A-Private
1. Greenforest Christian (27-5)
2. Southwest Atlanta Christian (23-9)
3. North Cobb Christian (26-4)
4. St. Francis (25-6)
5. Lakeview Academy (25-6)
6. Aquinas (26-2)
7. Whitefield Academy (20-9)
8. Holy Innocents (19-9)
9. Athens Christian (22-7)
10. First Presbyterian Day (16-8)
Class A-Public
1. Wilkinson County (25-7)
2. Calhoun County (28-2)
3. Clinch County (26-4)
4. Macon County (20-9)
5. Treutlen (27-1)
6. Turner County (19-9)
7. Taylor County (19-6)
8. Quitman County (23-8)
9. Manchester (16-12)
10. Montgomery County (20-10)