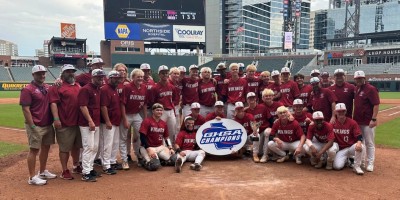 In Class 7A, Lowndes closes out the season No. 1 after sweeping Parkview in the finals for its first state title since 2000. Semifinalists North Paulding and Mill Creek close out the year at No. 3 and No. 5 and North Gwinnett finished at No. 4 after dropping a three-game series to Lowndes in the quarterfinals. Houston County topped defending state champion Pope 8-3, 7-4 in the finals to finish the season at No. 1 in Class 6A and Blessed Trinity, Etowah and River Ridge cap the top 5.
Loganville captured the Class 5A state title and tops the poll ahead of runner-up McIntosh, Greenbrier and Cartersville—who was upset by Greenbrier in the quarterfinals. North Oconee defended its Class 4A state title over No. 2 LaGrange—which is joined in the final poll with its region counterparts Starr's Mill and Whitewater.
Class 3A finishes with Harlem at No. 1 after the Bulldogs' win over Ringgold in the finals and North Cobb Christian held off region rival Mt. Paran in the Class 2A finals for the top spot. Class A Division I champion Prince Avenue Christian and Class A Division II state champion Charlton County are the final two top-ranked teams after their historic seasons.
Class 7A
1. Lowndes
2. Parkview
3. North Paulding
4. North Gwinnett
5. Mill Creek
6. Denmark
7. Dacula
8. East Coweta
9. Walton
10. Hillgrove
Class 6A
1. Houston County
2. Pope
3. Blessed Trinity
4. Etowah
5. River Ridge
6. Woodstock
7. Tift County
8. Woodward Academy
9. Lassiter
10. North Atlanta
Class 5A
1. Loganville
2. McIntosh
3. Greenbrier
4. Cartersville
5. Locust Grove
6. Centennial
7. Winder-Barrow
8. Villa Rica
9. Decatur
10. Flowery Branch
Class 4A
1. North Oconee
2. LaGrange
3. Starr's Mill
4. Lovett
5. Whitewater
6. Wayne County
7. Cherokee Bluff
8. East Forsyth
9. Holy Innocents'
10. Benedictine
Class 3A
1. Harlem
2. Ringgold
3. Savannah Christian
4. Pike County
5. Franklin County
6. Gordon Lee
7. Wesleyan
8. Oconee County
9. Calvary Day
10. Thomasville
Class 2A
1. North Cobb Christian
2. Mt. Paran
3. Fellowship Christian
4. Appling County
5. Jeff Davis
6. Redan
7. Model
8. Cook
9. Vidalia
10. Brantley County
Class A Division I
1. Prince Avenue Christian
2. Irwin County
3. Metter
4. Bleckley County
5. Darlington
6. Social Circle
7. King's Ridge
8. Pepperell
9. Heard County
10. Athens Christian
Class A Division II
1. Charlton County
2. ECI
3. Schley County
4. McIntosh County
5. Washington-Wilkes
6. Wilcox County
7. Bowdon
8. Towns County
9. Lanier County
10. Seminole County