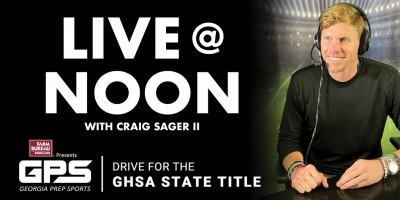 The 239th episode of the Georgia Farm Bureau "Georgia Prep Sports: Drive for the GHSA State Title " video podcast will celebrate the conclusion of what was an outstanding 2022-23 school year with a tremendous lineup of guests to offer broad insight on the Georgia landscape.
Host Craig Sager II will open the show with GISA/GIAA Commissioner Tommy Marshall to talk about how the 2022-23 school year went and what his vision is for the years ahead as he continues to push forward and work hand-in-hand with the GHSA to elevate Georgia's statewide success.
After opening the show with Marshall, Sager will introduce the Director of Athletics at the Fulton Science Academy Alex Ayres, who took over the position in 2018. This segment will talk about how the private school renowned for its academic success has incorporated athletics into the experience.
In the final segment, Sager will shift back to the gridiron and welcome back to the show Fitzgerald head football coach Tucker Pruitt. The Purple Hurricanes have reached three-straight finals and are gearing up for another successful run this season in Class 2A after their historic 14-1 2022 campaign.
The Drive for the GHSA State Title podcast is produced by PlayOn Sports, which runs the National Federation High School Network, and airs Mondays, Wednesdays and Fridays starting at noon.