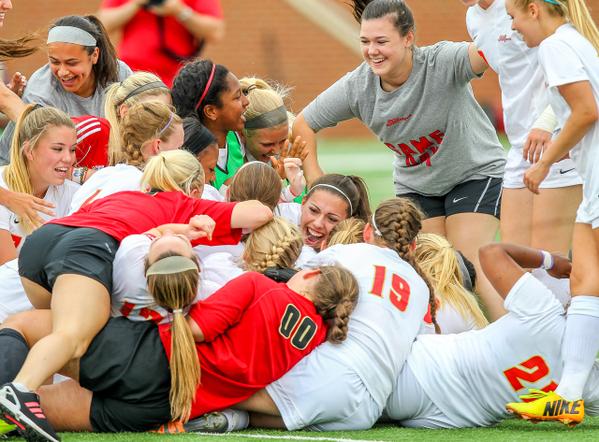 Photo by GHSA.net
The Dalton boys got the job done as the No. 1 team heading into the playoffs, capping off an undefeated 2015 campaign with the Class AAAAA state championship. The Catamounts have an undisputed dynasty in progress, owners of three consecutive titles to go along with a 64-0-1 record during that span. Class AAAA also featured an undefeated champion, as St. Pius X prevailed over Woodward Academy in the semifinals (5-2) and Cross Keys in the final (1-0). Cross Keys' improbable run through the bracket included defeats of Carrollton, Jonesboro, Johnson-Gainesville and Southeast Whitfield.
Previously ranked No. 3 in the state, Duluth triumphed in the highest classification. Surprises were plentiful, as former No. 1 Chattahoochee (the top seed from Region 6) lost in the first round to Milton (the fourth seed out of Region 5). Brookwood, the No. 3 seed in Region 8, went all the way to the championship match before succumbing to Duluth. Other state champions included West Hall (Class AAA), Greater Atlanta Christian (Class AA) and Atlanta International School (Class A). Both West Hall and Atlanta International School entered the state tournament ranked No. 4 in their respective classes.
Upsets were abundant in the girls soccer state playoffs, as only two of the six top-ranked teams in the state heading into the tournament managed to take care of business. In Class AAA, region rivals Westminster and Blessed Trinity squared off in an unsurprising final matchup, with No. 1 Westminster triumphing 3-0. Region mates also battled for the title in Class AA, where No. 1 Greater Atlanta Christian got the best of previously third-ranked Lovett by a 2-1 margin.
Class AAAAAA saw undefeated Harrison, which had been the wire-to-wire No. 1 team all season long, run into a Grayson buzzsaw and fall 2-1 in a quarterfinal upset. Grayson ultimately parlayed that momentum into the title, beating Lambert 5-0 in the championship match. Rounding out the list of state champions are Starr's Mill (Class AAAAA), St. Pius X (Class AAAA), and Hebron Christian (Class A). The state's smallest classification produced the biggest surprise, as Hebron Christian went into the state tournament ranked No. 9.
BOYS
Class AAAAAA
1. Duluth
2. Brookwood
3. Parkview
4. Alpharetta
5. Marietta
6. Habersham Central
7. Milton
8. Chattahoochee
9. Roswell
10. Tucker
Class AAAAA
1. Dalton
2. Allatoona
3. Greenbrier
4. Riverwood
5. Houston County
6. Gainesville
7. Clarkston
8. Heritage-Conyers
9. McIntosh
10. Starr's Mill
Class AAAA
1. St. Pius X
2. Cross Keys
3. Woodward Academy
4. Southeast Whitfield
5. Whitewater
6. North Oconee
7. Johnson-Gainesville
8. Northwest Whitfield
9. Spalding
10. Mary Persons
Class AAA
1. West Hall
2. Calhoun
3. Oconee County
4. Westminster
5. Decatur
6. East Hall
7. Dawson County
8. Blessed Trinity
9. Islands
10. Coahulla Creek
Class AA
1. Greater Atlanta Christian
2. Wesleyan
3. Pace Academy
4. Riverside Military
5. Thomasville
6. Benedictine
7. Lovett
8. Darlington
9. Long County
10. Union County
Class A
1. Atlanta International School
2. Stratford Academy
3. Fellowship Christian
4. Pacelli
5. Mount Paran Christian
6. Aquinas
7. Savannah Christian
8. Paideia
9. Athens Academy
10. Pinecrest Academy
GIRLS
Class AAAAAA
1. Grayson
2. Harrison
3. Lambert
4. Lassiter
5. Peachtree Ridge
6. Walton
7. Parkview
8. Collins Hill
9. South Forsyth
10. Pope
Class AAAAA
1. Starr's Mill
2. Northgate
3. Greenbrier
4. McIntosh
5. Columbus
6. North Atlanta
7. Richmond Hill
8. Evans
9. Gainesville
10. Alexander
Class AAAA
1. St. Pius X
2. Marist
3. Woodward Academy
4. Buford
5. Whitewater
6. Veterans
7. Chestatee
8. Pike County
9. Spalding
10. Cartersville
Class AAA
1. Westminster
2. Blessed Trinity
3. Decatur
4. Dawson County
5. Lumpkin County
6. Savannah Arts
7. Calhoun
8. Oconee County
9. Adairsville
10. Lakeview-Fort Oglethorpe
Class AA
1. Greater Atlanta Christian
2. Lovett
3. Wesleyan
4. Holy Innocents'
5. St. Vincent's
6. Bremen
7. East Laurens
8. Union County
9. Social Circle
10. Fitzgerald
Class A
1. Hebron Christian
2. Fellowship Christian
3. Stratford Academy
4. First Presbyterian Day
5. Atlanta International School
6. Paideia
7. Savannah Christian
8. Aquinas
9. Savannah Country Day
10. Athens Academy