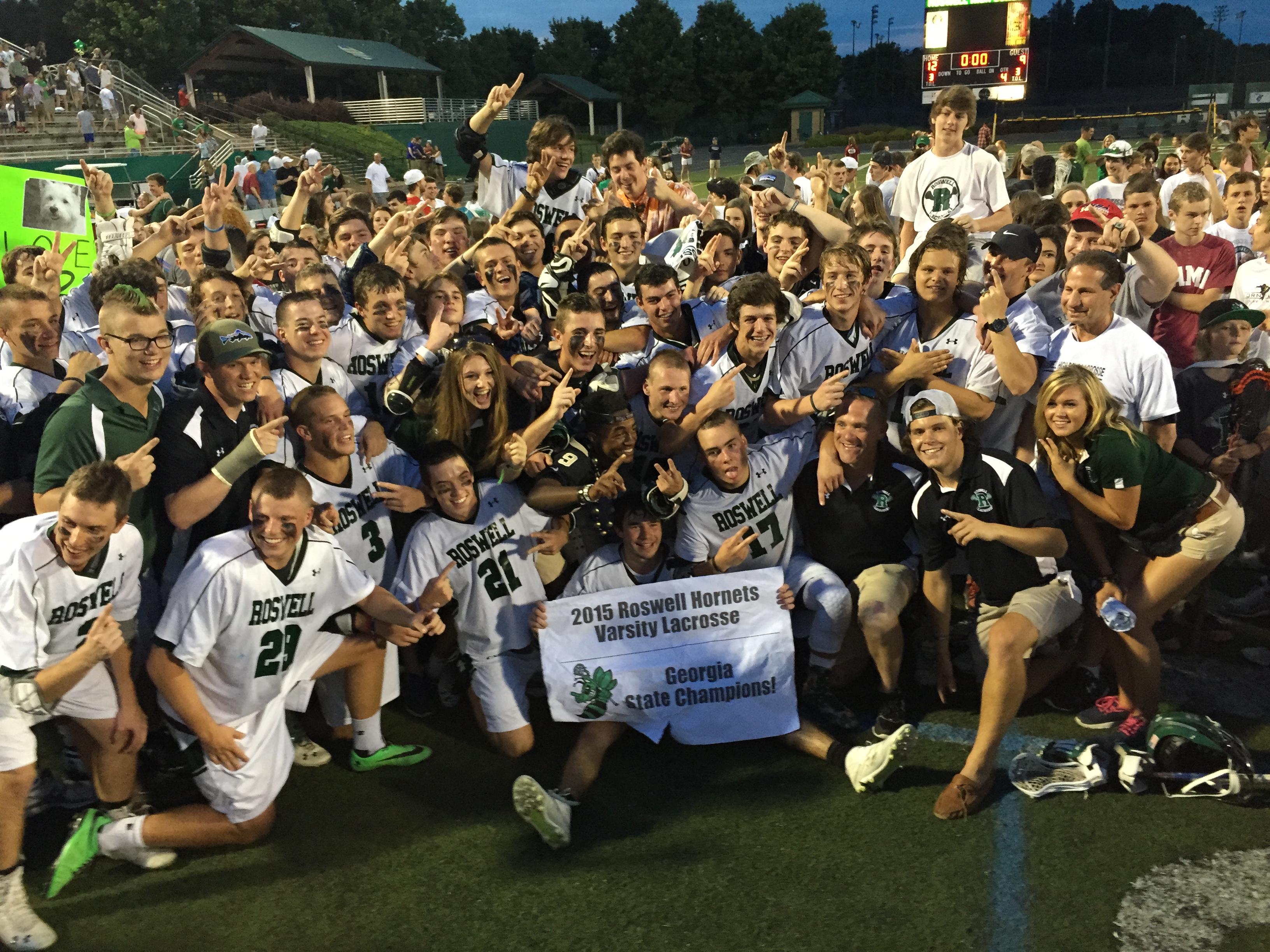 Photo by Craig Sager II
Roswell took a 9-3 halftime lead before answering Pope's third quarter rally and clinching back-to-back Class AAAAAA state titles with a 12-9 victory. No. 1 seed Roswell jumped to a 5-0 lead before visiting Pope found the net with two late first quarter goals to make it 5-2.
"We just worked on placing our shots because we knew they [Pope] had a fantastic goalie," explained Roswell head coach Alex Chrzanowski. "Not letting our passes fall early and not allowing their goalie to get hot early really helped us."
Roswell senior Preston Tippett netted a hat-trick in the first half and scored two of Pope's three second half goals to finish with a team-high five goals. Pope tightened up its defense in the third quarter and Parker LaVelle began to spark the offense and provide the Greyhounds with much-needed goals. LaVelle finished with three goals in the third quarter and after scores by Tyler Borko and Josh Wells, the Greyhounds cut the deficit to 10-8 and outscored Roswell 5-1 in the period.
In the fourth quarter, the teams went scoreless for the first 8:27 before Roswell's Tanner Schneider found the net to make it an 11-8 Hornets' lead. Tippett added his fifth goal just 27 seconds later before Pope got on the board a final time with a Wells goal.
"This is a great community for lacrosse and we have a dynasty going," said Chrzanowski as the fans stormed the field, "And we are looking to keep growing from these back-to-back titles."
Roswell takes its second straight Class 6A boys lacrosse state title with a 12-9 win over Pope pic.twitter.com/ANOVdz9Kxq

— SCORE Atlanta (@scoreatlanta) May 17, 2015
Class AAAAAA Girls
Milton 9, Walton 6: Milton held off visiting Walton in the Class AAAAAA title game for the second straight year and captured the program's 10th state title in 11 seasons. The teams were tied 2-2 early before Milton took control and closed out the half with a 6-2 lead. Lexie Morton, Grace Peterson and Maddie Langley led Milton with two goals apiece. Walton cut the deficit to 6-4 in the second half with goals from juniors Carly White and Kylie Holthaus but Milton answered with Morton's second score and a goal by Hannah Davis to push the lead back to 8-4 with 12:21 left in the game. White led Walton with a game-high three goals.
Class A-AAAAA Boys
Westminster 7, Lovett 4: Westminster's all-state defense held Lovett to just two goals in the first three quarters as the host Wildcats built a comfortable 7-2 lead. Jack Patton sparked the offense with two first half goals and completed the hat-trick in the third quarter as he gave Westminster a 5-1 lead. Westminster's Cole Haverty netted two goals and teammates Blake Davis and Chip Wray each finished with one. Westminster outscored its four opponents this postseason 51-6. This is the program's fourth state title.
Class A-AAAAA Girls
Kell 16, Westminster 14: Leslie Ferguson scored five of her six goals in the second half to lead Kell to the Class A-AAAAA title for the second straight year over the visiting Wildcats. Kell scored four goals in the final 3:19 of the first half to overcome a 3-1 deficit and take a 6-4 lead. The Longhorns' lead grew to as much as 10-4 in the second half. Kell's Izzy Palermo and Haley Swift each netted hat-tricks and sophomore Talen Francis finished with two goals and an assist.