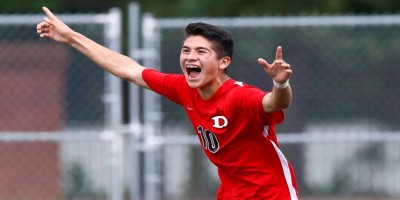 The GHSA soccer season came to an end over the weekend as eight champions were crowned at McEachern in Powder Springs and Mercer University in Macon.
In the state's highest class, Lambert took the crown after a 2-0 victory over Lakeside-DeKalb I the title match. The victory marked the third boys soccer title for the Longhorns. Meadowcreek, a semifinalist, finished third. Milton, which lost to Lakeside 2-1 in the semis, finished fourth. Hillgrove completed its season ranked fifth.
Dalton took the AAAAAA title with a convincing 4-1 victory over Gainesville. The championship marked the fifth title for the Catamounts. The Red Elephants finished second. Pope, which lost to Dalton 6-1 in the semis, finished third. Cambridge fell 3-2 to Gainesville in the semis and it finishes the season ranked fourth.
McIntosh won its seventh boys soccer title after beating local-rival Starr's Mill 3-2 in the title match. The Panthers finish second. Johnson-Gainesville, which lost to Starr's Mill 1-0 in the semifinals, finished the season ranked third. Whitewater is third after a 3-0 loss to McIntosh in the semis. Carrollton, which narrowly lost to McIntosh in the quarterfinals 3-2, finished fifth.
Oconee County won its first-ever boys soccer title after a 1-0 victory over Upson-Lee in the title match. The Knights finish second. Southeast Whitfield finishes the season third after a 3-2 loss to Oconee County in the quarterfinals. Druid Hills, which lost to Upson-Lee 1-0 in the semifinals, finishes fourth and Woodward Academy rounds out the top-5.
The Wildcats won their 14th boys soccer titles after outlasting Coahulla Creek 4-0. Coahulla finishes second. Jefferson, which lost to Westminster 3-0 in the semifinals, finished third.  Benedictine dropped a 2-1 contest to Coahulla in the semis and finishes fourth. Pace Academy lost 2-1 to Benedictine in the quarterfinals and finishes fifth.
Thomasville won its second title following a 2-1 victory over Union County in the title match. Union finishes the season ranked second. Vidalia is third with Putnam and Bremen rounding out the top-5.
In Class A-Private, Wesleyan won its second boys soccer title with a 2-1 victory over No. 2 Whitefield Academy. Atlanta International finished third ahead of St. Anne Pacelli and Walker. In Class A-Public, Georgia Military won its first ever title after a 2-1 victory over Lake Oconee Academy.
Class AAAAAAA
1. Lambert
2. Lakeside-DeKalb
3. Meadowcreek
4. Milton
5. Hillgrove
6. Roswell
7. Kennesaw Mountain
8. Collins Hill
9. North Paulding
10. Forsyth Central
Class AAAAAA
1. Dalton
2. Gainesville
3. Pope
4. Cambridge
5. Tucker
6. Chattahoochee
7. Richmond Hill
8. Lakeside-Evans
9. Habersham Central
10. Sprayberry
Class AAAAA
1. McIntosh
2. Starr's Mill
3. Johnson-Gainesville
4. Whitewater
5. Carrollton
6. Cross Keys
7. Rome
8. Clarke Central
9. Fayette County
10. Clarkston
Class AAAA
1. Oconee County
2. Upson-Lee
3. Southeast Whitfield
4. Druid Hills
5. Woodward Academy
6. Marist
7. Spalding
8. Blessed Trinity
9. St. Pius X
10. Chestatee
Class AAA
1. Westminster
2. Coahulla Creek
3. Jefferson
4. Benedictine
5. Pace Academy
6. Windsor Forest
7. Tattnall County
8. Islands
9. Greater Atlanta Christian
10. Lovett
Class AA
1. Thomasville
2. Union County
3. Vidalia
4. Putnam County
5. Bremen
6. Pepperell
7. Coosa
8. Jeff Davis
9. Harlem
10. Gordon Central
Class A-Private
1. Wesleyan
2. Whitefield Academy
3. Atlanta International
4. St. Anne Pacelli
5. Walker
6. Paideia
7. Mount de Sales
8. Athens Academy
9. Pinecrest Academy
10. Riverside Military
Class A-Public
1. Georgia Military
2. Lake Oconee Academy
3. ACE
4. Atkinson County
5. Trion
6. Drew Charter
7. Claxton
8. Morris Innovative
9. Echols County
10. Commerce