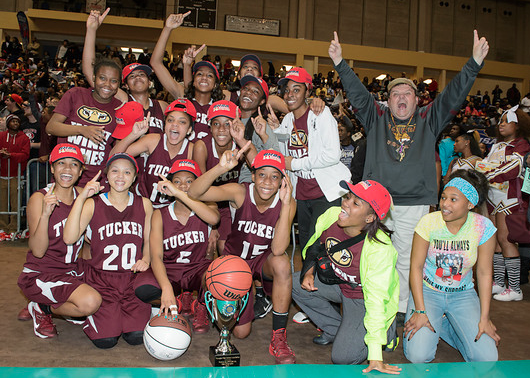 Photo by Ty Freeman
In Class AAAAAA, state champion McEachern remains No. 1 ahead of finalist Archer. Lowndes moved up five spots from the pre-playoff poll and finishes at No. 3 after its run to the semifinals. North Forsyth moved to No. 4 and South Forsyth made its debut at No. 5 after reaching the state semifinals. Westlake dropped out of the top 10 with its 59-58 first round loss to Tift County.
Tucker took over No. 1 in Class AAAAA with a convincing 83-65 win over Southwest DeKalb in the state championship. Drew fell one spot to No. 3 with the Tigers' jump to No. 1 and Osborne rounds out the top 4 after falling to the state champs (Tucker) in multiple overtimes in the second round.
The top three stayed put in Class AAAA, but South Effingham, Fayette County and Woodland-Henry jumped Cross Creek for the four, five and six spots. Chestatee lost to Grady 55-51 in the first round and was replaced by Rutland in the top 10.
St. Pius X reclaimed No. 1 in Class AAA with its 48-45 win over Buford in the state championship. Pre-playoff No. 1 Washington County dropped to No. 4 with its 53-52 loss to No. 3 Beach in the quarterfinals. Pike County jumped five spots and into the top 5 with its semifinals appearance and Johnson-Savannah debuts at No. 10 after reaching the state quarterfinals.
Kendrick closed out Wesleyan 69-58 in the Class AA state championship game and remains No. 1 ahead of the No. 2 Wolves. Laney moved to No. 3 with its semifinals berth ahead of Greater Atlanta Christian.
In Class A, Southwest Atlanta Christian takes over No. 1 in the poll after toppling unbeaten Holy Innocents' 57-52 in the Class A-Private championship. The Golden Bears dropped one spot to No. 2 and St. Francis fell from No. 2  to No. 3. Class A-Public state champion Randolph-Clay finishes at No. 4 and Class A-Public state runner-up Mitchell County finishes at No. 6. George Walton Academy was jumped by both state champs and fell from No. 3 to No. 5. Mt. Paran is debuting in the final poll and the Eagles come in at No. 10.
FINAL GIRLS POLL
Class AAAAAA
1. McEachern
2. Archer
3. Lowndes
4. North Forsyth
5. South Forsyth
6. Parkview
7. Hillgrove
8. Norcross
9. Douglas County
10. Mountain View
Class AAAAA
1. Tucker
2. SW DeKalb
3. Drew
4. Osborne
5. Forest Park
6. Salem
7. Stephenson
8. Effingham County
9. Northside-Columbus
10. Greenbrier
Class AAAA
1. Redan
2. Columbus
3. Columbia
4. South Effingham
5. Fayette County
6. Woodland-Henry
7. Cross Creek
8. River Ridge
9. Mary Persons
10. Rutland
Class AAA
1. St. Pius X
2. Buford
3. Beach
4. Washington County
5. Pike County
6. Morgan County
7. Dodge County
8. Tattnall County
9. Central-Carroll
10. Johnson-Savannah
Class AA
1. Kendrick
2. Wesleyan
3. Laney
4. Greater Atlanta Christian
5. Pelham
6. Putnam County
7. Pepperell
8. Jefferson
9. Vidalia
10. Calhoun
Class A
1. Southwest Atlanta Christian
2. Holy Innocents'
3. St. Francis
4. Randolph-Clay
5. George Walton Academy
6. Mitchell County
7. Darlington
8. Calvary Day
9. Claxton
10. Mount Paran