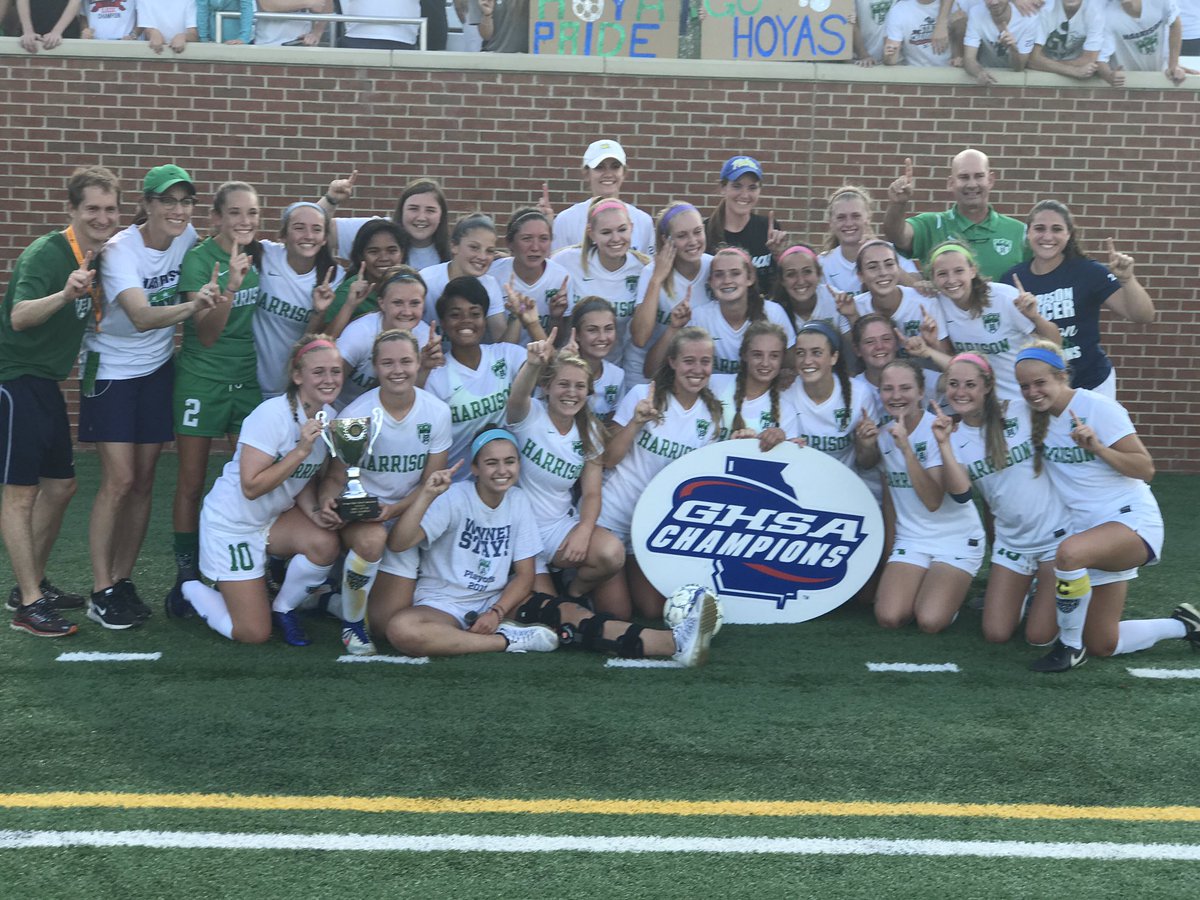 Lambert finished in the driver's seat of the state's highest classifications after a 2-1 win over Grayson in the championship game. Lambert marched through Norcross, Kennesaw Mountain, Walton and Mill Creek n way to the championship game. Grayson moved through North Gwinnett, Lassiter, Milton and South Forsyth to earn a shot at the championship.
Harrison defeated Johns Creek 1-0 in the final game of the year to take the top spot in Class AAAAAA. The Lady Hoyas defeated Habersham Central, Effingham County, Pope and Lee County on their way to the title game. Johns Creek's path to the title game included wins over South Paulding, Greenbrier, Richmond Hill and Cambridge.
The McIntosh Lady Chiefs held off Buford to win the Class AAAAA championship, 2-0. McIntosh has now won back-to-back titles, three of the last four and five of the last seven. Buford was vying for its first. McIntosh moved past Warner Robins, Chamblee, Grady and Flowery Branch en route to the title. Buford felled North Springs, Locust Grove, Veterans and Whitewater to earn a berth.
St. Pius held off Marist 1-0 to win the Class AAAA state championship. Pius moved past Gilmer, Mary Persons, Blessed Trinity and Chapel Hill to earn a berth in the championship game. Marist, who moved past Central-Carroll, Northside-Columbus, Spalding and Jefferson, finished in the No. 2 spot.
Westminster held off Pace Academy 3-0 to win the Class AAA state title. The Lady Wildcats did not give up a goal in the playoffs and moved past North Hall, Islands, Pike County, Greater Atlanta Christian to make it to the title game. Pace moved through Lumpkin County, Savannah Arts, Calhoun and Lovett to earn a berth.
St. Vincent's overpowered East Laurens 10-0 to win the Class AA title after not allowing a goal all through the bracket. St. Vincent's moved past Jefferson County, Oglethorpe County, Model and Lamar County to make it to the title game. East Laurens moved through Brooks County, Callaway, Glenn Hills and Social Circle to take the crown.
Wesleyan outscored First Presbyterian 3-0 in the second half to take the Class A title game 4-1. Wesleyan moved through Galloway, Stratford, Mt. Pisgah and Holy Innocents' to make it to the title game. FPD defeated Strong Rock, Lakeview Academy, Pinecrest Academy and Paideia to advance to the championship game.
Class AAAAAAA
1. Lambert (20-3-0)
2. Grayson (18-4-0)
3. South Forsyth (18-4-0)
4. Mill Creek (15-6-0)
5. Collins Hill (15-5-1)
6. Walton (15-5-0)
7. Brookwood (13-4-1)
8. Milton (12-7-0)
9. Peachtree Ridge (15-4-0)
10. Lassiter (14-4-1)
Class AAAAAA
1. Harrison (20-3-0)
2. Johns Creek (17-4-2)
3. Cambridge (12-7-0)
4. Lee County (18-2-0)
5. Pope (15-5-1)
6. Creekview (14-5-0)
7. Sequoyah (12-7-2)
8. Richmond Hill (12-8-1)
9. Northgate (14-2-2)
10. Dacula (15-4-0)
Class AAAAA
1. McIntosh (15-6-2)
2. Buford (17-3-2)
3. Flowery Branch (13-7-1)
4. Whitewater (19-1-1)
5. Veterans (18-2-0)
6. Decatur (12-5-3)
7. Starr's Mill (9-10-1)
8. Grady (12-7-1)
9. Carrollton (6-13-0)
10. Paulding County (15-4-0)
Class AAAA
1. St. Pius X (21-1-1)
2. Marist (16-4-1)
3. Chapel Hill (17-3-0)
4. Jefferson (13-4-1)
5. Spalding (19-1-0)
6. Blessed Trinity (15-2-3)
7. North Oconee (13-5-0)
8. Oconee County (14-5-2)
9. Columbus (16-2-2)
10. LaGrange (14-5-1)
Class AAA
1. Westminster (20-1-1)
2. Pace Academy (13-5-3)
3. Greater Atlanta Christian (14-6-2)
4. Lovett (12-9-0)
5. Pike County (11-5-1)
6. Dawson County (14-3-0)
7. Lumpkin County (13-5-0)
8. Calhoun (14-4-0)
9. Bremen (15-6-0)
10. Sonoraville (15-4-0)
Class AA
1. St. Vincent's (18-1-0)
2. East Laurens (19-3-1)
3. Lamar County (17-5-0)
4. Social Circle (11-7-2)
5. Fitzgerald (16-3-0)
6. Model (16-3-0)
7. Harlem (18-2-1)
8. Vidalia (11-5-1)
9. Glenn Hills (8-2-0)
10. Dade County (13-3-0)
Class A
1. Wesleyan (19-3-1)
2. First Presbyterian (22-1-0)
3. Holy Innocents (15-5-1)
4. Paideia (13-6-3)
5. Mount Pisgah (6-3-0)
6. Pinecrest Academy (12-9-0)
7. Fellowship Christian (11-5-1)
8. Athens Academy (14-5-0)
9. Calvary Day (14-4-2)
10. Walker (15-4-0)