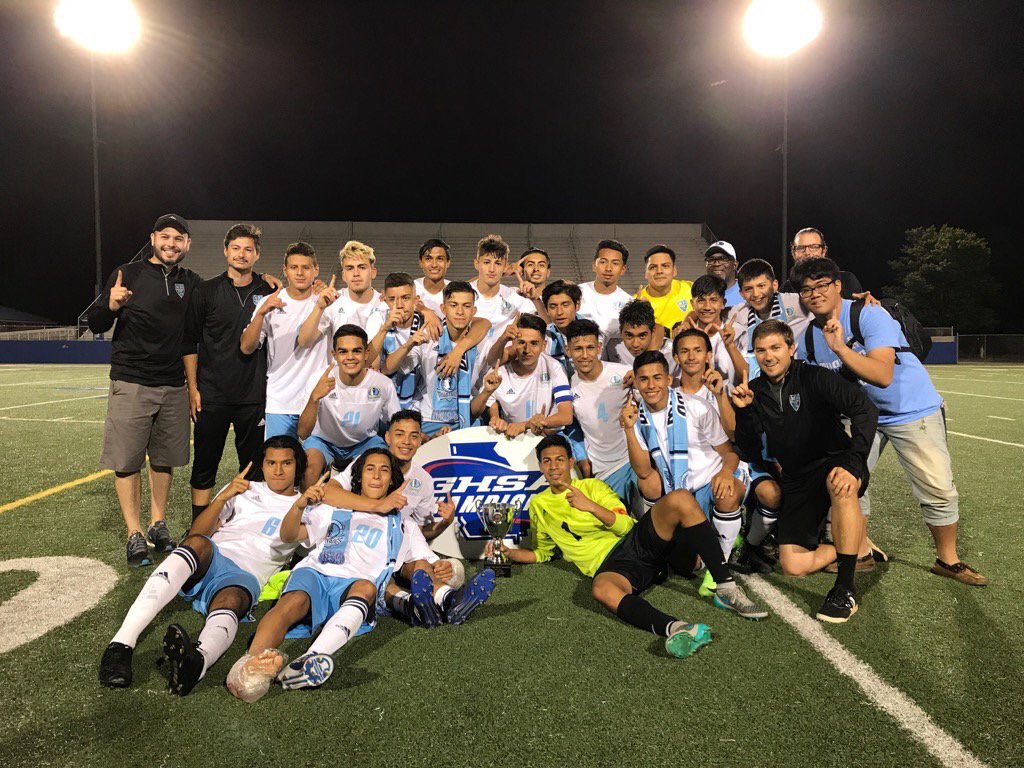 Meadowcreek reigns supreme in the state's highest classification after moving past Pebblebrook 2-0 in the AAAAAAAA championship game. The Mustangs advanced past South Forsyth, Kennesaw Mountain, Etowah and Roswell for a shot at the title. Second-ranked Pebblebrook made it through Woodstock, Mill Creek, Berkmar and Walton before falling to Meadowcreek.
Chattahoochee holds the top spot in Class AAAAAA after defeating Gainesville 2-0 in the championship game. Past the 3-1 win over Langston Hughes in the first round, Chattahoochee had little trouble advancing to the championship game with a 7-0 win over Richmond Hill in the quarterfinals and a 5-1 win over Allatoona in the semis.
McIntosh overcame a 1-0 deficit to Clarkston early in the state title game to take the Class AAAAA title 2-1 and the top-ranking. The Chiefs had little trouble with first round opponent Thomas County Central, 8-0, but just barely squeaked by Cross Keys, 5-4, and Riverwood, 1-0 in the next two rounds. The Chiefs then defeated Grady 4-1 to make it to the final game.
Southeast Whitfield moved past Druid Hills 3-2 to take the Class AAAA crown and finish on the top of the rankings. The Raiders Had little trouble moving past Southeast Whitfield, Woodward Academy, and Richmond Academy before defeating Marist 3-1 in the semifinals.
Westminster holds the top-spot in Class AAA after defeating Pace Academy 3-1 in the final game of the season. The Wildcats path to the finals included wins over Fannin County, Islands, Calhoun and Sonoraville. Pace moved through Dawson County, Windsor Forest, North Murray and East Hall to make in to the championship.
In Class AA, Benedictine took the top spot after moving past Coosa 4-1 in the championship game. The Cadets had little trouble making it to the championship game, outscoring opponents 36-3 before the championship game. Coosa advanced past Jordan, Berrien, Putnam and Thomasville to earn a place in the title game.
In Class A, Whitefield Academy overcame an early 1-0 deficit with two un-answered goals to defeat Walker 2-1 to take the crown. The WolfPack defeated Mt. Zion, Aquinas, Atlanta Internationals and Hebron Christian to make it to the finals. Walker moved through Trion, Athens Academy, Paideia and Wesleyan before falling to Whitefield.
Class AAAAAAA
1. Meadowcreek (17-5-0)
2. Pebblebrook (19-3-0)
3. Walton (17-3-2)
4. Roswell (10-10-1)
5. Berkmar (15-2-1)
6. Etowah (14-3-1)
7. Lambert (14-5-1)
8. Peachtree Ridge (18-1-0)
9. Brookwood (14-6-1)
10. Collins Hill (13-5-2)
Class AAAAAA
1. Chattahoochee (19-2-1)
2. Gainesville (19-3-0)
3. Dalton (20-2-0)
4. Allatoona (17-4-0)
5. Centennial (16-5-0)
6. Cambridge (14-5-1)
7. Heritage-Conyers (14-7-0)
8. Richmond Hill (16-3-2)
9. Alpharetta (11-6-1)
10. Houston County (13-4-1)
Class AAAAA
1. McIntosh (22-1-0)
2. Clarkston (19-2-1)
3. Carrollton (16-3-0)
4. Grady (14-6-2)
5. Riverwood (16-4-1)
6. Rome (12-5-1)
7. Buford (11-7-2)
8. Decatur (10-5-5)
9. Cross Keys (12-5-1)
10. Starr's Mill (13-5-1)
Class AAAA
1. Southeast Whitfield (20-2-0)
2. Druid Hills (16-7-0)
3. Blessed Trinity (13-5-4)
4. Marist (13-4-3)
5. Oconee County (16-4-1)
6. St. Pius X (11-8-2)
7. Northwest Whitfield (13-6-1)
8. Columbus (14-6-0)
9. Cartersville (16-2-2)
10. Richmond Academy (12-4-1)
Class AAA
1. Westminster (19-4-0)
2. Pace Academy (15-8-0)
3. East Hall (17-5-0)
4. Sonoraville (13-8-1)
5. Greater Atlanta Christian (14-6-0)
6. North Murray (16-2-0)
7. Windsor Forest (17-2-1)
8. Dawson County (11-2-4)
9. Calhoun (14-5-1)
10. Islands (9-7-2)
Class AA
1. Benedictine (18-3-1)
2. Coosa (19-3-0)
3. Putnam County (15-3-0)
4. Harlem (16-1-2)
5. Pepperell (13-6-1)
6. Oglethorpe (13-5-1)
7. Thomasville (10-9-3)
8. Fitzgerald (14-2-2)
9. Dublin (6-5-1)
10. Berrien County (10-8-1)
Class A
1. Whitefield Academy (19-3-1)
2. Walker (19-4-0)
3. Wesleyan (15-4-3)
4. Hebron (13-7-2)
5. Paideia (14-5-2)
6. Atlanta International (16-1-3)
7. Fellowship Christian (11-8-0)
8. Pinecrest Academy (11-9-1)
9. Athens Academy (13-6-0)
10. St. Anne Pacelli (15-3-0)