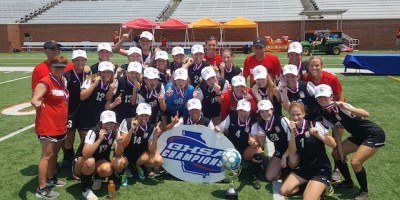 FPD won the Class A title in Macon. Credit: Seth Ellerbee
Parkview won its ninth girls soccer title with a 2-0 victory over Milton in the state's highest classification. The Lady Panthers were a force through the 2000s, winning five titles, but had not won since 2013.
In Class AAAAAA, Alpharetta won its first-ever girls soccer title following its 3-2 victory over Glynn Academy. Alpharetta entered the playoffs as the No. 4 seed from Region 7 before making its run.
Crosstown rival Whitewater upset the defending champion McIntosh Lady Chiefs to take its second state soccer title and first since 2007. McIntosh was in the hunt for title No. 12 before falling 3-2 in PKs to Whitewater.
In Class AAAA, Marist finally punched through against a St. Pius team that had beaten it in the championship game the previous three seasons. The victory marked the 10th title for Marist.
Westminster successfully defended its title in Class AAA for the fourth season in a row with a 4-3 victory over region rival Lovett in PKs after finishing extra time tied at 3-3. The victory marked the 12th title for Westminster.
In Class AA, a 9-0 St. Vincent's victory over Oglethorpe County sealed the second state soccer title in school history after taking the Class AA crown last season.
First Presbyterian delighted the home crowd at Mercer with a 2-0 victory over Athens Academy to take its third state soccer title and first since winning back-to-back in 2011-12.
Class AAAAAAA
1. Parkview
2. Milton
3. Lassiter
4. Walton
5. Peachtree Ridge
6. Roswell
7. Hillgrove
8. Grayson
9. Forsyth Central
10. Brookwood
Class AAAAAA
1. Alpharetta
2. Glynn Academy
3. Johns Creek
4. Pope
5. Harrison
6. Creekview
7. Dacula
8. Dunwoody
9. Alexander
10. Greenbrier
Class AAAAA
1. Whitewater
2. McIntosh
3. Flowery Branch
4. Starr's Mill
5. Decatur
6. Chamblee
7. Carrollton
8. Union Grove
9. Veterans
10. Grady
Class AAAA
1. Marist
2. St. Pius X
3. Blessed Trinity
4. Spalding
5. Northside-Columbus
6. Columbus
7. White County
8. Woodward Academy
9. Chestatee
10. North Oconee
Class AAA
1. Westminster
2. Lovett
3. Pike County
4. Bremen
5. Greater Atlanta Christian
6. Jackson County
7. Lumpkin County
8. Islands
9. Dawson County
10. Savannah Arts
Class AA
1. St. Vincent's
2. Oglethorpe County
3. Lamar County
4. East Laurens
5. Elbert County
6. Harlem
7. Model
8. Fitzgerald
9. Vidalia
10. Callaway
Class A
1. First Presbyterian Day
2. Athens Academy
3. Pinecrest Academy
4. Calvary Day
5. Walker
6. Eagle's Landing Christian
7. Mt. Pisgah Christian
8. Wesleyan
9. Brookstone
10. Holy Innocents'