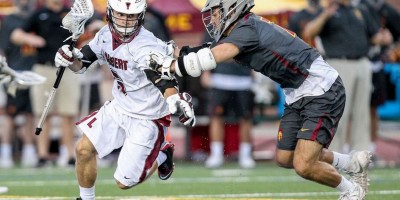 In Class 6A-7A Boys, Lambert closes out the season No. 1 after rallying past Walton 7-4 in Saturday's state finals. Buford comes in at No. 3 and North Paulding finishes at No. 4 after both reaching the semifinals. Roswell rounds out the top 5 and No. 6 Pope, No. 7 Johns Creek, No. 8 Woodstock, No. 9 Allatoona and No. 10 Harrison round out the final poll. Class A-5A No. 1 Lovett closed out a perfect 23-0 season with a 14-7 win over No. 2 Westminster in the championship. Starr's Mill finishes at No. 3 ahead of No. 4 Blessed Trinity. Wesleyan earned the No. 5 spot ahead of No. 6 Marist, No. 7 Woodward Academy, No. 8 King's Ridge, No. 9 Fellowship Christian and No. 10 Pace Academy.
On the girls side, No. 1 Milton defeated No. 2 Creekview 13-12 to win its 15th all-time state title. Hillgrove earned the No. 3 spot ahead of No. 4 Walton and No. 5 Lassiter. Hillgrove's only two losses this season came to Creekview and Walton was topped 11-3 in the semifinals against Milton. As for Lassiter, the Trojans were defeated 16-5 by Creekview in the semifinals. The rest of the final poll includes No. 6 Johns Creek, No. 7 Roswell, No. 8 North Paulding, No. 9 Chattahoochee and No. 10 Mill Creek.
In Class A-5A, No. 1 Blessed Trinity defeated No. 2 Northview 20-2 in the finals and finished out its second-straight championship run without a loss to a Class A-5A opponent. No. 3 Westminster, No. 4 Starr's Mill and No. 5 Wesleyan round out the top 5. Wesleyan edged No. 6 McIntosh in the poll due to its 20-16 win over the Chiefs during the regular season. No. 7 Richmond Hill defeated No. 8 Pace Academy 22-21 in the quarterfinals and the rest of the poll includes No. 9 Holy Innocents' and No. 10 St. Pius.
BOYS
Class 6A-7A
1. Lambert
2. Walton
3. Buford
4. North Paulding
5. Roswell
6. Pope
7. Johns Creek
8. Woodstock
9. Allatoona
10. Harrison
Class A-5A
1. Lovett
2. Westminster
3. Starr's Mill
4. Blessed Trinity
5. Wesleyan
6. Marist
7. Woodward Academy
8. King's Ridge
9. Fellowship Christian
10. Pace Academy
GIRLS
Class 6A-7A
1. Milton
2. Creekview
3. Hillgrove
4. Walton
5. Lassiter
6. Johns Creek
7. Roswell
8. North Paulding
9. Chattahoochee
10. Mill Creek
Class A-5A
1. Blessed Trinity
2. Northview
3. Westminster
4. Starr's Mill
5. Wesleyan
6. McIntosh
7. Richmond Hill
8. Pace Academy
9. Holy Innocents'
10. St. Pius