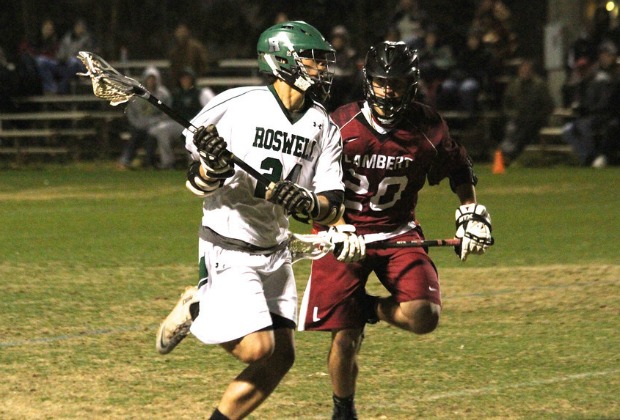 David Weaver
BOYS
Class AAAAAA
Roswell's No. 3 pre-playoff ranking was the Hornet's highest of the season before their 6-5 win over Lambert in the state championship on Saturday lifted them to this year's No. 1 team. The Longhorns improved to No. 2 after reaching the finals and Milton dropped to No. 3 after entering the playoffs as the top-ranked team. Walton edges Harrison for No. 4 after reaching the semifinals and the Hoyas' second-round loss to Lambert.
1. Roswell
2. Lambert
3. Milton
4. Walton
5. Harrison
6. Centennial
7. John's Creek
8. Peachtree Ridge
9. Chattahoochee
10. North Gwinnett
Class A-AAAAA
Northview took over No. 1 after topping Lovett 8-7 on Saturday for the program's first state title. Lovett took over No. 2 and Westminster dropped from the pre-playoff No. 1 to No. 3 after an 8-5 exit to Lovett in the semifinals. No. 4 Decatur topped No. 5 Blessed Trinity 12-11 in overtime of the second round. Pope reentered the poll at No. 6 after topping Decatur 11-8 in the second round and advancing to the final four. Marist dropped to No. 7 after its 13-4 loss to Lovett in the second round and Greater Atlanta Christian dropped to No. 8 after its 11-4 second round exit to Westminster.
1. Northview
2. Lovett
3. Westminster
4. Decatur
5. Blessed Trinity
6. Pope
7. Marist
8. Greater Atlanta Christian
9. Allatoona
10. St. Pius X
GIRLS
Class AAAAAA
Milton protected its No. 1 status all season and held off Walton 16-13 on Saturday for the program's ninth state title. Walton jumped to No. 2 after making the finals and edging Lassiter 13-12 in OT in the semis. No. 1 Milton, No. 2 Walton and No. 3 Lassiter were undefeated (14-0) against teams outside of Area 2 this season. Chattahoochee stays at No. 4 and received a 14-12 loss to Lassiter in the quarterfinals. Centennial made the final four, but lost 18-5 to Milton in the semis. Collins Hill replaced Johns Creek for No. 10.
1. Milton
2. Walton
3. Lassiter
4. Hooch
5. Centennial
6. Harrison
7. West Forsyth
8. Etowah
9. Mill Creek
10. Collins Hill
Class A-AAAAA
No. 1 Kell scored an 11-10 win in the final minutes over Westminster to claim its first state title. Westminster remains at No. 2 and Cambridge cracks the top 3 after an outstanding 16-4 season and a hard-fought 17-15 overtime loss to state runner-up Westminster. Blessed Trinity reached the final four before falling to top-ranked Kell 12-11 and jumped four spots to No. 4 in our final poll. St. Pius shocked Pope 13-10 in the quarterfinals and jumped to No. 5. McIntosh fell one goal short to No. 4 Blessed Trinity and sits at No. 7. No. 8 Northview advanced past Lakeside Evans in the first round, but was eliminated by Kell 18-12 in the second round. Starr's Mill and Holy Innocents' were sent packing in the first round and represent No. 9 and No. 10 in the poll, respectively.
1. Kell
2. Westminster
3. Cambridge
4. St. Pius X
5. Blessed Trinity
6. McIntosh
7. Pope
8. Northview
9. Starr's Mill
10. Holy Innocents'