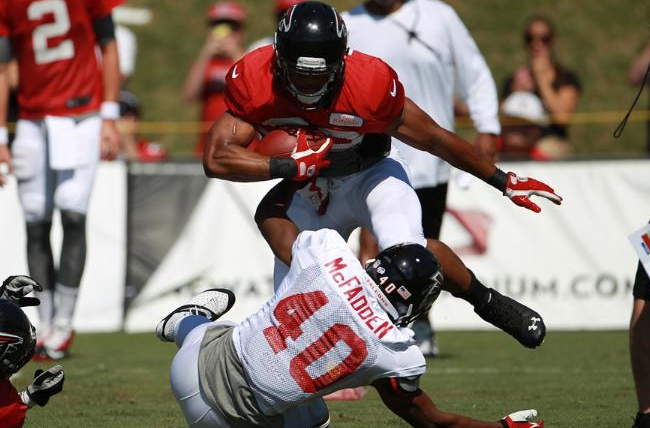 Photo by AtlantaFalcons.com
The fourth day of Falcons training camp meant the shoulder pads made their 2014 debut on the field. With the pads coming on, some tempers flared up at times and the play got even more physical than it has been in past sessions.
The Falcons featured the "Oklahoma Drill" in the early portions of their practice, with one defensive player going up against an offensive blocker, trying to tackle the man running the football. This really got players like second year linebacker Paul Worrilow amped up to practice.
"All the linebackers in our meeting room were jacked up when we found out who we were going against," Worrilow said. "If we want to do it again, we're all for it."
The Falcons for the most part have stayed cautious about driving to the ground hits and drills like the one just mentioned, for health reasons. Head coach Mike Smith says that drills like this were meant for trying to make this team more physical this year and beyond.
"We had a couple of scripted snaps where we got to play the game of football and took somebody to the ground," Smith said. "I think it's important that we limit that. But I think it's important that we work on it as well, where the first time that we're not tackling for some of these guys is in the first preseason game."
For the practice itself, Smith said he liked the effort/energy from the players. He did say that some of the technical sides of the game weren't followed to a tee. Mistakes were a plenty at times during drills. This is something he says will be addressed during meetings and film sessions tonight.
As I'm sure you've read by now, the practices did get a little physical and tempers did get put to the test. Yes, fights did happen on the field. One went down during a pass rush drill between the offensive and defensive linemen. The other happened on the field during 11 on 11 drills. This is something that Mike Smith says he could deal with less of.
"You're wasting a lot of energy when you're fighting," Smith said. "But it's expected. Guys are competing and they're fighting for jobs. But that's not the way to fight for a job. The way to fight for a job is to do it between the whistles. I anticipate as I said early on last April that it will be a little bit different all through the offseason. I don't anticipate it changing."
Smith continued on to say that there's "lots of roster spots (open) and nobody is guaranteed anything."
Falcons left guard Justin Blalock is someone who agrees with Smith about the fighting aspect of practice. Saying that it's not exactly what they want, but he'll take the energetic play that it brings to the field.
"We're not an MMA (Mixed Martial Arts) team by any means," Blalock said. "I'm not sure what that really proves, unless you want to lead the league in unnecessary roughness (calls). I think we're going to do more of that with the way we play and approach the game more so than fighting hopefully. Or else we're not going to be very good."
The Falcons will have approximately 11 more padded practices throughout training camp, as they prepare for the 2014 season. If today is any indication of how those practices could go. This could be an interesting 2014 preseason and beyond for the Falcons.