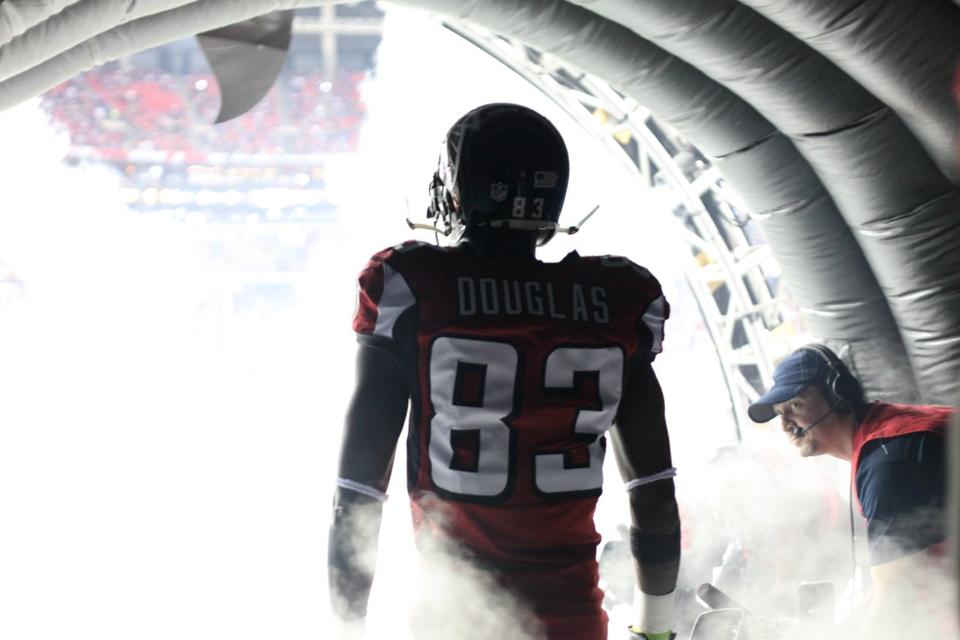 AtlantaFalcons.com
The phrase "Friday Night Lights" means a lot in the sport of football. After all, high school football is the root of the sport and the pipeline to the pros. It is where every NFL player's dream to make it in the league began to form. The lights at the varsity level are the stage where every professional football player stepped into football's spotlight for the first time.
Friday nights are also about community in addition to football. Harry Douglas is one of four Falcons that played high school ball in the Peach State and he understands how important his days as a Jonesboro Cardinal are to his success on the NFL gridiron. There are 32 different jerseys in the NFL, but the jerseys each pro wore in high school take the field with them each NFL week whether or not it is on their back. Douglas puts on his Falcons jersey and he is still a Cardinal to a proud Jonesboro fan base. Julio Jones is still a Foley Lion and Steven Jackson is still the former Eldorado High School running back that led the Sun Devils to the Nevada state championship his senior year.
FOUR-SPORT STAR …
High school was both a memorable and busy time for Douglas. The four-sporter was balancing football, basketball, baseball and track, and found ways to excel at all of them. On the hardwood his brother Toney, a point guard for the Miami Heat this past season, made a dangerous one-two combo with Harry. Toney was a year younger than Harry and averaged 34 points-per game his senior season. The previous year, Harry posted a solid 20.5 points-per game average.
Louisville was one of the many schools that noticed Harry's wide range of athletic skills and ended up landing the speedy six-foot receiver after high school.
"Oddly enough, Louisville never came to watch me play football," said Douglas. "They only watched me play basketball, but they offered me and I went up to visit and committed. It's the only visit I took where I didn't have fun, but it felt like a home away from home. I just wanted to go somewhere that I could focus on football."
Douglas had two All-Big East seasons at the college level and the level of pride from his former high school fans continued to keep Douglas focused and provided him with confidence to do bigger and better things after his collegiate days.
Since arriving in Atlanta, Douglas has been a productive receiving threat in the slot and his versatility mimics his days as a high school star. Throughout his role with the Falcons, his teammates, himself and the Jonesboro community knew he was capable of being a starting receiver in the NFL. This past season when Julio Jones and Roddy White were sidelined with injuries, Douglas got to fill in the starting role. He went on to post career highs of 1,067 receiving yards and 85 receptions. The 85 catches last season are the most receptions Douglas has ever had at any level.
"It definitely meant a lot to my former schools," said Douglas. "They've been waiting for it and it was good for me to show everyone I could do it. You never want an opportunity like that to come from two people you are so close to getting hurt, but at the same time, besides my family, there weren't two people (happier) for me than Roddy and Julio. They also knew the whole time what I could do."
Douglas is a playmaker that instills confidence in his teammates and he has carried this trait since high school. His three years of starting in high school resulted in 1,539 receiving yards and 14 touchdowns and earned him a special nickname he wore throughout his varsity days.
"One of our linemen actually gave me the nickname Mr. Friday Night Lights," said Douglas. "That's one of the reasons I love doing Friday Night Lights each year with the Falcons. It brings me back and it brings the team back to that high school atmosphere. Taking us all back to our roots at this stage of the offseason is something we can all enjoy and benefit from."
There is no better way to spend the Friday night before the first preseason game than in a high school football atmosphere right in the Falcons' backyard. The annual event continues to grow into its ninth year and has become a highlight of each offseason. Last year, the fans packed a record crowd of 14,250 people into Gainesville's Bobby Gruhn Field to watch it.
"I think it is very important to change it up for the players and for the coaches and get back to our roots," said head coach Mike Smith. "There is nothing like playing on Friday nights."