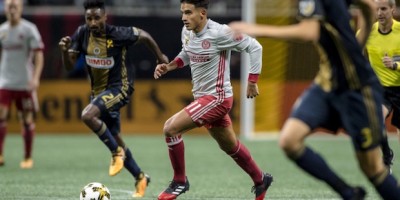 Yamil Asad dribbles against Philadelphia. Credit: Atlanta United
Atlanta United's 3-0 victory over the Philadelphia Union helped the team clinch a spot in the Major League Soccer playoffs, making them the fourth expansion team in MLS history to reach the postseason during their first year. Atlanta has been absolutely unstoppable on the pitch and have yet to lose a game since their match against D.C. United on Aug. 23. The team ranks second in goals on the season with 66, a whole 20 goals higher than the league average. On top of this, Atlanta is ranked at the very top for assists during the season with 62. With players continuously creating opportunities and capitalizing on every chance they can, Atlanta is a force to be reckoned with.
Atlanta joins Eastern Conference teams Toronto FC, New York City FC and the Chicago Fire as the first four teams to clinch a playoff spot. With these teams locked in, the rest of the Eastern Conference teams have until the end of October to try to push for the remaining two spots in the playoffs.
Josef Martinez is a man of many goals, scoring his 18th goal on the season during yesterday's matchup against Philadelphia. Rookie Julian Gressel has emerged as a crucial contributor to this team's offense, assisting Martinez and scoring the game's first goal against the Philadelphia Union. This lethal attack combined with Brad Guzan, who refuses to let any shot get past him lately, makes Atlanta an intimidating team to play against.
Toronto FC is currently leading the MLS with 67 goals scored and 62 total points. Atlanta currently sits with 52 points, but don't let the 10-point deficit lead to any conclusions about Toronto's chances at winning the Audi 2017 MLS Cup. Atlanta has scored an immense amount of goals over recent matches and now lies just one goal behind the Eastern Conference leaders. On top of this, Toronto has lost their last two games against New England and Montreal, two teams that Atlanta recently shut out and scored a total of nine goals against. A downturn in form for Toronto may open the door for an Atlanta postseason run.