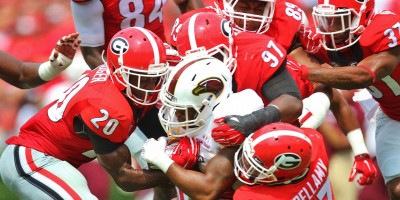 Rob Saye
ATHENS, Ga.- – The game started with a bang for Georgia, as they gave themselves a 35-0 lead on ULM to begin their 2015 season. For a stretch of approximately 11 minutes in the second/third quarters, they seemed to hit a lull. During that time period, the Warhawks were able to draw it to 35-14.
The finish was strong for the Bulldogs, as they came out of an hour long weather delay to score 16 unanswered points to end the game. The game was called with 9:54 left in the fourth quarter, when both head coach Mark Richt and ULM coach Todd Berry decided to end the game with UGA on top 51-14.
Takeaway #1: Greyson Lambert Did His Job.
The Bulldogs wanted a quarterback that would not turn the ball over with foolish decisions and be able to help effectively run this offense. Lambert did that.
His numbers don't fly off the page at you, with eight completions on 12 attempts for 141 yards with two touchdown passes.
He didn't throw any interceptions and they didn't turn the ball over. Will they need more out of him to be more very successful this season? Perhaps. But as I once heard Pittsburgh Steelers head coach Mike Tomlin say, "They were good enough to beat us today."
Takeaway #2: The Running Game Is On Point
This isn't going out on a limb here, with Nick Chubb and company running for a combined 243 yards on 38 attempts. Chubb alone ran for 120 yards on 16 carries with two touchdowns.
It was great to see Keith Marshall back on the field and making meaningful plays. He starts his 2015 season off with a 10 carry, 73 yard and two touchdown performance.
Mark Richt was all in all very pleased with this part of the offense.
"We believe in running the ball and we think we do a great job of it," Richt said. "Today was all about execution. We're blessed that all our tailbacks stayed healthy in camp. They practiced extremely well. We have faith in their ability to do whatever it takes to make the offense go. We hope they continue to stay healthy and continue to share the load."
Another bit of good news, is that the group has shown that it will not all be on the shoulders of Chubb.
Takeaway #3: Offensive Line Is Strong As Expected.
The two calling cards of an offensive line is whether or not the quarterback gets sacked and whether or not they can run the football. They only allowed one sack and we know how many yards they were able to run for.
Aside from a couple of penalties on left guard Isaiah Wynn, the line was pretty stellar
Also in the game, newly named starting center Brandon Kublanow was perfect in his snaps to Greyson Lambert and Brice Ramsey.
Takeaway #4: Defense Dominant At Times and Looked Young Others
This is a defense who has experience in some spots and a lack of it in other positions. They were able to sack ULM quarterback Garrett Smith three times and pick up a total of six tackles for a loss.
They did give up 251 yards of total offense (not bad). The Warhawks converted five out of 13 third down chances.
There were times when ULM was able to make huge plays on some young players. This defense had some young moments in this game that allowed for ULM receiver Rashon Ceaser to get open for some scores.
At least four true freshmen got on the field in defensive back Rico McGraw, defensive lineman Trent Thompson, linebackers Roquan Smith and Natrez Patrick.
Takeaway #5: Leonard Floyd Showed His Versatility
The Bulldogs standout linebacker played the entire game on the inside. He lined up at times with UAB transfer Jake Ganus and junior Tim Kimbrough.
He finished the day, tied for the lead in tackles with defensive back Quincy Mauger at eight. He was able to pick a tackle and a half for a loss and split a sack with Mauger.
Floyd showed that he can be used out in coverage and could be used at the "Star" position sometime this season.