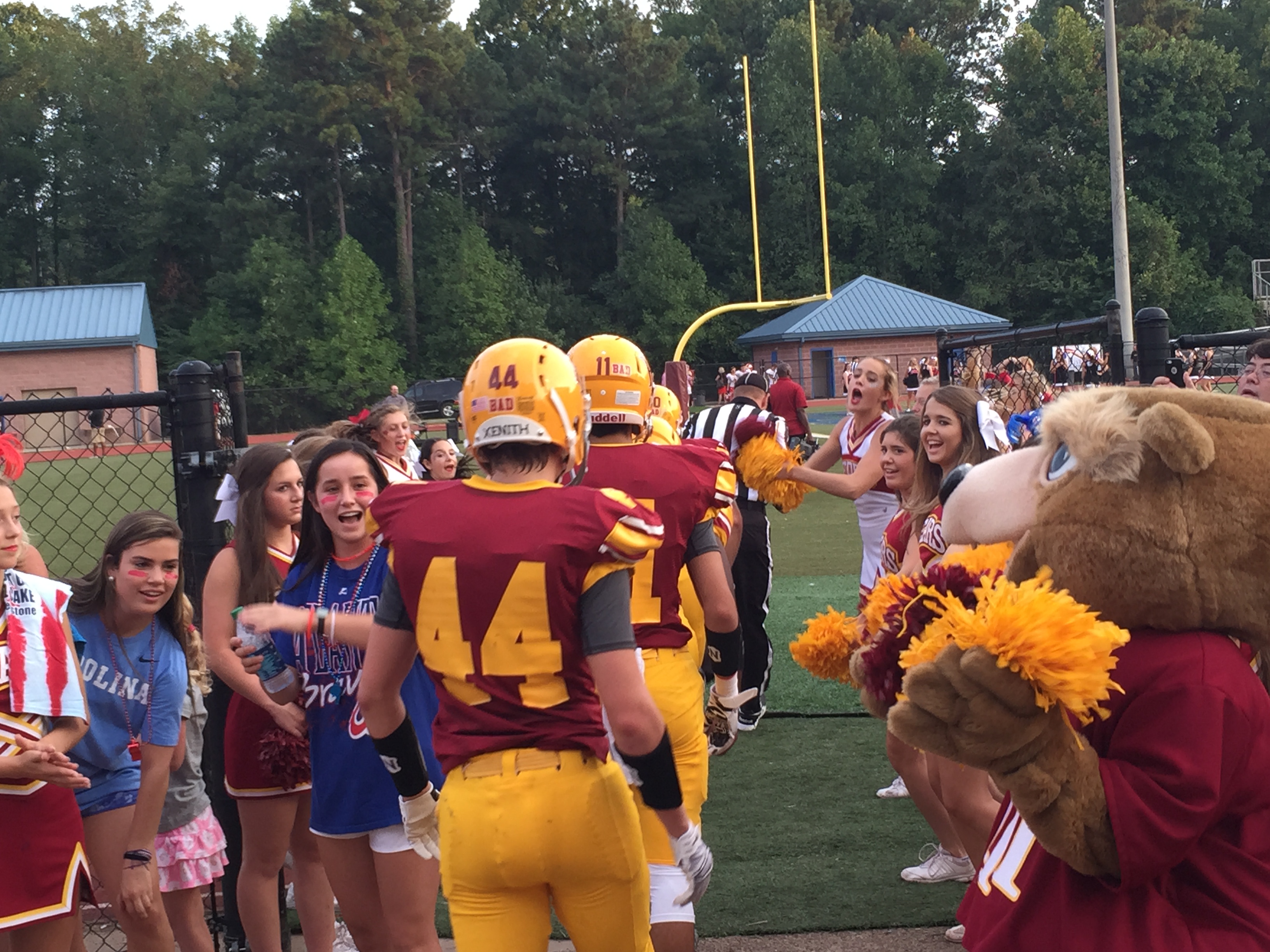 Holy Innocents' scored 17 unanswered points to defeat visiting George Walton Academy 17-6 Saturday night at Riverwood's Hoskyn Stadium. After a scoreless first quarter, George Walton Academy got on the board with a Buck Fisher touchdown pass but could not convert the PAT. Holy Innocents' gained the lead with an 8-yard touchdown run by senior Ken Brunson and went into the half with a 7-6 advantage. The third quarter proved to be a turning point as the Golden Bears' special teams and defense created turnovers and provided excellent field position for the offense.
George Walton Academy was forced to punt with just under seven minutes left in the third quarter but Max Walton blocked the mishandled punt and gave Holy Innocents' a first and goal from the Bulldogs' 10-yard line. George Walton Academy sacked Christian Ketchup on first down and Holy Innocents' had to settle for a 37-yard field goal that was nailed by junior Alfredo Granier to push the lead to 10-6. On the ensuing kickoff, George Walton Academy fumbled and the Golden Bears recovered on the 40-yard line but Holy Innocents' was forced to punt after a 3-and-out. Once again, the Bulldogs offense took over and coughed it up deep in its own territory. Junior defensive tackle Edward Verdree, who finished with a team-high two sacks to go with his four solo tackles, was there to recover the fumble and return it all the way to the George Walton 1-yard line with 52 seconds left in the third. On the next snap, Ketchup faked the handoff and dove in for the touchdown to make it a 17-6 ballgame.
George Walton Academy opened the fourth quarter with a 4th and 2 from its own 42-yard line, but the Golden Bears stuffed the play and took over on downs. Later in the quarter, J.J. Litumbe intercepted Holy Innocents' but less than a minute later, Alex Thomas picked off George Walton Academy and gave the Golden Bears the ball at the Bulldogs' 47-yard line with nine minutes left.
Holy Innocents' senior Martin Williams finished with five tackles and a sack, while teammate Evan Thomas added a fumble recovery to his five-tackle performance. … Golden Bears' tight end Jackson Miller hauled in a 44-yard reception, the longest play from scrimmage.