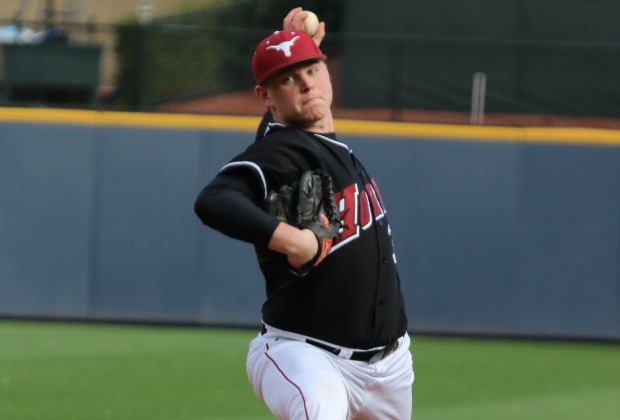 Whitney Reddin
Defending Class A-Public state champion Charlton County won its second state title on Monday with a 2-1 victory over Gordon Lee. The Indians were shelled in Game 1 of the finals 13-3, but forced the Game 3 with a 7-3 victory in the backend of Saturday's double-header.
In Class AA-AAAAAA, the semifinals were played on Monday and five of the 10 series will come down to a deciding Game 3 today. Milton and Lambert advanced in Class AAAAAA and set the state championship field. The Eagles swept Johns Creek 4-3, 3-0 and will host Lambert in the finals, which swept Parkview 3-1, 4-2. Milton and Lambert showcased their deep bullpens and Lambert used three pitchers in its 4-2 Game 2 victory.
Class AAAAA shared a similar theme in Monday's double-headers. Greenbrier took Game 1 3-2 over Whitewater before getting smoked 14-5 in Game 2. Houston County won its Game 1 6-2 over Gainesville, but the Red Elephants exploded for a 13-7 victory in the nightcap. Gainesville and Houston County play their Game 3 at 5 pm and Greenbrier and Whitewater will also hit the field at 5 pm.
In Class AAAA, visiting Carrollton edged Veterans 5-3 and 5-4 to advance to the state championship and Crisp County swept Alexander 7-2, 3-0 to meet the Trojans there. Carrollton will host the championship series and history will be made. Carrollton's only state title came in 1962 and Crisp County's lone triumph was in 1961.
Blessed Trinity dominated Hart County 13-5, 10-2 on Monday to advance to the Class AAA finals. The Titans opponent is to be determined as Buford and Cartersville await their winner-take all Game 3 at 5:55 pm. The biggest storyline of the semifinals came with the ejection of Cartersville head coach Stuart Chester. The coach received an automatic dismissal from the game for having a video camera operating from the dugout. According to the GHSA, photography is allowed from the dugout but not filming or video recording and the action requires an automatic ejection and two-game suspension.
In Class AA, there are still four teams fighting to keep their seasons alive. Benedictine and Wesleyan split their semifinals series on Monday and Westminster defeated Region 6 rival GAC 12-4 to force a Game 3. Benectine and Wesleyan play an early 1:30 pm Game 3 today and Westminster and GAC will take the mound at 5:30 pm for their rubber match.