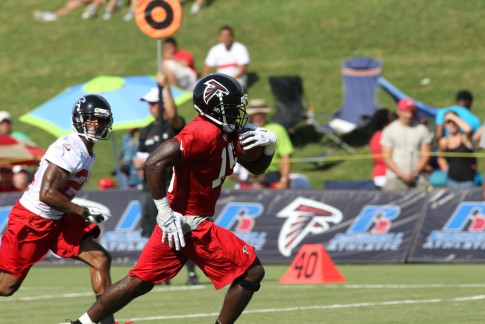 AtlantaFalcons.com
Wide receiver Drew Davis is expected to miss six weeks after his foot surgery to an unspecified foot injury. The former Oregon wideout was placed on the physically unable to perform list for training camp which would sideline him for three weeks of training camp.
"Drew felt some discomfort in his foot at the end of minicamp," Falcons coach Mike Smith said in a statement released by the team. "We decided to send him to the doctors for some evaluations and it was determined he had suffered an injury that would require a procedure. He recently had the procedure done and we expect him to miss around six weeks."
Drew joined the team in 2011 as a college free agent and worked his way to a noticeable role last season when the receiving corps was hit with injuries. Drew started three games and hauled in two touchdowns while finishing the season with 12 catches for 216 yards. There are 11 other receivers on the roster heading into camp including Darius Johnson who joins Davis in the competition for the fourth receiver role
BACK TO WORK…
It is the calm before the storm around the NFL as teams enjoy their final weeks off before diving into training camp. The Falcons are set to be this year's feature of HBO's award winning Hard Knocks season and the trailer was released this week to sneak peak this year's anticipated edition of the show. Training camp starts July 25 and Hard Knocks airs Aug. 5. Viewers will journey through the final five weeks of the offseason with the team and a theme of the show is how the team cuts down to the final 53-man roster.
KEY DATES…
Camp will be open to the pubic the first five days. The Falcons are off Wednesday the 30th and then will hold one practice (July 31) before KIA Motors "Friday Night Lights" at Archer High School on August 1st. The remaining weekend will hold a pair of open practices and Monday Aug. 4th is the team's first combined practice with the Tennessee Titans. The combined practice is arranged to prepare each team for the ritual of NFL gameday and the Falcons first preseason game will be that Friday (Aug. 8) with the visiting Dolphins.